Found December 14, 2012 on 85% Sports:
The drama has been played out in the public, it's been the talk of sports radio,ESPN and print media and it is reaching the point of where do both parties go from here? The Mets are happy for everything that R.A. Dickey has done for them for the past 3 seasons. R.A. Dickey is happy that the Mets took a chance on him when no one else would. Knuckleballers aren't as sexy an attraction as 95-100mph fastballers that bring the heat, even if they get rocked from time to time. Yet it was the knuckleballer who walked off with the prize as the National League's best pitcher. The Mets went into this offseason looking to sign both David Wright and Dickey. The Mets got it done and signed Wright. Dickey as it turned out was bit more tricky than you would think. Originally, I thought it was a no brainer to sign both to longterm deals. The Mets had to sign Wright, after losing Jose Reyes and getting nothing in return for him they had to do something with David Wright. But R.A.? That took al...
Original Story:
http://www.85percentsports.com/2012/1...
THE BACKYARD
BEST OF MAXIM
RELATED ARTICLES
I think most Met fans are tired of the saga of R.A. Dickey.  I know that I am.  I fully agree with the reports that once Hamilton signs (hopefully with Texas) the Mets and their potential dance partners will have a better idea of the scope of the dance floor. (Trade Floor) The most likely suitors appear to be the Rangers and Dickey would be in some ways coming home to the team...
The Toronto Blue Jays and New York Mets are close to agreeing on a trade that would send Cy Young award winner R.A. Dickey to Toronto, according to major league sources. The Mets have been working on parallel tracks with Dickey for weeks, negotiating a contract extension with him while also holding trade discussions. In recent days it became apparent that the Mets had received at...
LET'S MAKE A DEAL
The Mets and Blue Jays reportedly are talking about a large trade that would center around pitcher R.A. Dickey, who won the Cy Young.
The Toronto Blue Jays Have pulled into the lead to land Mets starter R.A. Dickey. Andy Martino of the New York Daily News reported on Twitter that trade talks intensified yesterday, and Ken Rosenthal and Jon Heyman are now reporting that the Mets have said they have an acceptable trade offer in hand, but are looking to try and increase the offer if possible. The Mets have a strong...
The Mets and Blue Jays quickly moved toward a trade yesterday. A trade isn't official yet, however news from Jon Heyman is that players in the deal have been agreed on, just no news yet of who is involved. At this point it looks like it is medical reviews that are left, possibly extension talks with Dickey. The Other surprising news from last night is the move might require multiple...
It looks as though the New York Mets might be sending pitcher and last year's National League Cy Young Award winner, R.A. Dickey to the Toronto Blue Jays. It seems that the Mets are looking to have a rebuilding year and are looking to get top value for their ace pitcher especially after winning the Cy Young Award. In regards to players that would be involved in the deal it looks...
Update 7:15pm:   Andy Martino of the Daily News is reporting that Travis D'Arnaud was a "must have" at the winter meetings in a potential deal for Dickey. According to sources of MLB.com's Anthony Dicomo's, Dickey will remain a Met for at least one more night, citing that a deal is unlikely to be completed this evening. Keep it locked, as the news on this could change...
It sounds more and more likely that this Travis d'Arnaud for R.A. Dickey trade is going to happen.d'Arnaud: power and a strong armTravis d'Arnaud is a top quality prospect, and the Mets fans should be pleased to land him, provided they don't have to give up much more than Dickey to get him.Before tearing his posterior cruciate ligament this past June, Travis d'...
Knuckleball maestro R.A. Dickey may get his wish at a contract extension, but it will most likely be in another shade of blue. The Toronto Blue Jays have emerged from the pack of teams interested in Dickey and are "close to agreeing on a trade" for the Mets pitcher, according to Jon Morosi and Ken Rosenthal of FOX Sports. The Mets are reportedly looking for an outfielder (most...
Everyone catch their breath? Good. More free-agent signings are coming. And yes, more trades. In fact, this week's flurry of activity has created new trade possibilities and increased the chances of other deals occurring. Here are five teams to watch: - Mets . All signs point to a trade of NL Cy Young winner R.A. Dickey. The Mets have made little progress in their attempt...
News on R.A. Dickey, Josh Hamilton, Scott Rolen, and Ryan Dempster.
A little over two weeks ago, I wrote up The 2012 Season In High Home Runs. That concluded a four-part home-runs-by-pitch-location series, but of course, pitch-location data isn't the only data that we have, and there are other extremes to explore. Given that it's late on Friday and R.A. Dickey hasn't been traded yet, I think, I figured now would be a good time to mess around...
MLB News

Delivered to your inbox

You'll also receive Yardbarker's daily Top 10, featuring the best sports stories from around the web. Customize your newsletter to get articles on your favorite sports and teams. And the best part? It's free!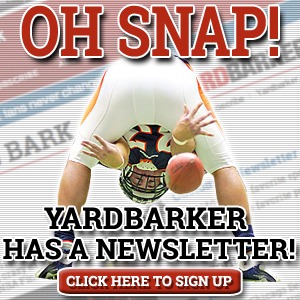 Latest Rumors
Best of Yardbarker

Today's Best Stuff

For Bloggers

Join the Yardbarker Network for more promotion, traffic, and money.

Company Info

Help

What is Yardbarker?

Yardbarker is the largest network of sports blogs and pro athlete blogs on the web. This site is the hub of the Yardbarker Network, where our editors and algorithms curate the best sports content from our network and beyond.