Posted March 31, 2013 on AP on Fox
PLAYERS:
Adam Wainwright
,
Ian Kennedy
,
Jake Westbrook
,
Allen Craig
,
Justin Upton
,
Martin Prado
,
Adam Eaton
,
Cody Ross
,
Willie Bloomquist
,
Kirk Gibson
,
David Freese
,
Jason Motte
,
Miguel Montero
,
Aaron Hill
,
Paul Goldschmidt
,
Jason Kubel
,
Mike Matheny
,
Jon Jay
,
Matt Carpenter
,
Matt Holliday
,
Carlos Beltran
,
Yadier Molina
,
Trevor Cahill
,
Jaime Garcia
,
Brandon McCarthy
TEAMS:
St. Louis Cardinals
,
Arizona Diamondbacks
,
Atlanta Braves
Adam Wainwright begins earning his newfound wealth on Monday. The right-hander will be on the mound in his third opening-day start when the St. Louis Cardinals face the remodeled Arizona Diamondbacks, who for the second year in a row will open with Ian Kennedy. Wainwright's start comes four days after he agreed to contract that guarantees him $109.5 million over the next six seasons. Last year, Wainwright was 14-13 with a 3.94 ERA after missing all of the team's 2011 championship season because of elbow surgery. '' He's the full package of the guy you look for in your ace,'' St. Louis right-hander Jake Westbrook said. ''He has all those qualities. We are going to feed off of him and go from there.'' Wainwright leads a St. Louis team that, as always, begins with high expectations. The Cardinals fully expect to supply Wainwright and the rest of their pitching staff with plenty of run support. ''I think we've been very good over the past two years,'' said first baseman Allen Craig, who also has a new contract, ''and I don't see any reason why we can't be one of the best offenses in the National League this year.'' The Diamondbacks, meanwhile, have traded right fielder Justin Upton and added Martin Prado at third base. Three projected regulars - outfielders Adam Eaton and Cody Ross, and shortstop Willie Bloomquist - open on the disabled list. ''We don't need any more injuries,'' manager Kirk Gibson said. Neither do the Cardinals, who start with third baseman David Freese and closer Jason Motte on the DL. Eaton, the speedy rookie center fielder, is out for six-to-eight weeks with an arm injury. He was to be the leadoff batter in a lineup that wants to rely more on contact hitting than on home runs. Kennedy, a 21-game winner in Arizona's NL West championship season of 2011, started slowly last year but finished strong, going 15-12 with a 4.02 ERA overall. Arizona catcher Miguel Montero raved about the rebuilt roster, especially in terms of team chemistry. ''We've got a good solid lineup and bench players,'' he said. ''More than that we've got good solid players with good personalities and great attitudes. That's great - veteran guys that have been around winning ball clubs and can bring a lot to the team.'' The most significant addition is Prado, who came to Arizona in the deal that sent Upton to Atlanta. Prado will bat in his customary No. 2 spot, with Aaron Hill dropping to third in the batting order. Both Prado and Hill batted over .300 last season. Montero moves into the cleanup spot, at least for now. Gibson has a history of juggling his batting order. First baseman Paul Goldschmidt, who just got a new contract after just one full season in the majors, bats fifth, followed by Jason Kubel, the only returnee from the Arizona openting-day outfield a year ago. Gibson, entering his third full season as Diamondbacks manager, calls this ''a very close'' group. ''They've had a good time, they work together, they talk about the game, they're engaged in the things that we've worked on,'' he said. ''They've been open to it. They haven't been bored with it. They've executed in the games. They've been open to looking at themselves when things didn't go the way we wanted, understanding why mistakes are made. You can tell right now they're ready for the season to start. ... There's a lot of good conversation going on about where we're headed and how we're going to get there.'' Mike Matheny opens his second season as Cardinals manager. Centerfielder Jon Jay will bat leadoff for St. Louis. ''If you are hitting at the top of the order you definitely want to score runs and we've got the guys who are capable of doing it,'' Jay said. ''My job is simple: get on base and hope we score a lot of runs.'' Third baseman Matt Carpenter bats second ahead of left fielder Matt Holliday, Craig, right fielder Carlos Beltran and catcher Yadier Molina. '' Our lineup has a lot of depth in it and there's a lot of interchangeable parts,'' Jay said. ''We have a good lineup. Guys are going to be coming off the bench who could play every day.'' Arizona will start slimmed-down right-hander Trevor Cahill on Tuesday, and St. Louis goes with left-hander Jaime Garcia. On Wednesday night, right-hander Brandon McCarthy makes his Arizona debut in his first big league start since he sustained a horrific head injury when he was struck by a line drive while pitching for Oakland last September. Right-hander Lance Lynn starts the series finale for the Cardinals. The rotation for the Cardinals is perhaps the team's biggest uncertainty. Asked whether he was comfortable with his rotation, Matheny said, ''Comfortable is a word I don't like because I don't want anybody feeling comfortable. ''I want everybody on the edge normally,'' he said. ''Go out and do their job, they can always do better, They can consistently improve. That's been a pretty common theme for us and I want them to continue.'' --- AP Sports Writer R.B. Fallstrom in St. Louis contributed to this report. --- Follow Bob Baum at www.twitter.com/Thebaumerphx
Original Story:
http://msn.foxsports.com/mlb/story/Ca...
THE BACKYARD
BEST OF MAXIM
RELATED ARTICLES
The St. Louis Cardinals have one of the best uniforms in all of Major League Baseball and up until this year, had been one of the few organizations in baseball resistant to wearing alternate jerseys. The Cardinals have worn a Sunday hat during home games, but other than that, for several years, the Cardinals have wore red hats and white uniforms at home and grey jerseys and blue...
On Monday October 22nd, 2012, 31.8% of St. Louis houses had their TV tuned to Game 7 of the NLCS.  A huge rating, for sure. But in a baseball-crazy city 9 innings away from back-to-back pennants, the number on the surface seems low. At least until you put yourself back in that dark space. Where the Cardinals were up 3-1 in the NLCS, at home and ready to pop bottles just...
PHOENIX (AP) Ian Kennedy struck out eight in seven strong innings and the Arizona Diamondbacks used 15 hits to beat the St. Louis Cardinals 6-2 in their season opener Monday night. Kennedy (1-0) allowed two runs on five hits with one walk. St. Louis' Adam Wainwright (0-1) went six innings, giving up four runs, three earned, on 11 hits. He struck out six with no walks. Arizona...
LA MONTE, Mo. Clintster's Cave is ready for Opening Day. The St. Louis Cardinals memorabilia a wall-sized photo of players spilling toward the mound after the 2011 World Series win, the framed photo of Stan Musial, the pillowcase with stitched birds is proudly on display. A 70-inch LCD TV screen is locked on MLB Network. And the newest scorebook, still wrapped in plastic...
PHOENIX (AP) Adam Wainwright begins earning his newfound wealth on Monday. The right-hander will be on the mound in his third opening-day start when the St. Louis Cardinals face the remodeled Arizona Diamondbacks, who for the second year in a row will open with Ian Kennedy. Wainwright's start comes four days after he agreed to contract that guarantees him 109.5 million over...
On Saturday, the St. Louis Cardinals' minor leaguers faced the Miami Marlins clubs for the sixth and final time this spring. It is also the last day for competition in Florida. The games were held on the Miami side of the Jupiter complex. In addition, Extended Spring Training Red faced the White squad. It was another clean sweep day, as all four Cardinals clubs won. Memphis and...
PHOENIX -- Before the Diamondbacks played their final exhibition game of the spring Saturday, manager Kirk Gibson announced his Opening Day lineup. Barring additional injury, the D-backs' lineup card will look like this against the Cardinals on Monday night: 1. Gerardo Parra, RF 2. Martin Prado, 3B 3. Aaron Hill, 2B 4. Miguel Montero, C 5. Paul Goldschmidt, 1B 6. Jason Kubel...
PHOENIX -- A.J. Pollock may be a rookie, but told Monday he had tied a franchise record for hits by a rookie on Opening Day the Diamondbacks outfielder came back with the quip of a seasoned veteran. "That's really cool," Pollock said. "I'm sure my mom will be all over it." A month ago prepared to open the season with Triple-A Reno, stuck behind a glut...
If you listen to the various pundits out there, the St. Louis Cardinals are predicted by many to finish no better than second to the Cincinnati Reds.  Even the Post-Dispatch's Jeff Gordon is calling this a "transition" year for the Cards, as they deal with season-ending injuries to Rafael Furcal and Chris Carpenter, while also breaking in youngsters like Shelby Miller...
PHOENIX -- Since the end of the 2012 season, the Diamondbacks have endured a lion's share of criticism for a few bold moves. First there was the trade of franchise staple Chris Young before a World Series champion had been crowned. Then came the controversial trade of top pitching (and polarizing) prospect Trevor Bauer for not-as-highly-touted shortstop prospect Didi Gregorius...
As much as the Diamondbacks have expressed this offseason a desire to manufacture more runs, so too exists just as much of a need for it, and the D-backs know it. With Justin Upton and Chris Young gone, the D-backs have drastically reduced the pure power in their lineup. Accordingly, pitching has become paramount. The D-backs have the pitching to be contenders in the NL West this...
Many major leaguers take some time before each season to contemplate and then select a walk-up song to play each time they come to the plate -- the perfect song to get them pumped up and in the mood to hit. Diamondbacks starting pitcher Ian Kennedy is not among them. He left the decision to someone else: team president and CEO Derrick Hall's 11-year-old daughter, Kylie. Her...
MLB News

Delivered to your inbox

You'll also receive Yardbarker's daily Top 10, featuring the best sports stories from around the web. Customize your newsletter to get articles on your favorite sports and teams. And the best part? It's free!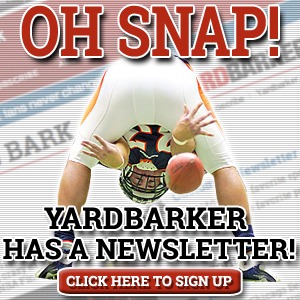 Latest Rumors
The Backyard

Today's Best Stuff

For Bloggers

Join the Yardbarker Network for more promotion, traffic, and money.

Company Info

Help

What is Yardbarker?

Yardbarker is the largest network of sports blogs and pro athlete blogs on the web. This site is the hub of the Yardbarker Network, where our editors and algorithms curate the best sports content from our network and beyond.