Posted October 23, 2012 on AP on Fox
PLAYERS:
Carlos Beltran
,
Kyle Lohse
,
Joe Kelly
,
Pete Kozma
,
Matt Holliday
,
Marco Scutaro
,
Pablo Sandoval
,
Buster Posey
,
Jon Jay
,
Daniel Descalso
,
Brandon Crawford
,
Matt Cain
,
Mike Matheny
,
Albert Pujols
,
Tony La Russa
TEAMS:
St. Louis Cardinals
,
San Francisco Giants
,
Los Angeles Angels
The offense stopped hitting, the starting pitchers couldn't even make it to the fifth inning and the St. Louis Cardinals kicked the ball around in the field. Throw in a quirky, broken-bat grounder that inexplicably changed directions at a most inopportune time and it all added up a crushing postseason collapse. After two postseasons of being a team that refused to be eliminated, the Cardinals were unable to close out San Francisco on three straight tries, losing 9-0 to the Giants in Game 7 of the NL championship series Monday night. ''We made a lot of mistakes and they didn't make any,'' outfielder Carlos Beltran said. ''They took advantage of those. They were able to put things together, offense, pitching, defense, and we couldn't do that. I think that was the difference.'' Along with that odd play in the third inning that still had the Cardinals shaking their heads in disbelief in the losing clubhouse. The Giants led 2-0 at the time and had knocked out Kyle Lohse by loading the bases with no outs. Reliever Joe Kelly broke Pence's bat at the label with a 95 mph fastball and rookie shortstop Pete Kozma moved to his right to field a possible double-play ball. But the shattered barrel hit the ball two more times, putting an odd spin on the ball that sent it slicing in another direction and into left-center, fooling Kozma on the play. ''Pete moved to his right and all of a sudden the ball was to his left,'' outfielder Matt Holliday said. ''It's hard to field a ball when a guy hits it three times.'' Marco Scutaro and Pablo Sandoval scored easily on the double and Buster Posey raced home from first to make it 5-0 when center fielder Jon Jay bobbled the ball for an error. The Giants tacked on two more runs in the inning, providing a deficit too big even for the comeback Cardinals to overcome. After breaking out to a 3-1 series lead, the Cardinals were outscored 20-1 the rest of the series in a collapse reminiscent of the one this franchise endured in the 1996 NLCS when Atlanta outscored St. Louis 32-1 in the final three games. The Cardinals batted .190 with 27 strikeouts in the three losses. They also made four errors, were 1 for 21 with runners in scoring position and allowed Giants pitchers to drive in three runs - or two more than their entire lineup produced - to become the 12th team to blow a 3-1 lead in a best-of-seven series. ''Not a lot went right for us the last three games,'' second baseman Daniel Descalso said. ''It's tough to win when you score once in three ballgames. They just outplayed us all three games.'' The latest loss ended a record-tying streak of six straight St. Louis victories in winner-take-all games. That included four wins in the past two seasons, including Game 7 of the 2011 World Series against Texas and the comeback from 6-0 down in Game 5 of the division series against Washington. It also denied Beltran his first trip to the World Series. Beltran, one of baseball's greatest postseason performers with 14 career playoff homers, fell agonizingly short once again, losing in Game 7 of the NLCS for the third time with three different teams: Houston, New York and St. Louis. He lost to the Cardinals in his first two trips and couldn't get there playing for St. Louis either. He had one hit Monday night and stole a base - his record 11th in the postseason without being caught - but it wasn't nearly enough. ''There's a lot of players that don't make it to the World Series, so they shouldn't feel sorry about me,'' Beltran said. ''I was trying to do the best I could to get there and it didn't happen.'' Lohse allowed one run in the first inning and then came up to bat in the biggest spot of the game for the Cardinals. With runners on second and third and two outs in the second, Lohse hit a line drive that looked as if it would reach the outfield to give St. Louis the lead. But shortstop Brandon Crawford made a leaping grab to rob Lohse and the hole quickly got bigger. Lohse allowed an RBI single to fellow pitcher Matt Cain in the second and couldn't retire a single batter in the five-run third. That brought an end to what had been a remarkable season during which the Cardinals made it back to the postseason under first-year manager Mike Matheny despite losing star slugger Albert Pujols to free agency and longtime manager Tony La Russa to retirement. St. Louis won 12 of its final 16 games to earn the second NL wild card on the second-to-last day of the season, then won 6-3 in a winner-take-all playoff at Atlanta to reach the division series. The Cardinals advanced to the NLCS with that memorable four-run ninth inning in Washington that stunned the Nationals. ''It wasn't how we scripted it to finish, but it was certainly a great run that these guys need to be very proud of,'' Matheny said.
Original Story:
http://msn.foxsports.com/mlb/story/Ca...
THE BACKYARD
BEST OF MAXIM
RELATED ARTICLES
TO THE RULEBOOK
Hunter Pence broke NLCS Game 7 open with a weird broken bat double, but should he have been ruled out on the play?
Committing errors is one thing – allowing the opposition to score runs as a result is another – a much more damaging result. On Sunday night in the National League Championship Series Game 6, a miscue by Pete Kozma in the second inning exacted a high toll on his St. Louis Cardinals. The shortstop lost control on the transfer after fielding pitcher Ryan Vogelsong's slow roller...
St. Louis Cardinals chat on KXnO FOX Sports Radio 1460 in Des Moines. Late Tuesday afternoon, I joined Joe Quinn and Jim Brinson on KXnO FOX Sports Radio 1460 in Des Moines in the final 2012 segment of our regular series to discuss the St. Louis Cardinals, "Cardinal Talk." This time, we discussed the conclusion of the National League Championship Series and some of the potential...
The Cardinals will get a key offensive weapon back tonight as Matt Holliday has recovered from back stiffness that plagued him in Game 6.  He's received treatment pretty much 24/7 since being scratched in Game 6, and according to Mike Matheny "He feels much better and we're confident that he's not just going to be out there, but be able to be productive."   While his...
In the St. Louis Cardinals Game Six loss to the San Francisco Giants on Sunday night, there were very few positives for Cardinals fans to point to as the two teams prepare for what should be an epic Game Seven. One positive that came out of the 6-1 loss came from the Cardinals bullpen. Cardinals phenom prospect Shelby Miller came out of the Cardinals bullpen to relieve ace Chris...
ST. LOUIS (AP) Kyle Lohse got to bed at 5:30 a.m. after the St. Louis Cardinals' flight following a most unpleasant end to the NL championship series against the San Francisco Giants. Fatigue only added to the aftershock of a spectacular nosedive as players cleaned out their lockers Tuesday at an empty stadium still adorned with bunting. The pitcher's mound and home plate...
RAP GIANT
Lil' Wayne is a documented sports fan and his love for the Green Bay Packers and New Orleans Franchises has been highlighted on some of his songs (Green and Yellow) and during his many trips to ESPN's campus.  Tonight I learned that Weezy is a San Francisco Giants fan, and while it's not the best rendition of "Take Me Out To The Ball Game" I've ever heard, he surprised...
It was evident the St. Louis Cardinals were headed back to the World Series. After an 8-3 win in Game 4 of the NLCS, admission was all but formally granted. The Redbirds had dominated the Giants across the diamond. The Sports Fan Journal's Matt Whitener tweeted that the Cardinals were headed back to the Fall [...]The post Sports Superstitions Make Fans Feel Like Part Of The Game...
Finally, our long national nightmare is over. The St. Louis Cardinals are no more, and with their elimination comes a feeling of satisfaction I didn't know was possible from a baseball game. I'm not exaggerating. All over the world, people are raised with an irrational, irreversible hatred for certain creeds, religions or ethnicities. Fortunately, my parents raised me in such...
The St. Louis Cardinals entered Game 5 of the National League Championship Series on Friday up three games to one on the San Francisco Giants, just one win from securing a spot in the World Series. All they had to do was beat Giants starter Barry Zito, who hasn't had an earned-run average under 4.03 in six years. That sounds doable enough. The Cardinals scored eight runs the...
Nope. Not feeling better about Game 7 today. Not in the least. Hard to turn on SportsCenter this AM and hear them talk about... well, a ****** Monday Night Football game. But STILL. They COULD have talked about Game 7 and that would have been the PITTS.   Listen, before we become fully entrenched in our talking points over the next couple of days, let's talk about...
MLB News

Delivered to your inbox

You'll also receive Yardbarker's daily Top 10, featuring the best sports stories from around the web. Customize your newsletter to get articles on your favorite sports and teams. And the best part? It's free!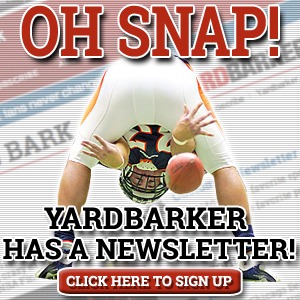 Latest Rumors
The Backyard

Today's Best Stuff

For Bloggers

Join the Yardbarker Network for more promotion, traffic, and money.

Company Info

Help

What is Yardbarker?

Yardbarker is the largest network of sports blogs and pro athlete blogs on the web. This site is the hub of the Yardbarker Network, where our editors and algorithms curate the best sports content from our network and beyond.