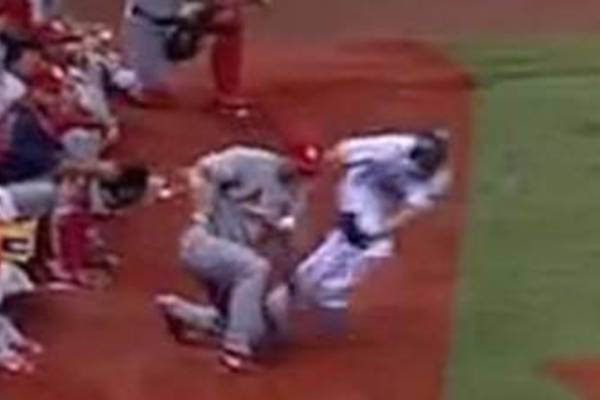 Your browser does not support iframes.St. Louis Cardinals closer Trevor Rosenthal accidentally tripped up a Tampa Bay Rays ballboy as they both went after a foul ball that rolled towards the bullpen during Wednesday night's game at Tropicana Field.It happened in the top of the eighth as Cards batter John Jay hit a 1-2 pitch foul on the third base side, right towards the Cards bullpen. Rosenthal went to pick up the grounder but apparently didn't see the Rays ballboy also going after it, leading to an awkward moment where Rosenthal nearly took out the ballboy as their feet got tangled up. The Rays ballboy had to use some fancy footwork to keep from falling on his face. Rosenthal ended up with the ball and tossed it to a nearby fan.Not sure why Rosenthal was trying so hard to get the ball, but next time he should let the ballboy do his job. Rosenthal was called upon to do his job in the eighth, and he did it well by earning the save to close out the 1-0 Cardinals victory over the Rays.Video via MLB. This post appeared first on Holdout Sports. Follow us on Twitter @HoldoutSports.
Read the rest of this story...
MORE FROM YARDBARKER
MLB News

Delivered to your inbox

You'll also receive Yardbarker's daily Top 10, featuring the best sports stories from around the web. Customize your newsletter to get articles on your favorite sports and teams. And the best part? It's free!