Found March 09, 2013 on World Series Dreaming:
Today, Chicago Suntimes reporter Gordon Wittenmyer reported the Chicago Cubs have informed Carlos Marmol's representatives at Praver/Shapiro to expect a trade. That is news Cub fans have been hoping for as they do not want Marmol to be the team's closer going into the 2013 season. He has lost nearly all credibility he has built up in previous years with his last two seasons of instability. The Cub fan base has no confidence that he can get the job done in crunch time, and would much rather see someone else slide into the closers role, someone like Japanese import Kyuji Fujikawa perhaps. Now, even though Marmol's agent has been informed that a trade is on the horizon, this should in no way be interpreted that he will be traded before opening day.  If the is to be a trade of Marmol, a deal will likely be made when most in season trades take place; that being in June or July. Even though there are teams out there that are looking for someone to fill their closer void (Detroit Tigers) there is simply no market for Marmol as a team's closer; at least not at the moment. Marmol must first re-build some value so the Cubs are not simply just paying a team to take him, without getting anything of value back. That is simply just not good business, and Theo Epstein is not dumb enough to make a decision like that. In order to re-establish his credibility and value, Marmol must make several positive strides that would once again make him into a dominant relief pitcher that opposing batters fear. Yes, there was once a time that batters were afraid to step into the batter's box when Marmol was on the mound. In 2007 and 2008, Marmol dominated the baseball world, making batters look silly. Even though his walk rate was a little higher than you would like, he also struck out nearly three times as many batters as we walked (I said nearly, he fell short of getting there). In 2009, he took a stumble, which should have been a warning sign. He looked very shaky, but still better than average. But in 2010, he was nothing short of dominant. While he had 52 walks, he stuck out 138 batters, which was good for an average of 16 strikeouts per nine innings. Marmol has always been in double digits in that area (outside of his rookie season) but nothing close to that level of complete dominance. He had a WHIP of 1.185 which is amazing, which also fell short of his 2008 WHIP of .927 and 2007 or 1.096. Since 2010 though, Marmol has struggled and his stock took a massive hit, which reached a new peak last season. In his first 15 games of the 2012 season, Marmol looked as though his career was over, and teams had figured him out. He had a record of 0-1 to go with saving only two games in his four chances, his ERA was over 6 and he was walking more guys than he stuck out. That is always a sign of how inefficient a pitcher (starter or reliever) is. After that massive beatdown, Marmol left with an injury, and missed the next 19 days of the season. That is where his season turned around though. After his disabled list stint, Marmol returned to being a pitcher who could dominate opposing teams, though some people will point to there being a lack of pressure when he came back. In the 46 games that followed his stint on the disabled list, Marmol had a record of 3-2 with 18 saves in 19 chances. His ERA was back to a very nice 2.66 and he struck out twice as many batters as he walked. He was able to show that he could figure out how to pitch, and could still be relied upon as a legitimate closer for a major league baseball team. Whether the improvement was due to a lack of pressure or a change of pitch selection, you could see a major change in the pitcher when he came back. However, that four month run of 19 straight saves was not enough to show teams he could be depended on. He needs to be able to continue to do the job consistently once the 2013 season starts. Yes, even though the Cubs signed Fujikawa in the offseason, Marmol will continue to be the closer until he is traded, or until he gets shelled to the point where there is absolutely no value left in him at all. But rest assured Cub fans, his agents were told to expect a trade.
Original Story:
http://worldseriesdreaming.com/2013/0...
THE BACKYARD
BEST OF MAXIM
RELATED ARTICLES
The days of the Chicago Cubs being lovable losers are gone and now the team is looking for ways to bring fans back to the ballpark. Being one of the few teams that do not employ a mascot their is talk that the Cubs could add one as part of a renovation of their 99 year old ballpark. Of course not everyone is happy about that. Pitcher Jeff Samardzija told the Chicago Tribune that...
Chicago Cubs first baseman Anthony Rizzo rejoined the team for a one-day break during the World Baseball Classic. Rizzo was in camp Sunday. He'll return to Team Italy when it plays in the second round this week in Miami. Rizzo also plans to watch a little video and collect some bonus money. Before he left for the WBC, several players pledged $500 if Italy won a game in the...
"Hello again, everybody." Those three words, while probably not as often said as, "I'll have another," were always on the tip of Harry Caray tongue.  A week after what would have been the amazing broadcaster's 99th birthday, I wanted to lead this edition of Ramblings with a shout-out to the man that made me fall in love with baseball. (Editor's note: this is by TSB...
Alfonso Soriano hit a two-run double and Dioner Navarro followed with two-run homer Sunday, leading the Chicago Cubs past the San Diego Padres 9-3. Christian Villanueva added a two-run homer for the Cubs. He has three hits this spring and all of them are home runs. Padres starter Jason Marquis threw four scoreless innings and allowed two hits. Reliever Andrew Cashner made his first...
With today's declaration of war between Canada and Mexico, won by the Canadian side (who has already apologized numerous times for Bryan Adams), Team Italy has advanced to the second round of the World Baseball Classic.  Here's a summary of the skirmishes from World War Que/Eh: The HBT team made a good observation, illustrating one of the inherent flaws of the WBC pool ranking...
Buntfest 2013 is nearing the finish, with defending buntmeister David DeJesus still alive.  However, a surprising Cinderella contestant has found himself in the Final Four: DeJesus, Maysonet, EJackson, and Nate the video guy advance to #Cubs final 4 in bunt tourney — Carrie Muskat (@CarrieMuskat) March 9, 2013 Who is this guy?  Some information can be acquired by scouring his...
Scott Hairston homered for the Chicago Cubs before their game against a split squad of Cincinnati Reds was rained out in the second inning with the score 1-all Friday night. Hairston homered in the first off Tony Cingrani. Neftali Soto put the Reds ahead with a sacrifice fly. The game was stopped after a 33-minute rain delay. After Hairston homered, Alfonso Soriano doubled and...
I find myself waffling on this subject quite a bit, because as all Cubs fans do, I just want the best for the Cubs.  I want them to win, and to do that I want them to be able to make truckloads of money.  There are many obstacles preventing the Cubs from making as much money as they should given the brand name recognition, the history (most of it crap, but you know, we're committed...
MLB News

Delivered to your inbox

You'll also receive Yardbarker's daily Top 10, featuring the best sports stories from around the web. Customize your newsletter to get articles on your favorite sports and teams. And the best part? It's free!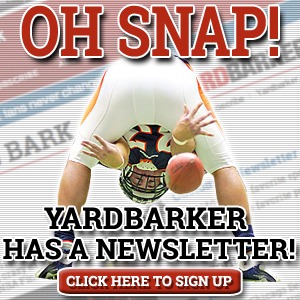 Latest Rumors
Best of Yardbarker

Today's Best Stuff

For Bloggers

Join the Yardbarker Network for more promotion, traffic, and money.

Company Info

Help

What is Yardbarker?

Yardbarker is the largest network of sports blogs and pro athlete blogs on the web. This site is the hub of the Yardbarker Network, where our editors and algorithms curate the best sports content from our network and beyond.