Found December 08, 2011 on NY Daily News:
Leaving the winter meetings on Thursday, Brian Cashman was just beginning to absorb the potential impact of Albert Pujols and C.J. Wilson signing with the Angels, moves that could throw a significant roadblock in the Yankees' path to the World Series for the next several years.
Original Story:
http://feeds.nydailynews.com/~r/nydnr...
THE BACKYARD
BEST OF MAXIM
RELATED ARTICLES
I guess it is so far so good for New York Yankees GM Brian Cashman, as he crossed a lot of things off his 2012 off-season not-to-do-list at the Winter Meetings this past week. (......)READ THE REST OF..... New York Yankees Hot Stove: Cashman Makes Progress On His Not-To-Do-List © Kate for Lady Loves Pinstripes, 2011. | Permalink Post catagories: AJ Burnett, Brian Cashman, Los...
Yu Darvish is finally getting posted. He's announced it on his blog, and it's translated below.       To all the fans, an announcement At this time, Yu Darvish has decided to use the posting system. Because I wanted to relay this to the fans first, I am announcing this here. I greatly appreciate [...] Related posts:Yankees News: CC Stays in the Bronx Yankees fans, you can...
Brian Cashman has a few different flight options set for getting home to New York, but it appears unlikely his travels will be held up by a trip to the interview podium at the Winter Meetings. 3
via Brian Hoch MLB.com | DALLAS — The Yankees never feigned even a glimmer of interest in fitting Albert Pujols for pinstripes, but the slugger's agent did reach out to general manager Brian Cashman just to make sure. Cashman learned of Pujols' monster contract with the Angels via text message during Thursday's Rule 5 Draft, [...] Related posts:Yankees News: Brackman to...
Sports fans are often suckers for big names. Big name players, big name managers, big name coaches and even GMs. Some owners are suckers for them, too. But history has shown the so-called big names dont always add up to the best hires. Had anyone heard of Jon Daniels, Brian Cashman, Theo Esptein or Andrew Friedman before they were hired by the Rangers, Yankees, Red Sox or Rays respectively...
The Yankees are considering more of the same. Not a good idea, writes Harold Friend. Insanity is doing the same thing over and over again and expecting different results. That brings us to New York Yankees' general manager Brian Cashman. … Continue reading »
For two days, Yankees General Manager Brian Cashman has been conducting a one-man promotional campaign for Jesus Montero, his precocious 22-year-old catcher.
What does it say about the bizarre nature of the winter meetings when Yankees GM Brian Cashman walks unbothered through the cavernous lobby and reporters are chasing Marlins executives into elevators?
From George A. King III:The Yankees have inserted A.J. Burnett into the trade market at the Winter Meetings, The Post has learned. According to multiple teams, the Yankees have let it be known they will listen to offers for Burnett and are willing to pay $8 million of the $33 million Burnett is owed over the next two seasons. "We will listen on anybody,'' GM Brian Cashman...
Closer Mariano Rivera is recovering as expected from throat surgery, general manager Brian Cashman said on Thursday. Rivera, 42, had polyps removed from his vocal cords on Friday in New York after having difficulty speaking for more than a month. The procedure should not affect Rivera's readiness for Spring Training. "I've been told everything is [...] Related posts:Game...
Has anyone seen this photo of Brian Cashman repelling down the side of the building? If you're a Yankees fan you're used to seeing nerdy Cashman with a microphone in his face. This may actually mean that Cashman is cooler than we originally thought! This is probably one of my favorite weekly posts. Athletes and Management in pro sports never cease to amaze me with their words...
Could this be the end of the A.J. Burnett saga? Numerous sources have reported that Brian Cashman and the Yankees would consider finally shipping off Burnett, even offering to pay $8 million of the $33 million remaining on the final two seasons of his contract. Burnett does have a limited trade clause making the teams interested in him vary.If Burnett goes, this will open a spot...
MLB News

Delivered to your inbox

You'll also receive Yardbarker's daily Top 10, featuring the best sports stories from around the web. Customize your newsletter to get articles on your favorite sports and teams. And the best part? It's free!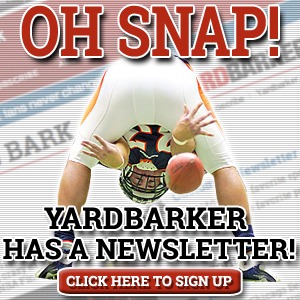 Latest Rumors
Best of Yardbarker

Today's Best Stuff

For Bloggers

Join the Yardbarker Network for more promotion, traffic, and money.

Company Info

Help

What is Yardbarker?

Yardbarker is the largest network of sports blogs and pro athlete blogs on the web. This site is the hub of the Yardbarker Network, where our editors and algorithms curate the best sports content from our network and beyond.