Yankees beat reporter Brendan Kuty answers questions from fans as the club stays quiet.
Teams interested in Clint Frazier and Miguel Andujar, per reports.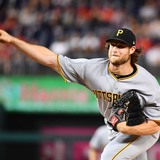 Remember when the New York Yankees were close to acquiring Gerrit Cole? As it turns out, that seems to be a load of crap. So… oops, we guess?As it stands, the Yankees rotation figures to be Severino-Tanaka-Gray-Sabathia-Montgomery in 2018. That's not too bad on paper. But then again, we don't know what Sabathia is going to give the Yankees next season. We don't even know if he can...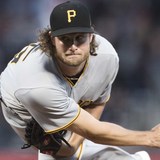 While trade talks are ongoing between the Pittsburgh Pirates and New York Yankees surrounding All-Star pitcher Gerrit Cole, nothing appears to be close or imminent at this point. Reports Thursday night indicated that the two teams had started talking again after discussions during the winter meetings fell apart.The issue at hand is Pittsburgh wants a return package to include infielder...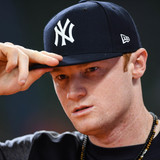 Thursday night, news would break that the Yankees were close to acquiring Gerrit Cole. Now, the Pirates are making it clear who they would like in return. The Cleveland Indians took Frazier fifth overall in 2013 before sending him to New York for Andrew Miller. And last season, he would rank as high as No. 16 (Baseball Prospectus) in terms of prospects. His first 142 plate appearances...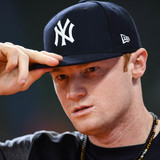 There have been consistent reports about the New York Yankees and Pittsburgh Pirates discussing a trade for Gerrit Cole, and now it sounds like Clint Frazier would likely be a part of a deal if one were to happen.FanRag Sports' Jon Heyman reported on Friday that the two teams are continuing to talk about a Cole deal. That's when he also said Frazier would likely be a part of such...
Yankees rookie outfielder Clint Frazier returns to the big leagues after his recent activation off the 10-day D.L. Subscribe here: http://bit.ly/10FUHE2 Like on Facebook: http://facebook.com/YESNetwork Follow on Twitter: http://bit.ly/1dtTy7q Follow on Instagram: http://bit.ly/PGQWNm
Clint Frazier has been a pleasant surprise for the New York Yankees since being called up to the club on July 1. The injury to Aaron Hicks called for a spark in the outfield and Frazier provided it. But with Hicks currently rehabbing and on the way back, someone is going to be on the outside looking in. It's unfortunate for Yankees fans that it has to be Frazier but he is the youngest...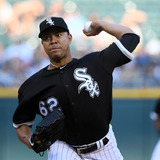 If the Chicago White Sox are going to trade left-handed pitcher Jose Quintana, it sounds like they'll either need to bring their asking price down or hope a suitor gets desperate.According to Jon Heyman of FanRag Sports, the White Sox have asked for two elite prospects from other teams in Quintana trade talks.Both the Houston Astros and New York Yankees have been engaged in talks...
Rookie Clint Frazier hit a three-run walk-off home run on Saturday to give the New York Yankees a big win over the Milwaukee Brewers at Yankee Stadium.
MORE STORIES >>
Yankees News

Delivered to your inbox

You'll also receive Yardbarker's daily Top 10, featuring the best sports stories from around the web. Customize your newsletter to get articles on your favorite sports and teams. And the best part? It's free!