Found October 25, 2012 on Pirates Prospects:
CHAD BECK RIGHT HANDED PITCHER Born: January 17, 1985 Height: 6'4″ Weight: 255 Bats: Right Throws: Right Drafted: 14th round, 417th overall, 2006 (Diamondbacks) How Acquired: Waiver Claim (from Blue Jays) College: University of Louisiana (Lafayette) Agent: N/A WTM'S PIRATE PLAYER PROFILES The Pirates claimed Beck off waivers from Toronto.  He's made his way slowly through the minors.  He's generally been a swing man, until he served as a closer in 2012.  That's usually an indication that a team regards a pitcher as a marginal prospect at best.  Beck throws hard, around 93-94, with a slider and a splitter or cutter.  He's had unimpressive to poor K rates throughout most of his career.  He's mostly been a flyball pitcher. 2006 A-:  1-5-0, 6.25 ERA, 1.61 WHIP, 40.1 IP, 4.0 BB/9, 10.0 K/9 Beck struggled in his debut in short-season ball. 2007 A:  1-2-1, 4.33 ERA, 1.40 WHIP, 52.0 IP, 3.5 BB/9, 8.3 K/9 The Diamondbacks moved Beck to the bullpen in low A and he improved across the board, although he didn't have a strong season. 2008 A:  2-0-0, 2.04 ERA, 0.91 WHIP, 17.2 IP, 1.5 BB/9, 9.7 K/9 A+:  6-5-1, 3.98 ERA, 1.17 WHIP, 95.0 IP, 2.4 BB/9, 8.4 K/9  After pitching briefly in relief in low A, Beck moved up to the California League and started 15 of his 25 appearances.  He pitched well, especially considering the high-offense environment in that league.  His peripheral numbers were much better than his ERA.  Arizona traded him to Toronto after the season. 2009 A:  6-8-0, 5.94 ERA, 1.48 WHIP, 110.2 IP, 2.4 BB/9, 6.9 K/9 A+:  0-0-0, 4.35 ERA, 1.74 WHIP, 10.1 IP, 5.2 BB/9, 12.2 K/9 For some reason, the Jays sent Beck back to low A for most of the season and he struggled there for 20 starts.  His control was good but his K rate dropped and opponents hit .292 against him. 2010 A+:  3-6-0, 3.72 ERA, 1.26 WHIP, 101.2 IP, 2.7 BB/9, 7.0 K/9 Beck spent the season in high A, making 11 starts and otherwise pitching in relief.  He pitched much better, although his K rate was just OK. 2011 A+:  0-0-0, 1.69 ERA, 0.94 WHIP, 5.1 IP, 1.7 BB/9, 11.8 K/9 AA:  7-4-0, 3.69 ERA, 1.26 WHIP, 95.0 IP, 2.7 BB/9, 6.6 K/9 AAA:  2-4-0, 6.70 ERA, 2.09 WHIP, 41.2 IP, 5.6 BB/9, 5.0 K/9 MLB: 0-0-0, 0.00 ERA, 0.43 WHIP, 2.1 IP, 0.0 BB/9, 11.6 K/9 Beck made his way through four levels, although he spent the bulk of the season in AA, making 14 starts out of 22 games.  He was effective there but had a low K rate.  He started eight games in AAA and struggled, giving up a .332 opponents' average and walking more than he struck out.  Toronto brought him up in mid-September and he made three brief appearances. 2012 AAA:  2-0-18, 1.31 ERA, 1.08 WHIP, 48.0 IP, 2.4 BB/9, 4.5 K/9 MLB:  0-0-0, 6.32 ERA, 1.66 WHIP, 15.2 IP, 2.9 BB/9, 5.2 K/9 Beck spent most of the season as a closer in AAA.  He also got brief callups in June and July, as well as a September callup.  He was very effective in AAA, but had an extremely low K rate.  He got hit hard in the majors. This isn't an easy acquisition to understand.  The Pirates already have several pitchers who are very similar to Beck, most notably Mike Colla and Brandon Cumpton.  There's nothing in Beck's background to indicate that he's more than AAA depth, which means he shouldn't be on their 40-man roster.  It's quite possible he won't be for long, which is what happened to Jeremy Hefner a year ago. STATS Baseball Reference–Majors Baseball Reference–Minors Fangraphs MLB.com MiLB.com CONTRACT INFORMATION 2012: Major league minimum PLAYER INFORMATION Signing Bonus: N/A MiLB Debut: 2006 MLB Debut: 9/13/2011 MiLB FA Eligible: N/A MLB FA Eligible: 2018 Rule 5 Eligible: N/A Added to 40-Man: 9/6/11 Options Remaining: 2 (USED:  2012) MLB Service Time: 0.022 TRANSACTIONS June 7, 2004: Drafted by the Toronto Blue Jays in the 43rd round, 1285th overall pick. June 6, 2006: Drafted by the Arizona Diamondbacks in the 14th round, 417th overall pick; signed on June 14. August 31, 2008: Traded by the Arizona Diamondbacks to the Toronto Blue Jays for David Eckstein. September 6, 2011: Contract purchased by the Toronto Blue Jays. October 22, 2012: Designated for assignment by the Toronto Blue Jays. October 25, 2012: Claimed off waivers by the Pittsburgh Pirates.
Original Story:
http://feedproxy.google.com/~r/Pirate...
THE BACKYARD
BEST OF MAXIM
RELATED ARTICLES
2012 was supposed to be a step forward for the Blue Jays...instead, it was more of the same. Jose Bautista dealt with ineffectiveness and injury all season, crippling the Toronto offense. The Blue Jays pitching staff apparently came into contact with plutonium, with the team using 12 starters this season. Only three of those 12 pitched started more than 20 games. So yeah, saying...
The Pittsburgh Pirates announced they have claimed off waivers RHP Chad Beck from the Toronto Blue Jays and catcher Ramon (Ali) Solis from the San Diego Padres.
Casey Janssen doesn't have a problem with the save rule, nor does he have much trouble earning saves. The Toronto Blue Jays right-hander racked up 22 of them after being the handed the closer's role in May. The 31-year-old former set-up man appeared in 62 games overall, logging a 2.54 ERA and 0.864 WHIP while walking just 1.6 batters per nine innings. He talked about his successful...
BOSTON -- John Farrell wants to bring stability to the Red Sox, and that starts with the coaching staff. While Farrell has reportedly brought Torey Lovullo from Toronto to become his bench coach, he said he's still discussing the rest of the team's coaching vacancies with Red Sox general manager Ben Cherington. "I wouldn't say we're really...
The Pirates claimed pitcher Chad Beck and catcher Ali Solis off waivers on Thursday. Jeff Clement and Eric Fryer were designated for assignment to make room for Beck and Solis on the 40-man roster. Obviously, these are pretty minuscule moves in the grand scheme of things, but I'll briefly break them down anyway. Beck is a 27 year old reliever that was recently DFA by the Blue...
In the least surprising move since John Farrell was named manager, Torey Lovullo has joined the Red Sox as bench coach, according to a joint announcement from Ben Cherington and John Farrell.  Lovullo of course was Farrell's first-base coach in Toronto, and before that was the Pawtucket manager, so he has long ties to this organization. But did you know that he has a 1.167...
The Red Sox sent Mike Aviles to the Blue Jays in exchange for John Farrell, but it appears that they discussed sending a key piece of their bullpen up north as well. Compensation talks between the two teams for Farrell's services came down to either Aviles or Red Sox closer Andrew Bailey, according to ESPN's Buster Olney, although it's unclear how the two clubs ultimately...
John Farrell has named his right-hand man. On Friday, executive vice president/general manager Ben Cherington and Farrell announced that Torey Lovullo has been named the team's bench coach. Lovullo, who served as first base coach on Farrell's staff in Toronto for the 2011-12 seasons, returns for his second stint in the Red Sox organization after managing...
BOSTON –– John Farrell isn't afraid of the tough conversations. As manager of the Blue Jays, he was willing to challenge legendary shortstop Omar Vizquel's assessment of his managerial style. Farrell hopes that aggressive personality will continue to translate onto the field. "I do know this -- an aggressive style is what we want, and that takes...
MLB News

Delivered to your inbox

You'll also receive Yardbarker's daily Top 10, featuring the best sports stories from around the web. Customize your newsletter to get articles on your favorite sports and teams. And the best part? It's free!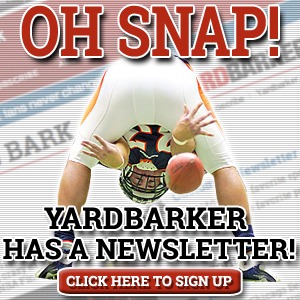 Latest Rumors
The Backyard

Today's Best Stuff

For Bloggers

Join the Yardbarker Network for more promotion, traffic, and money.

Company Info

Help

What is Yardbarker?

Yardbarker is the largest network of sports blogs and pro athlete blogs on the web. This site is the hub of the Yardbarker Network, where our editors and algorithms curate the best sports content from our network and beyond.