Found February 20, 2013 on isportsweb.com:
With Spring Training coming up, Chicago White Sox fans are trying to be optimistic considering the unfortunate manner in which last season played out. After being in first place for 117 days, the Sox finished on a 4-11 slide to lose the division title to the Detroit Tigers. No one player is to blame for the woes of last season and second-year manager Robin Ventura is looking forward to the 2013 season with its own set of challenges. The pitching staff looks ready to compete with a starting rotation headed by Chris Sale and Jake Peavy. The bullpen is also stronger with the acquisition of Matt Lindstrom. There are some wild cards in the offensive department and those players will need to perform if the Sox hope to contend late in the season with an even stronger AL Central. Here's some things to look for this year. 3 Up                                                                      Best Case Scenario for 2013 The 2013 team is a somewhat different squad with notable absences being A.J. Pierzynski and late season presence Kevin Youkilis. However, if 2012 taught us anything, it is that the White Sox can contend in what's becoming a very talented American League Central. The best case scenario here is that we see repeat performances out of veterans such as Alex Rios and Jake Peavy while young players such as Addison Reed and Dayan Viciedo continue to develop. If the pieces fit correctly, the White Sox can definitely take home first place. Most Important White Sox      An argument could be made for both Chris Sale or Jake Peavy as the most important pitchers on the White Sox roster, but I believe the key player right now is John Danks. Injury saw Danks sidelined for most of the 2012 season and his physical rehabilitation just recently had him back on the mound. Should he make a full recovery and be the reliable veteran the Sox want, either Jose Quintana or Hector Santiago could be used to strengthen an already stacked bullpen. The White Sox need Danks' presence in the rotation, not to mention the fact that he isn't going anywhere since he is in his second year of a five-year $65 million extension. Hopefully Sox fans will see this soon As far as hitting is concerned, Adam Dunn is still going to be the game changer for the White Sox. Last year had Dunn bouncing back from a horrible Chicago debut in 2011. In 2012, he hit 41 homeruns and drove in 96. That being said, he also closed with a .204 average with a depressing 222 strikeouts. Even though those last two numbers are disheartening, the White Sox still need him to be a threat in the middle of the lineup and not revert to his 2011 self. It would be nice if he made better contact, but the chance that he will hit the ball 400 feet is enough to make opposing pitchers think twice before throwing him a get-me-over fastball. Potential Breakout Players With the departure of A.J. Pierzynski, a lot is riding on Tyler Flowers to fill his shoes behind the plate. Flowers played in 52 games last season and came out of it with an unimpressive .213 BA. However, the White Sox know that he won't match Pierzynski's level of production (especially after A.J.'s sick 2012 season), but that his real impact will be behind the plate. Flowers will be catching for a pitching staff that could have the White Sox in playoff contention in September. How he handles everyday play remains to be seen. One of those pitchers happens to be the young Nate Jones. Brought up in 2012 and playing in 65 games, Jones was 8-0 with a 2.39 ERA. He was extremely reliable and efficient as a set-up man. Jones has the potential to be a guy to build a bullpen around, especially if veteran players such as Thornton and Linstrom can't pull their weight. It will be interesting to see if he can stay at this level throughout a whole season. 3 Down Worst Case Scenario Much like the 2012 campaign, a lot can go wrong this year for the White Sox. Players such as Alex Rios, Jake Peavy, Gordon Beckham (and the list goes on) could just not show up. We've seen it before. However, with the pitching staff as deep and as talented as it is, it'd be surprising to see this Sox team in the fourth or fifth spot in the AL Central. Areas of Concern One of the biggest areas of concern is that the White Sox could have an offensively terrible infield. Gordon Beckham continued to disappoint last year and Brent Morel hit only .177 before being out for the season with injury. All this is added this to the fact that Paul Konerko will probably stop being Superman one day and let his age catch up to him. One of the first two will probably see some bench time if they can't produce in the first few months of the season. Who Needs to Bounce Back From a Down 2012 Beckham needs a rebound at the plate White Sox fans just keep waiting for Gordon Beckham to take off. The guy is second-to-none defensively, but come on Gordon. Hit the ball. His .234 average last year was just slightly better than his .230 the year before and for playing 151 games, 60 RBIs isn't turning any heads. We all want Beckahm to hurry up and become the player the franchise needs him to be. The same goes for Alexei Ramirez. His RBI production was adequate at 73, but the shortstop was quoted as saying he wants to do more. Last year was his career worst at nine home runs and a .265 average. Nobody has any doubts defensively about a Sox infield that has the likes of Beckham and Ramirez, but there are two sides to baseball and both these players have something to prove at the plate in 2013.  
Original Story:
http://feedproxy.google.com/~r/isport...
THE BACKYARD
BEST OF MAXIM
RELATED ARTICLES
The Chicago White Sox say they have agreed on a five-year, $32.5 million contract with left-handed starter Chris Sale. The 23-year-old went 17-8 with a 3.05 ERA and 192 strikeouts in his first season a starter. He was on the American League All-Star team and finished sixth in the Cy Young voting. Chicago general manager Rich Hahn says the team is ''thrilled to be able to...
The Chicago White Sox say they have agreed on a five-year, $32.5 million contract with left-handed starter Chris Sale. The 23-year-old went 17-8 with a 3.05 EA and 192 strikeouts in his first season a starter. He was on the American League All-Star team and finished sixth in the Cy Young voting. Chicago general manager Rich Hahn says the team is ''thrilled to be able to...
THE BIG SCREEN
Chicago White Sox slugger Adam Dunn will be appearing in a movie directed by Matthew McConaughey, who will also act in it.
Matt Thornton did not participate in drills with the Chicago White Sox yesterday.  The pitcher has expressed discomfort with his elbow, so the team is taking no chances.  He underwent an MRI and will only participate in drills when he feels healthy enough to do so. According to Mark Gonzales of the Chicago Tribune, Thornton has been diagnosed with elbow inflammation.  The...
There's a Chicago athlete that appears ready to make his return to his sport. He's making seven figures, has been known to come through in clutch situations, and figures to be entering the prime of his career. You guessed Derrick Rose, right? While I do hope Derrick's return is soon, the player I'm talking about has had some much more encouraging signs in his rehab. ...
Typically when athletes move from the playing field to the silver screen, they take on roles in big-time action movies with explosions, gunfire and the like. Adam Dunn will be making his acting debut in an independent film starring Matthew McConaughey. Dunn plays a bartender in Dallas Buyers Club, according to ESPN.com. IMDB describes the movie, which opens in Summer 2013, as "Loosely...
In my Monday post about the White Sox recent success beating preseason projections, I included a statement that I've mentioned a few times over the last few years: But also, please just keep in mind that projections are not predictions. They are a snapshot of what we think a team's median true talent level might be, and it should be understood that there's a pretty sizable...
It will either make me feel the part of fantasy baseball genius or fantasy fool. In my big money, bigger pride fantasy baseball rotisserie league I made a trade last night for Matt Moore to add to my staff that will already feature my keeper Chris Sale. Today, I dealt a pair of round 11 draft picks that I acquired throughout last season for Yu Darvish. I wanted the guy last year...
White Sox News

Delivered to your inbox

You'll also receive Yardbarker's daily Top 10, featuring the best sports stories from around the web. Customize your newsletter to get articles on your favorite sports and teams. And the best part? It's free!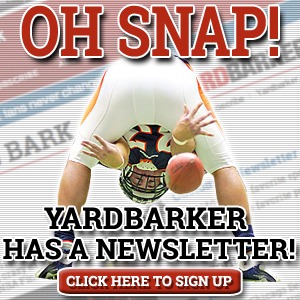 Latest Rumors
Best of Yardbarker

Today's Best Stuff

For Bloggers

Join the Yardbarker Network for more promotion, traffic, and money.

Company Info

Help

What is Yardbarker?

Yardbarker is the largest network of sports blogs and pro athlete blogs on the web. This site is the hub of the Yardbarker Network, where our editors and algorithms curate the best sports content from our network and beyond.