Found May 07, 2012 on isportsweb.com:
To be honest, I was very optimistic going into this weekend's series against the Detroit Tigers. Our Chicago White Sox were coming off a series loss against the division rival Cleveland Indians, but the Tigers have not necessarily been playing up to their potential. With Jake Peavy on the mound on Friday, it was looking like we would take advantage of their shortcomings and start the series off the right way. However, Jhonny Peralta's walk-off home run put an end to all that. Luckily, Adam Dunn was able to have a ninth inning blast of his own to give the good guys the 3-2 win on Saturday. Unfortunately, Dunn's bat was the only one making any noise on Sunday as he hit his ninth home run in a 1-3 loss. Rick Porcello silenced the already quiet White Sox bats in the series rubber match. After giving up the first inning bomb to Dunn, Porcello only allowed three hits in the next six innings. True to the sad tone of the season, the Sox also missed plenty of opportunities and went 0-8 with runners in scoring position. Dunn after his fourth home run this week All three of these Detroit contests were very close with the first two being decided in the ninth inning. To our credit, Sunday's match was also a nail-biter.  The Sox managed to get Alex Rios and Kosuke Fukodome on base in the ninth as Gordon Beckham went to the plate. He was not the hero the team needed, though, as he struck out swinging at ball four. Beckham turned it around a bit earlier in the week and raised his average to a more respectable .233. Despite that surge, he has been 0-6 since then and these next few weeks should really determine the amount of play he will see up till the All-Star Break. As far as White Sox pitching was concerned, few conclusions can be drawn. Dylan Axelrod pitched Sunday as a result of Chris Sale's recent relocation to closer. Axelrod's performance wasn't very memorable, but that is neither good nor bad. He gave up two runs over 4 1/3 innings, but both of those runs were home runs and it did take him 99 pitches to get that far. Obviously the Detroit lineup is packed with big bats, but giving up two home runs is certainly not ideal. Axelrod was moved back into the minors after the game in order to make roster space for Monday's double-header. Going into Monday's games, the Sox are three games out of first. However, this isn't too bad since six out of the next nine games are against the Indians and the Tigers. Philip Humber will be looking for his first win since his historic perfect game a few weeks ago.
Original Story:
http://isportsweb.com/2012/05/07/chic...
THE BACKYARD
BEST OF MAXIM
RELATED ARTICLES
Who's the biggest dead weight connected to the Chicago White Sox: Gordon Beckham? Brent Morel? How about Ken "Hawk"Harrelson who gave us 63 seconds of dead air Friday night on the game's most pivotal play. Yes, over a minute of silence as the game's critical home run unfolded. Obviously, it's time HE GONE! Over the weekend, the Detroit Tigers took two of three from the...
Say what you want about the White Sox offense, but the pitching is second to none. Well actually, the Sox pitching is second only to three teams since they command the fourth lowest American League team ERA. Regardless, that stat is something to be proud of. The team's early success on the mound is especially profound considering the bullpen situation during Spring Training. Before...
BLIZZARD OF OZZ
A follow-up question about the Fidel Castro incident set off the Marlins manager, causing him to do what he does best: curse up a storm.
Well, it didn't take long for Ozzie Guillen to return to the Ozzie Guillen of old. We hadn't heard much from Guillen, other than an apology, since being suspended for his Fidel Castro comments. So it actually could be argued that Guillen has finally gotten it. But just as you begin to think that we may be seeing a new and improved Ozzie Guillen, the same old Ozzie Guillen rears...
36-year-old Paul Konerko is off to a tremendous start this season, hitting .347/.426/.614 with six bombs, 14 runs, and 17 RBI. His value might never be higher.Paulie has hit over .300 for the past two seasons and he's off to a great start in 2012. However, it's highly unlikely that he will sustain a BABIP over .360. The question is, when his AVG drops, how far will it go? Konerko...
Marlins PR Guy – "Okay, Mr. Guillen. Now if they ask you any questions about the Castro comments – just say, "No comment." Can you do that for me, Mr. Guillen?" Ozzie Guillen – "Oh **** You. Grow up, ************." Marlins PR Guy – "Well, as long as you don't say that we should be alright."
Addison Reed (credits below) This week we take a look at another two rookies out in Oakland and the reason why in Boston they are starting to ask the question: Kevin who ?  RP- ADDISON REED (CHI SOX)- Reed has been lights out in Chicago this year in his 9 innings of work. Reed has struck out 12 batters, has a 0.00 ERA and a 0.89 WHIP. Manager Robin Ventura removed one rookie...
Including pitching the 21st perfect game in major league history, Philip Humber has set a number of new career marks over his last three starts. The last two outings, though, have yielded forgettable blemishes. Humber will try to get back on track Monday in the first game of a day-night doubleheader, which kicks off a four-game series between his visiting Chicago White Sox and...
Though last night's loss was pinned on Valverde, the offense has to take some of the blame. The offense went 2-8 with RISP and had only 2 doubles to go along with 7 singles. Other than Cabrera and Jackson, no one else has caught fire, and most of the guys are in minor slumps (Raburn is just Rayburn). I have every confidence that the team will hit. Not sure when, but we'll be...
Feel bad about slamming Peavy yet? Mike G. Chicago, IL ___________________________________ This question makes the very broad assumption that I feel anything. I don't. If I did I would already be cowering in shame because the Cardinals just dropped a series to the LOLstros. But this is baseball. It defies feeling. It defies logic. The Red Sox and Phillies in last place? The Dodgers...
White Sox News

Delivered to your inbox

You'll also receive Yardbarker's daily Top 10, featuring the best sports stories from around the web. Customize your newsletter to get articles on your favorite sports and teams. And the best part? It's free!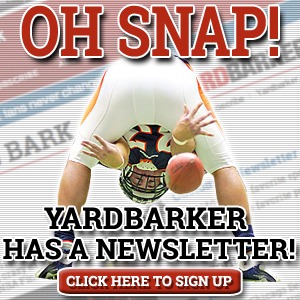 Latest Rumors
Best of Yardbarker

Today's Best Stuff

For Bloggers

Join the Yardbarker Network for more promotion, traffic, and money.

Company Info

Help

What is Yardbarker?

Yardbarker is the largest network of sports blogs and pro athlete blogs on the web. This site is the hub of the Yardbarker Network, where our editors and algorithms curate the best sports content from our network and beyond.