Found November 12, 2012 on Fox Sports Ohio:
PLAYERS:
Aroldis Chapman
,
Dusty Baker
,
Ryan Madson
,
Bill Bray
,
Bryan Price
,
Sean Marshall
,
Barbra Streisand
,
Jonathan Broxton
,
John Smoltz
,
Stephen Strasburg
TEAMS:
Cincinnati Reds
,
Atlanta Braves
,
Washington Nationals
,
Kansas City Royals
As the saying goes, if something isnt broken why even tinker with it, why take a single screwdriver to it? Such would seem to be the case with Cincinnati Reds closer Aroldis Chapman. And yet the Reds seem intent upon removing the closer title from his name and changing it to starter. Should they do it? Will they do it? A lot of factors need to fall into place for the Reds to accomplish that mission, but their aim is to put Chapman into the rotation, despite his dazzling display as the teams closer in 2012. Paste the pages back on the 2012 calendar and stop at February, when the Reds reported for spring training. The Grand Plan was to include the 24-year-old Cuban refugee in the 2012 starting rotation, a chance for the Reds to get a bigger bang for the 30 million bucks they invested in the 6-foot-4, 200-pound lefthander. After all, he was a starter for the Cuban National team before he defected and the Reds won a bidding bee to sign him. And everything seemed a go for the kid they tagged The Cuban Missile. In five spring training starts he was 2-0 with a 2.12 earned run average with only two walks and 18 strikeouts in 17 innings. He was, by far, our best starting pitcher in spring training, said manager Dusty Baker. Then disaster hit the Reds bullpen like two locomotives colliding on the mainline. They had signed free agent Ryan Madson to be the closer. But he never made it to the mound for the Reds and ended up with season-ending Tommy John elbow ligament replacement surgery. Shortly after that, top-shelf relief pitchers Nick Masset and Bill Bray went down before spring training ended, decimating the bullpen, acknowledged as the strongest part of the Reds roster. What to do, what to do? Baker, pitching coach Bryan Price and general manager Walt Jocketty put their heads together and the three-headed conglomerate decided to put Chapman into the bullpen. The Reds traded for set-up lefthander Sean Marshall in the off-season and decided his veteran presence and experience was best-suited to be the closer. Chapman became a set-up guy. But when Marshall was shaky and so-so, a switch was made at the end of May. Chapman became the closer and with apologies to Barbra Streisand, A Star Was Born. Chapman and his triple-digit fastball was an instant sensation. His stats were as staggering as his 102 miles an hour fastballs that left batters swinging at a whispering wind. He saved 38 games in the last four months. He struck out 122 batters in 71 23 innings, more than 15 per nine innings. He walked only 23. He gave up only 35 hits and 12 earned runs, only five earned runs to National League teams. Hitters would rather face a dentists drill than Chapman and trying to catch up to his fastball was like chasing a Japanese bullet train on a bicycle. But the Reds still see him as a starter. And with that in mind they are trying to sign free agent Ryan Madson, the guy they wanted to be the closer in 2012 before his injury, or Jonathan Broxton, for whom the Reds traded at the July 31 nonwaivers trade deadline after he saved 23 games in the first half of last year for a mediocre Kansas City Royals team. If they can accomplish one or both of those signings, that leaves Chapman to go after a rotation spot. And, of course, the Reds have to make it through spring training without half the bullpen succumbing to life in the trainers room. Will it work? Broadcaster John Smoltz, who split his career being both an outstanding starter and an outstanding closer for the Atlanta Braves, watched Chapmans bullpen work and said unequivocally, If Im the Reds, I dont change a thing. I leave him in the bullpen. In his first year as a closer he was one of the best Ive seen. Chapman was basically a one-pitch pony the fastball. Many times he threw nothing but fastballs. In some appearances he mixed in a few knee-buckling sliders. As a starter he would need at least one more pitch, probably a changeup. A pitch he was working on last spring before his shift to the bullpen. And he would need to use the slider more. And for sure his consistent 100 miles per hour pitches out of the bullpen would slow down over six, seven and eight innings. Chapmans velocity in 2012 did recede as the season wore on, but his 97, 98 and 99 miles per hour offerings gave him better command and control. One wonders if it is noteworthy that when he was being groomed to start last spring his numbers were not as gaudy 17 hits in 17 innings and a 2.12 ERA as opposed to only 35 hits in 71 23 innings and a 1.51 ERA out of the bullpen during the season. Batters hit .262 against him as a spring starter but only .141 during the season as a closer. And there is the question of durability. Will his shoulder and arm, with his violent delivery, stand up for 170 to 200 innings? He had shoulder fatigue in September this season and had to be shut down for nine days. Would the Reds have to pull a Stephen Strasburg with him as a starter next season and limit his innings, possibly having to shut him down before seasons end, as the Washington Nationals did with Stephen Strasburg? One thing is for certain. Chapman left a footprint on the mound the size of a T-Rex as a closer.
Original Story:
http://www.foxsportsohio.com/11/12/12...
THE BACKYARD
BEST OF MAXIM
RELATED ARTICLES
Votto is slated to remain in Cincinnati for the next decade by: Chase Fitzgerald Staff Writer All the talk before the season on how the Reds were going to go on without Joey Votto meant nothing on April 2nd when Joey Votto signed the longest deal in baseball history for 12 years and for the price of 251.5 million dollars to remain a Red for his entire (presumably) career...
It's hard to believe it's already time to start thinking about Redsfest, but the 2-day extravaganza of Cincinnati-Reds-related fun is December 7 and 8: less than a month away. If you've attended Redsfest in recent years, you know there are lots of opportunities to stand in line. And get autographs! Here's the current list of players who are confirmed to appear this year,...
The greatest fanfest in all of professional baseball is set to get underway December 7-8 at the Duke Energy Convention Center in downtown Cincinnati. The majestic event I am referring to is the annual bash known as Redfest. It's a place for fans to interact with the past, current, and future stars of the Reds. With that in mind, here is a list of the players, coaches, and...
Shortstop is a position that the Reds recently had a bit of an interesting situation arise with as Walt Jocketty reportedly said that he would be open to trading incumbent Reds starting shortstop Zach Cozart or the guy waiting in the wings at AAA in Didi Gregorius. One of those two players should be manning shortstop for the Reds over the next several seasons. The top shortstop prospect...
Frazier's bid to become the team's first NL ROY since 1999 came up short on Monday Reds infielder Todd Frazier was among three finalists for National League Rookie of the Year honors, but ultimately finished third after the announcement was made on MLB Network Monday night. Washington Nationals 19-year old phenom Bryce Harper topped the voting after edging out second...
The Reds made a surprising move when they acquired Sean Marshall from the Cubs last December. They thought so highly enough of the southpaw to reward him with a 3-year, $16.5M contract extension before he ever threw a pitch as a Red. So far, that deal has paid solid dividends. The 30-year old proved to be a solid option as a setup man and played a key role in helping Cincinnati...
On Tuesday, the Redlegs were once again snubbed of a major postseason award as Dusty Baker finished in second place for the National League Manager of the Year Award, which is voted upon by the Baseball Writers' Association of America (BBWAA). Washington Nationals skipper Davey Johnson took the prize after garnering 23 out of a possible 32 first-place votes and totaling 131 overall...
2012 was quite a roller coaster ride for Todd Frazier. He started off with a strong spring training that appeared to have earned a spot on the Reds opening day roster before a late change sent him back to Louisville for the start of the season. However, he soon got his chance and took advantage of opportunities created from injuries to finish third in the balloting for NL Rookie of the Year.
Despite a four-run eighth inning, Peoria was unable to rally and lost to Surprise 11-8 on Friday. They tallied 11 hits to the Saguaros' 12 and both teams committed an error in the game. Reds players played a big part in this game, but weren't able to assist in a victory. -SS Didi Gregorius went 1-4, with an RBI (7) and a walk. -1B Travis Mattair was 0-3, with a strikeouts...
Ben and Sam discuss the Reds` and Angels` approaches to bullpen-building, how Cincinnati`s philosophy affects Aroldis Chapman`s future, and which way the wind is blowing where the closer role is concerned.
MLB News

Delivered to your inbox

You'll also receive Yardbarker's daily Top 10, featuring the best sports stories from around the web. Customize your newsletter to get articles on your favorite sports and teams. And the best part? It's free!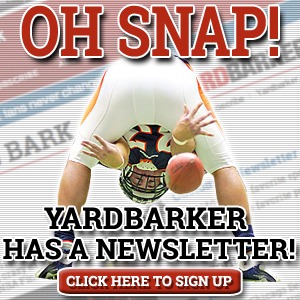 Latest Rumors
The Backyard

Today's Best Stuff

For Bloggers

Join the Yardbarker Network for more promotion, traffic, and money.

Company Info

Help

What is Yardbarker?

Yardbarker is the largest network of sports blogs and pro athlete blogs on the web. This site is the hub of the Yardbarker Network, where our editors and algorithms curate the best sports content from our network and beyond.