Found June 13, 2013 on The Daily Stache:
PLAYERS:
Jody Gerut
,
Mike Pelfrey
,
Pedro Feliciano
,
Sandy Alderson
,
Zack Wheeler
,
Robinson Cano
,
Collin Cowgill
,
Carlos Gonzalez
TEAMS:
Minnesota Twins
,
New York Mets
,
New York Yankees
,
Colorado Rockies
,
San Diego Padres
If you head down to Citi Field to catch a Mets game, many unordinary sights will meet your eyes. You will see a sprawling diamond of freshly paved dirt and newly cut grass. You will see hundreds of food stands and many strangers offering you a free Mets jacket on the one condition that you pay them. You will see a man with a cowbell, a man covered in pins, and maybe even the mustachioed man who likes to run around dishing out high-fives in section 107. You will probably see a number on the scoreboard that will make you groan and wonder if the team will ever turn it around. And because of this, you will see empty seats. A lot of empty seats. Citi Field is a ghost town. Attendance has dwindled consistently every year since the park opened in 2009. You may remember the first regular season game played at Citi against the San Diego Padres. Jody Gerut led off with a home run against Mike Pelfrey, and the Mets eventually lost on a Pedro Feliciano balk, kicking the tires on a season that would see our Mets struggle to a disastrous season after being picked by Sports Illustrated to win the World Series. Did fans put up with a terrible team so that they could check out the new park? Yes, for one year. The Mets drew over 38 thousand fans a game in 2009, after which attendance declined sharply; 35,000 is a pretty astonishing turnout at the park these days. The Mets have a below-average daily draw in the largest sports market on Earth. Embarrassing. Incomprehensible. Depressing. You pick the word for it. It is a reality, and no matter what Mets General Manager Sandy Alderson says, his hands are tied because of the empty seats on game day. The Mets are broke, and cannot add any talent to the roster from the outside without opening up their pocketbooks. Increased spending is something the Wilpons seem they cannot do until attendance improves. And it becomes increasingly apparent with each passing day that attendance will not improve until the payroll and the quality of the team goes up. As such, owners and the fans are at an unspoken standstill, one that has sunk the Mets' ship since they moved to Citi Field and will cause this year to be a failure as well unless Zack Wheeler turns out to be a self-cloning robot who can pitch perfect games every day of the week. If the Mets start winning, fans will go to the games. Free-Agent-to-be Robinson Cano puts butts in the seats. Shake Shack does not, and neither does Collin Cowgill. The Wilpons need to spend money on the team, and Sandy needs to add to the roster by being active on the trade market. Bringing in the likes of Cano or Carlos Gonzalez will bring fans to the park. And when that happens, and the team starts winning, the Wilpons will find their pockets as full as their stadium. If the owners are waiting for fans to show up before they start taking steps to improve the team, the team will lose and the seats will remain empty. Some recent reports have suggested that the Mets are ready to start adding major talent to supplement the talent coming up through the farm system. Other reports have suggested that the financial woes of the Wilpons are getting worse, not better. It is tough to see where the Mets are headed, but one thing that has become clear is that if the Wilpons want fans to show up, they will have to give us a reason to do so.   The post Citi Field: The Empty House appeared first on The Daily Stache.
Original Story:
http://dailystache.net/citi-field-the...
THE BACKYARD
BEST OF MAXIM
RELATED ARTICLES
Minor moves. Major problem. That sentiment is essentially what the Mets hinted towards their fans this week when they demoted Ike Davis, Mike Baxter and Robert Carson to Las Vegas while designating Rick Ankiel for assignment. The constant underperforming and lackluster baseball finally caught the wrath of GM Sandy Alderson. No more will there be any coddling or nurturing of their...
Matt Harvey has become the new Johan Santana of the Mets, and that is not in reference to his skills or his emergence into the staff's ace. Harvey has been lights out all season long, and should have at least ten wins under his belt. However despite his 2.04 ERA, Matt Harvey sits at 5-1 on the year, that one loss coming last night after he allowed just a lone run over seven frames...
David Wright spoke out about the overzealous campaign by the Mets to get him voted to the All Star Game. "It's nice when the organization is trying so hard to do something for one of their players and I can't thank them enough for that," Wright said. "But at the same time, I've asked them to kind of back it down a little bit, especially with the stuff between innings...
At least the Mets had one issue resolved Tuesday night, and that is who to demote from the rotation when Zack Wheeler is brought up. That will be Jeremy Hefner, who gave up five unearned runs. The Mets are determined to bring up Wheeler despite questions of him not being ready because they desperately want a diversion to this already lost season. Hefner and Dillon Gee have pitched...
Two years ago, never in my wildest dreams did I think I would be typing the first six words of this post, but it's true. Daniel Murphy has proven himself as a formidable second baseman in 2013, and jerking him around the diamond is not going to do him or the Mets any favors. The 28-year old Jacksonville-native has had a remarkable year on both sides of the diamond this season,...
New York Mets top pitching prospect Zack Wheeler turned in what very well may end up being his final minor league start for quite some time.  The 23-year-old went 5 1/3 innings against Tacoma giving up just 1 run on 1 hit while striking out seven. The lone hit was a home run to Carlos Peguero and that mistake proved costly enough to pin Wheeler with the loss on the evening as...
The post #MetsTwitterRecap: Foreigner! Because #Cism appeared first on The Daily Stache.
Last week I received an email asking me if it was true that Mets GM Sandy Alderson was on the verge of breaking some long held major league record for the most consecutive losing seasons by a GM. Actually, it was an accusatory email also suggesting that I've become a shill for the Mets and that's why I never post anything critical of Sandy. Obviously, this reader has me confused...
There have been all kinds of happenings in the Mets organization of late. Ike Davis – who was supposed to be one of the big bats in the Mets' line-up – was sent down to Triple-A along with Mike Baxter and Robert Carson. Davis has struggled immensely this season with a batting line of .161/.242/.258 and has been on a downward plane since injuring his left ankle in a collision...
There is an old football saying that states, "the most popular guy in town is always the backup quarterback."  Although that phrase may not directly translate to the game of baseball, I think we can all relate it to the Mets current managerial situation.  The incumbent skipper, Terry Collins, has seen his tenure dominated by poor play thanks in part to a poor roster.  Lurking...
Presented without any comment really needed. The Mets are 24-37 and 12.5 out in the N.L. East. [via @MattSebek] Filed un…
MLB News

Delivered to your inbox

You'll also receive Yardbarker's daily Top 10, featuring the best sports stories from around the web. Customize your newsletter to get articles on your favorite sports and teams. And the best part? It's free!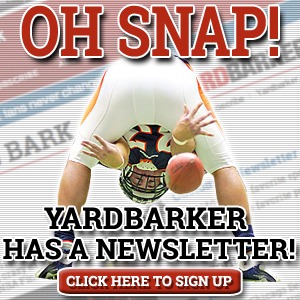 Latest Rumors
Best of Yardbarker

Today's Best Stuff

For Bloggers

Join the Yardbarker Network for more promotion, traffic, and money.

Company Info

Help

What is Yardbarker?

Yardbarker is the largest network of sports blogs and pro athlete blogs on the web. This site is the hub of the Yardbarker Network, where our editors and algorithms curate the best sports content from our network and beyond.