Found January 09, 2013 on PRO Rumors:
For the first time since 1996, the BBWAA (Baseball Writers Association of America) elected no one to the Baseball Hall of Fame. The ballot consisted of many repeat players such as Jack Morris making his 14th appearance but was littered with players linked to steroids such as Barry Bonds and Roger Clemens. The *home run king* received 36.2% of the votes which was well short of the required 75% to get in. Seven time Cy Young winner Roger Clemens who spent the last few years fighting the federal government and trying to prove he didn't lie under oath to Congress about taking steroids received only 37.6% of the votes. Other players linked to steroids such as Sammy Sosa 12.5%, Mark McGwire 16.9% and Rafael Palmeiro 8.8% were all left on the wrong end of the voting results….the bottom. I think the writers clearly made their point. If you are in any way linked to possible steroid use, then don't count on being in the Hall of Fame. First time ballot member Craig Biggio received the highest percentage of votes at 68.2%. In his 20 year career, Biggio totaled over 3,000 hits, 400 stolen bases and was a five time silver slugger and four time gold glover recipient. He will  eventually make it, but I believe he was a victim of the writers as five members did not cast a ballet and players such as Aaron Sele received a vote and  Steve Finely received four votes. Really Aaron Sele? Are we talking about the same Sele who posted only one sub 3 ERA season which was his first and wasn't a complete season? Don't stress out over no one being elected this year as the 2014 ballot will have first timer and ultra clean (that we know of) Greg Madux who is almost a shoe-in to be elected. The writers made their point and it was very clear. If you used or were thought to have used steroids during your playing career, don't count on making it to the Hall. Maybe Bonds and Clemens will eventually get in but they will have an up hill journey to the Hall if they ever make it. I am fine with this thinking, but players such as Mike Piazza who were never clearly linked to roids but have been lumped in with the group that used will also face an up hill journey to the Hall. Right or wrong, this is reality as long as the same voting system remains in place. When you leave the voting up to people who all have different values, morals and thoughts about steroids, you are going to have split decisions. There is no question the home run king deserves to be in the Hall of Fame if he didn't use steroids. But considering the evidence, he probably did and for some, this is an automatic Hall snub. Click here to see the complete results for the Hall of Fame. Image taken by numb3r and used under the Creative Common License Agreement.
Original Story:
http://www.prorumors.com/2013/01/rumo...
THE BACKYARD
BEST OF MAXIM
RELATED ARTICLES
Jack Morris' quest to reach the MLB Hall of Fame is down to its final shot. The former Detroit Tigers pitcher again fell short of induction (as did everyone else on the 2013 ballot) — Morris received 67.7 percent of votes, shy of the 75 percent required to make the Hall. This was Morris' 14th year on the Hall of Fame ballot, meaning he has just one year of eligibility left...
The result of this year's Hall of Fame election, in which no payers were elected, is already controversial enough, but the number of votes for some players who appeared on the ballot for the first time is what could set the stage for vehement arguments for years to come. Known steroid users Roger Clemens and Barry Bonds graced the Hall of Fame ballot for the first time this year...
Steroid-tainted stars Barry Bonds, Roger Clemens and Sammy Sosa have been denied entry to the Baseball Hall of Fame with voters failing to elect any candidates for only the second time in four decades. A candidate must receive 75 percent of the vote from the voting members of the Baseball Writers' Association of America in order to be inducted. In totals announced Wednesday...
(Written on 1/11/12) As we all know by now, The Baseball Writers have voted SS Barry Larkin into the Hall of Fame. Outside of the talk about how good of a player Larkin was, many have focused on those who fell short, such as Jack Morris, Jeff Bagwell and Lee Smith, all of whom got over 50% of the vote, but fell short of the 75% that was needed to gain entry. Tim Raines got 48...
For the first time since 1996, Cooperstown will not see any new faces inducted into the Baseball Hall of Fame. The most notable players who did not get the 75 percent vote required to be inducted were Barry Bonds and Roger Clemens. This isn't going to be a surprise to most as they were both [...] [[ This is a content summary only. Visit my website for full links, other content, and more! ]]
(Eds: With AP Photos.) By JIM LITKE AP Sports Columnist Barry Bonds and Roger Clemens will get into the Hall of Fame someday, and without using the side entrance, either. It won't be because people forget, or even forgive, but because they won't care anymore. Everybody in every sport will be on some kind of performance-enhancer by then, the way they're all on '&...
(Eds: With AP Photos.) By TIM DAHLBERG AP Sports Columnist Barry Bonds can go for a bike ride. Roger Clemens might want to head to the gym for one of those famous workouts that used to make him pitch like he was 22 when he was 42. If the polls are right - and my guess is they're pretty spot on - there's no need for either to wait by the phone Wednesday when baseball writers...
This was the Hall of Fame ballot that all MLB players and fans were waiting on. This was the year that Barry Bonds, Sammy Sosa, and Roger Clemens were up for election into the Baseball Hall of Fame in Cooperstown. These three have either admitted or believed to have used player enhancing drugs during the "steroid era" in Major League Baseball. For a player to be elected into...
Judgment day has arrived for Barry Bonds, Roger Clemens and Sammy Sosa to find out their Hall of Fame fates. With the cloud of steroids shrouding many candidacies, baseball writers may fail for the only the second time in more than four decades to elect anyone to the Hall. About 600 people are eligible to vote in the BBWAA election, all members of the organization for 10 consecutive...
The most anticipated day in the Baseball Writers' Association of America (BBWAA) has finally come and gone and yes of course they have spoken loudly with their pens selecting who they think is worthy of getting into their precious Baseball Hall of Fame.  This year baseball has taken a closer interest in who is voted in because of the elite and polarizing names displayed on...
The fact that no players were elected to the baseball Hall of Fame on Wednesday has everyone buzzing, and the New York Times came up with the perfect way to encapsulate the hype. On the front page of the "Sports" section on Thursday morning, nothing was printed except a headline that read "Welcome to Cooperstown." Most people felt as though Roger Clemens and Barry Bonds had...
Any fan of baseball, including writers with votes for the Hall Of Fame, should have been rooting for contemporary inductees in this year's ballots. Unfortunately, it did not happen. MLB lost an opportunity to shine the light on some outstanding players from recent times and from a couple decades back. For all that baseball has gone through over the past 15 years – the steroids...
MLB News

Delivered to your inbox

You'll also receive Yardbarker's daily Top 10, featuring the best sports stories from around the web. Customize your newsletter to get articles on your favorite sports and teams. And the best part? It's free!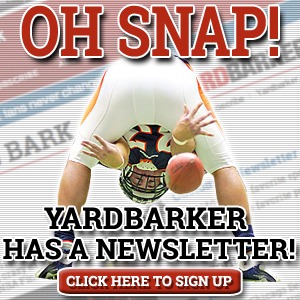 Latest Rumors
Best of Yardbarker

Today's Best Stuff

For Bloggers

Join the Yardbarker Network for more promotion, traffic, and money.

Company Info

Help

What is Yardbarker?

Yardbarker is the largest network of sports blogs and pro athlete blogs on the web. This site is the hub of the Yardbarker Network, where our editors and algorithms curate the best sports content from our network and beyond.