Found April 02, 2013 on World Series Dreaming:
PLAYERS:
Esmailin Caridad
,
Yoanner Negrin
,
Chris Rusin
,
Brooks Raley
,
Nick Struck
,
Rafael Dolis
,
Barret Loux
,
Casey Coleman
,
Blake Parker
,
Cory Wade
,
Zach Putnam
,
Jaye Chapman
,
Wes Darvill
,
Tim Torres
,
Josh Vitters
,
Logan Watkins
,
Brad Nelson
,
Edwin Maysonet
,
Ty Wright
,
Brett Jackson
,
Darnell McDonald
,
Brian Bogusevic
,
Arodys Vizcaino
,
Alberto Cabrera
,
Kevin Rhoderick
,
Dae-Eun Rhee
,
Frank Batista
,
Brian Schlitter
,
Zach Rosscup
,
Marcus Hatley
,
Kyle Hendricks
,
Trey McNutt
,
Rafael Lopez
,
Justin Bour
,
Elliot Soto
,
Arismendy Alcantara
,
Jonathan Mota
,
Christian Villanueva
,
Rubi Silva
,
Jae Hoon Ha
,
Jay Jackson
,
Matt Loosen
,
Kyler Burke
,
Ryan Searle
,
Micah Gibbs
,
Ronald Torreyes
,
Javier Baez
,
John Andreoli
,
Nelson Perez
,
Jorge Soler
,
Evan Crawford
,
Mike Fontenot
,
Jeffry Antigua
,
Steve Perakslis
,
Lendy Castillo
,
Brian Smith
,
Chadd Krist
,
Gioskar Amaya
,
Jeimer Candelario
,
Rock Shoulders
,
Daniel Vogelbach
,
Pin-Chieh Chen
,
Bijan Rademacher
,
Oliver Zapata
,
Albert Almora
TEAMS:
Chicago Cubs
,
Tampa Bay Rays
Iowa, Daytona and Kane County released their rosters for the 2013 season on Monday, followed by Tennessee on Tuesday.  Boise will release its roster as a later date as its season does not start until June, as will the AZL team based in Mesa and the Dominican and Venezuelan summer league squads. * 40-Man Roster Iowa Cubs Opening Day Roster Pitchers: RHP Esmailin Caridad, RHP Yoanner Negrin, LHP Chris Rusin, LHP Brooks Raley, RHP Nick Struck, RHP Rafael Dolis, RHP Barret Loux, RHP Casey Coleman, RHP Blake Parker, RHP Jenesen Lewis, RHP Cory Wade, RHP Zach Putnam, RHP Jaye Chapman, RHP Drew Carpenter Catchers: Luis Flores, J.C. Boscan Infielders: Wes Darvill, Tim Torres, Josh Vitters, Logan Watkins, Brad Nelson, Edwin Maysonet Outfielders: Ty Wright, Brett Jackson, Darnell McDonald, Brian Bogusevic The Iowa pitching staff is loaded with arms who could take over on the major league roster in case of injury, but it lacks real prospects, as is typical of upper-level Cubs minor league staffs.  The catchers are both decent prospects, but nothing to get overly excited about.  In the infield, Wes Darvill skipped Daytona and Tennessee, but will likely ride the bench.  Tim Torres was a minor league free agent pickup who last played at the AA level in the Rockies organization.  Josh Vitters, still young, is back in the minors after a stint with the major league club last year.  Vitters looks to build on the success he had with Iowa last year and forget about his dismal stat line in Chicago.  Logan Watkins is one of the better second base prospects in the Cubs organization, and is a call-up candidate if a middle infielder goes down.  Brad Nelson and Edwin Maysonet serve mostly as organizational depth.  In the outfield, McDonald or Bogusevic could be the first to earn a call-up, though Brett Jackson is far and away the best prospect of the bunch, despite having lost his Top 100 status.  Arodys Vizcaino is in Extended Spring Training and Alberto Cabrera, expected in Iowa, instead will start the season with Tennessee. UPDATE: The Cubs have signed Ryan Sweeney, who will report to Iowa, according to the Cedar Rapids Gazette (h/t Bleacher Nation).  Corresponding moves to be announced. Tennessee Smokies Opening Day Roster Pitchers: RHP Kevin Rhoderick, RHP Dae-Eun Rhee, RHP Tony Zych, RHP Frank Batista, LHP Eric Jokisch, RHP Brian Schlitter, LHP Zach Rosscup, RHP Alberto Cabrera, RHP Marcus Hatley, RHP Dallas Beeler, RHP Kyle Hendricks, RHP Trey McNutt, RHP A.J. Morris Catchers: Rafael Lopez, Jair Fernandez Infielders: Justin Bour, Elliot Soto, Arismendy Alcantara, Anthony Giansanti, Jonathan Mota, Christian Villanueva Outfielders: Rubi Silva, Jae-Hoon Ha, Johermyn Chavez, Matt Szczur The Smokies pitching staff has some intriguing names in the mix, as Dae-Eun Rhee was once highly regarded and Alberto Cabrera is transitioning into a starting job.  Trey McNutt, now mostly a reliever, was once one of the Cubs top pitching prospects but struggled mightily after that as did Jay Jackson, who is not on the Iowa roster.  The catching tandem is fine as both Lopez and Fernandez are competent.  Justin Bour has a bat and Arismendy Alcantara captured eyes with his play in Daytona last year.  Villanueva and outfielder Matt Szczur were both top 100 prospects just a year ago, but will need strong performances to even stay in the mix for future Cubs Top 20 prospects lists. Daytona Cubs Opening Day Roster Pitchers: Brett Wallach, Eduardo Figueroa, Matt Iannazzo, Hunter Cervenka, P.J. Francescon, Matt Loosen, Scott Weismann, Matthew Spencer, Kyler Burke, Frank Del Valle, Jeffrey Lorick, Ryan Searle Catchers: Micah Gibbs, Taylor Davis Infielders: Ronald Torreyes, Javier Baez Outfielders: John Andreoli, Nelson Perez, Elieser Bonne, Jorge Soler, Evan Crawford Many may remember Kyler Burke as an outfielder who was once a top ten prospect in the organization, but he has now been converted into a pitching prospect, having to work his way back up.  Torreyes is a decent prospect acquired in the Sean Marshall trade, as is Evan Crawford who was acquired in the Mike Fontenot trade.  That's pretty good success for a reliever that alos netted a starting pitcher and a bench infielder.  Obviously, Javier Baez and Jorge Soler are the spotlight on this team, as two of the top prospects in baseball look to get even better in their surges towards Chicago. Kane County Cougars Opening Day Roster Pitchers: LHP Jeffry Antigua, RHP Steve Perakslis, RHP Justin Amlung, RHP Jose Arias, RHP Lendy Castillo, RHP Ian Dickson, LHP Nathan Dorris, LHP Michael Heesch, RHP Pierce Johnson, RHP Eduardo Orozco, RHP Felix Pena, RHP Tayler Scott, LHP Brian Smith Catchers: Yaniel Cabezas, Chadd Krist, Wilson Contreras Infielders: Gioskar Amaya, David Bote, Jeimer Candelario, Marco Hernandez, Rock Shoulders, Daniel Vogelbach Outfielders: Pin-Chieh Chen, Bijan Rademacher, Oliver Zapata, Trey Martin The obvious absence to this list is top prospect Albert Almora who had surgery to remove his hamate, but will report to Kane County sometime in May.  The infield is stacked all the way across with Candelario at third, Amaya at short, Hernandez at second, and Vogelbach at first while the outfield lacks in Almora's absence. Boise Hawks new uniforms The Boise Hawks have altered their image for the new season, unveiling new logos and uniforms on Monday.  Below is the new home jersey.
Original Story:
http://worldseriesdreaming.com/2013/0...
THE BACKYARD
BEST OF MAXIM
RELATED ARTICLES
Brooks Raley threw six innings of three-hit one-run ball and Reggie Golden belted a two-run double, as the Boise/Mesa Cubs (Extended Spring Training) edged the Iowa Cubs 2-1 in an intrasquad game this morining at Fitch Park #3 in Mesa, AZ.  Tags: Cubs Minor League Spring Training RecapBrooks RaleyReggie GoldenDillon MaplesJ. C. BoscanWes DarvillRob WhitenackRoni TorreyesRead more...
2013 Chicago Cubs Minor League Camp drew to a close this morning, as the Iowa Cubs completed their final Spring Training work-out before flying to Albuquerque this afternnon. They willl open their PCL season versus the Isotopes Thursday night. Tags: Cubs Minor League Spring Training RecapMatt GarzaJosh ConwayJose RosarioRead more about 2013 Cubs Minor League Camp - Last Day
The Chicago Cubs get to pick second this June in the MLB Rule 4 Draft as part of their "reward" for sucking so much last season.  Unfortunately (or fortunately, I guess) they were unable to suck as much as the Astros so they might lose out on the overall best player available, unless the Astros decide to implement their Carlos Correa plan again.  Not that Correa was a terrible...
Off days suck. The traditional day off after game number one by MLB schedule makers is always one of the toughest to make it through, but fate made it an especially difficult task for Cubs fans as two nearly Cubs from a year ago showed why the front office had interest in them. Yoenis Cespedes hit a long, hard line drive homerun to dead center in Oakland last night. Cespedes has...
Chicago Cubs (0-0, T-1st in NL Central) @ Pittsburgh Pirates (0-0, T-1st in NL Central) Probable Starters: CHC – Jeff Samardzija (0-0, 0.00 ERA) PIT – A.J. Burnett (0-0, 0.00 ERA) "Now we play games that mean something. It's time to go." – A.J. Burnett A.J. Burnett for the first time in his career will take the mound on Opening Day. He went 2-1 with a 1.40 ERA in three...
The easiest and probably most accurate way to describe the Pirates' 3-1 loss to the Cubs on Opening Day at PNC Park is probably this: it was cold out and when it's cold out, hard-throwing pitchers seem to do well, and as a result AJ Burnett and Jeff Samardzija combined for 19 strikeouts between them in just 13 2/3 innings combined work.  Burnett was particularly awesome...
Final: Cubs 3, Pirates 1 (box) WP: Jeff Samardzija (1-0, 0.00 ERA) LP: A.J. Burnett (0-1, 4.76 ERA) SV: Kyuji Fujikawa (1, 0.00 ERA) A.J. Burnett struck out ten batters in his first career Opening Day start, but it wasn't enough as the Cubs scored two runs in the first inning on an Anthony Rizzo home run and led the rest of the way. Cubs starter Jeff Samardzija gave up just two...
Cubs (1-0) at Pirates (0-1) 7:05 PM–PNC Park, Pittsburgh MLB.com Gameday TV: ROOT The Bucs look to break into the win column tonight as they take on the Cubs in the first night game of the season. Attendance will certainly be down quite a bit compared to Monday, but the team is trying its best to attract fans by maintaining this annual tradition: Coming down to PNC tonight? Remember...
MLB News

Delivered to your inbox

You'll also receive Yardbarker's daily Top 10, featuring the best sports stories from around the web. Customize your newsletter to get articles on your favorite sports and teams. And the best part? It's free!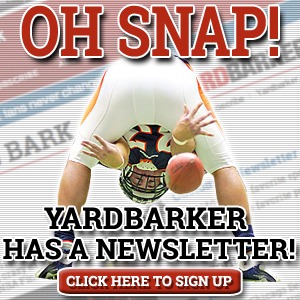 Latest Rumors
Best of Yardbarker

Today's Best Stuff

For Bloggers

Join the Yardbarker Network for more promotion, traffic, and money.

Company Info

Help

What is Yardbarker?

Yardbarker is the largest network of sports blogs and pro athlete blogs on the web. This site is the hub of the Yardbarker Network, where our editors and algorithms curate the best sports content from our network and beyond.