Found November 26, 2012 on World Series Dreaming:
PLAYERS:
Theo Epstein
,
Jed Hoyer
,
Dave Duncan
,
Kerry Wood
,
Mark Prior
,
Don Cooper
,
Tony La Russa
,
Bobby Cox
TEAMS:
Chicago Cubs
,
Milwaukee Brewers
,
Boston Red Sox
,
San Diego Padres
,
Chicago White Sox
,
St. Louis Cardinals
Earlier today, ESPN broke the news about the Chicago Cubs hiring Rob Deer as the new Assistant Hitting coach for the 2013 season. Fans might recognize him as being a former teammate of Manager Dale Sveum on the Milwaukee Brewers. However, Deer is better known for leading the American League four times in strike outs. A couple of fans were shocked and appalled that a man who struck out so many times would be part of the team that would be trying to "teach" the players how to hit. What people often overlook when remembering Deer's major league career, is that despite his high strike out totals, he generally saw a fair number of pitchers per at bat, and was known for having a great eye at the plate and showing good patience. His on base percentage was .100 points higher than his batting average, and that is what Cubs President Theo Epstein and General Manager Jed Hoyer want to teach their ball players. If you are still not sold on him, let me take things a little bit further for you. Forget for a moment, that he is only the Assistant hitting coach; you do not need to be a great player in order to be a great coach. Need some examples? Not a problem at all. Because this came about with the hiring of a hitting coach, let's start with one.. Before coming to the Cubs, Rudy Jaramillo was regarded as the best hitting coach in the game. Questions of how he got there, well that is another topic for another time. Do you want to know how great of a career this great hitting coach had? He was so great of a hitter, that he never even made his major league debut. He spent his four year career never getting above Double A. He hit .258 with 171 strike outs and 108 base on balls, with 11 home runs, but did drive in 120 RBI. In short, he had a very poor career, but had a great run as a hitting coach. Hitting coaches are rather useless in my mind so we will stick with just him. Not convinced with my hitting coach example? Okay then, let's take a look at some of the better pitching coaches in baseball. I am sure that Cub fans are pretty familiar with St. Louis Cardinals' former pitching coach, Dave Duncan. Around baseball, he is thought to be the greatest pitching coach in the game. Did you know that Duncan was never even a pitcher? He was a catcher, and a mediocre one at that. He spent his 11 year career with four clubs hitting a robust 214 with only 109 home runs and 341 RBI. So, the greatest pitching coach in baseball never even threw one pitch in his major or minor league career. Go figure. Another name Cub fans should be familiar with is Larry Rothschild, who is also regarded and respected around the league as a great pitching coach. In his two years in the major leagues, Rothschild pitched in only seven games for a total of 8.1 innings. He totaled one strike out and issued eight free passes with an ERA over five. The memories of Cubs fans is fairly short, and often remember Rothschild as a bum and a failure who helped to ruin the careers of Kerry Wood and Mark Prior. I will not  get into that, but to say that those statements could not be more false. Over his nine year career as the Cubs pitching coach, the Cubs pitching staff led the major leagues in strike outs the first seven years. The other two years they tied for second in 2009 and were fourth in 2010. Not bad for a guy who couldn't throw strikes don't you think? How about White Sox pitching coach Don Cooper? He is another pitching coach who is well regarded as one of the best coaches in the game. He is also a great coach who failed to have a good career as a major leaguer. His four years were horrible. In this time he pitched in 44 games throwing 85.1 innings. In that time he managed to strike out only 47 people while walking 46, and compiled an ERA of 5.27. Still need more proof that you do not need to be a good player to be an extraordinary coach? Fine then, let's look at two of the best managers in the history of the Major Leagues. I will stick with two of the more recent names, people that you might be more familiar with. Cub fans know Tony LaRussa all too well. He spent several years managing the St. Louis Cardinals in games that usually saw them beating the Cubs. He also won few championships as the manager of the Cardinals. He may have been a great manager, but as a player he was a waste of a roster spot. His six year career saw him play in only 132 games where he hit a robust .199 with 0 home runs and seven RBI. He struck out 37 times and walked only 23 times. While he was a very crappy player, he was a great manager. If you still are not convinced that you do not have to be a great player to be a great manager, I offer up Bobby Cox. He is another Hall of Fame worthy Manager, who was nothing to notice as a player. He played a total of two years in the major leagues hitting .225 in 220 games where he was able to hit nine home runs with 58 RBI. Along the way though he struck out 126 times while only drawing 75 walks. Now, there are some great managers who were also very good players, but that is not now, nor should that ever be a requirement. History is filled with mediocre at best players going on to have great careers as managers. So, before you decide to write off the hiring of Deer, remember these names of crappy players who were great coaches and managers. You might also want to remember that he is still only the assistant hitting coach.
Original Story:
http://worldseriesdreaming.com/2012/1...
THE BACKYARD
BEST OF MAXIM
RELATED ARTICLES
Our 2013 projections turn to the north side of Chicago where we examine two Cubs with plate discipline issues, but also significant upside. Can Alfonso Soriano stave off a regression at his age? Can Starlin Castro make a big progression at his age? Alfonso Soriano 2013 Age: 37 - Splits: Slight vs RHP 2013 Projection: 502 AB, .249/.317/.475, 27 HR, 90 RBI, 65 R, 4 SB...
MEEP MEEP
If vultures circling above you is a sign that you're doomed...what does it mean for the Chicago Cubs when coyotes actually hang out outside Wrigley Field?Late Saturday night, photographer Will Byington was in Wrigleyville and noticed the two wild dogs roaming outside "The Friendly Confines"."The scary thing is that they didn't seem afraid. You'd think ...
Our 2013 Cubs projections continue with a young up-and-coming first baseman, a defensive minded second baseman and a solid veteran outfielder. Anthony Rizzo 2013 Age: 23 - Splits: Struggles vs LHP 2013 Projection: 596 AB, .283/.346/.488. 27 HR, 91 RBI, 86 R, 6 SB Notes: Rizzo's ceiling will be determined by one thing: how he hits left-handed...
The Chicago Cubs continued their wise spending spree this offseason, signing former Texas Rangers starting pitcher Scott Feldman to a one year deal worth $6 million. Feldman's signing comes on the heels of the Cubs signing former Minnesota Twins starter Scott Baker to a one year deal worth $5.5 million. Feldman is also a nice value signing for the Cubs, after he was scheduled...
In random Cubs staffing news, former Milwaukee Brewer Rob Deer was hired as the assistant hitting coach today.  Hurray, they're getting the Cheese Band back together!  At first glance the batting average looks terrible but then you also look at the peripherals and realize that Deer took his fair share of walks and got on base a bunch while doing damage with the pitches he actually...
The Chicago Cubs and former Texas Rangers pitcher Scott Feldman have agreed to a one-year contract. The deal was announced Tuesday. Feldman is guaranteed $6 million next season and can earn another $1 million in incentives. The 29-year-old right-hander was 39-44 with a 4.81 ERA over eight years with the Rangers, going 6-11 with a 5.09 ERA last season. A reliever early in his...
The Chicago Cubs and former Texas Rangers pitcher Scott Feldman have agreed to a one-year contract, the team said Tuesday. Feldman is guaranteed $6 million next season and can earn another $1 million in incentives. The 29-year-old right-hander was 39-44 with a 4.81 ERA over eight years with the Rangers, going 6-11 with a 5.09 ERA in 29 appearances (21 starts) last season. A reliever...
The Cubs add to their stable of pitchers today, by signing RHP Scott Feldman to a one year deal for $6M, plus $1M in incentives according to various sources. Feldman seemed to be a popular target among Cubs armchair GM's this offseason for reasons unbenknownst to me, but TheJedi seemed to concur. He's certainly cheap enough and getting away from that Texas park and the AL...
The Chicago Cubs announced that they have signed pitcher Scott Feldman to a one-year deal worth $6mm with an additional $1mm in incentives (Paul Sullivan of the Chicago Tribune provided the contract details). Last season, Feldman split time in the rotation and the bullpen for the Rangers. He made 21 starts and 8 appearances as a reliever. For the year, Feldman went 6-11 with a 5...
MLB News

Delivered to your inbox

You'll also receive Yardbarker's daily Top 10, featuring the best sports stories from around the web. Customize your newsletter to get articles on your favorite sports and teams. And the best part? It's free!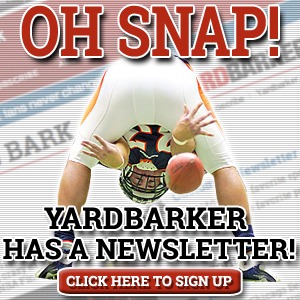 Latest Rumors
Best of Yardbarker

Today's Best Stuff

For Bloggers

Join the Yardbarker Network for more promotion, traffic, and money.

Company Info

Help

What is Yardbarker?

Yardbarker is the largest network of sports blogs and pro athlete blogs on the web. This site is the hub of the Yardbarker Network, where our editors and algorithms curate the best sports content from our network and beyond.