Found October 30, 2013 on isportsweb.com:
The Cubs have made it clear that their top priority for the off-season this year is to sign Japanese pitcher Masahiro Tanaka. Tanaka is one of the top free agents this season and is expected to be a valuable pitching addition to any team. If the Cubs were to add Tanaka to their rotation, he could make a great second man behind ace Jeff Samardzja. Tanaka is also being targeted by the New York Yankees, Texas Rangers, and the Boston Red Sox.   Tanaka has been on the Tohoku Rakuten Golden Eagles since he was 19 in 2007 and has been a star on the team, including winning the Pacific League rookie of the year award that same year. He was also a five-time all-star from 2007-2010, 2011-2012, as well as winning the 2011 Eiji Sawamura award (similar to MLB' Cy Young award for pitchers). Tanaka is 99-35 in his career playing in the Nippon baseball league, while also posting 1,238 career strikeouts and a 2.30 career earned run average. Tanaka owns the Nippon baseball record of most consecutive wins with 21 and the second pitcher in the league to go undefeated in a season(24-0)since Shigekuni Mashiba in 1981 who went 15-0.   If Tanaka was to come to the Cubs, the question would be where he would go into the rotation. Currently the ace spot is held down by right-hander Jeff Samardzija, but that could change if Tanaka was to come to the team. Others in the current rotation are right-handers Scott Baker, Edwin Jackson, and Jake Arietta with all-star southpaw Travis Wood rounding it out. Tanaka could be used behind ace Samardzija to make a good second man, but really any spot he goes to could improve the Cubs already shaky pitching system.   Tanaka's skills will come at a price though, as the bidding for the Japanese all star is starting in the $50 million range. Ranger pitcher Yu Darvish secured a $56 million deal from his team when testing the MLB free agent market when coming over from Japan, and Tanaka's talents are worth just as much. With bids coming in from teams like the Yankees, Red Sox, Rangers and now the Dodgers, the Cubs will have to put in the extra effort to make Tanaka will come into the Windy City.      
Original Story:
http://feedproxy.google.com/~r/isport...
THE BACKYARD
BEST OF MAXIM
RELATED ARTICLES
Gordon Whittenmeyer has an article up that claims the Cubs and Jeff Samardzija are quite far apart on a possible contract extension. He says that getting one done this offseason, or ever with the Cubs, seems unlikely at this point. He also claims the Cubs would trade him by the deadline or even this offseason without an extension. That would be trying to sign Opening Day starter...
Mesa 7 v Scottsdale 0 Wes Darvill: 1-5, 2 R, SO Wes Darvill strikes out swinging. Wes Darvill singles on a line drive to right fielder Cory Vaughn. Wes Darvill reaches on a fielding error by second baseman Tommy La Stella. Tyler Collins scores. Wes Darvill to 2nd. Wes Darvill grounds out, second baseman Tommy La Stella to first baseman Angel Villalona. Wes Darvill grounds out to...
Mesa 3 v Salt River 7 Albert Almora: 1-4, BB, 2 E Albert Almora singles on a ground ball to center fielder James Ramsey. Albert Almora grounds out sharply, third baseman Jake Lamb to first baseman Kyle Parker. Albert Almora walks. Albert Almora flies out to center fielder James Ramsey. Max Muncy to 3rd. Albert Almora lines out to left fielder Mike Freeman. Kris Bryant: 1-5, R,...
Salt River 3 v Mesa 2 Kris Bryant: 1-3, HR, R, 2 RBI, BB, SO Kris Bryant grounds out, third baseman Jake Lamb to first baseman Kyle Parker. Kris Bryant walks. Kris Bryant strikes out swinging. Kris Bryant homers (5) on a fly ball to right center field. David Freitas scores. (OPPOSITE FIELD) Jorge Soler: 1-3, BB Jorge Soler flies out to right fielder Stephen Piscotty. Jorge Soler...
Lots of the Cubs top prospects getting game action on this Halloween. Kris Bryant: 1-4, BB, 2K, 2 R Kris Bryant strikes out swinging. Kris Bryant grounds out, shortstop Alen Hanson to first baseman Angel Villalona. Kris Bryant walks. Kris Bryant singles on a soft ground ball to catcher Peter O'Brien. David Freitas to 3rd. Addison Russell to 2nd. Kris Bryant strikes out swinging...
The Cubs mocked up their "Wrigley Field" sign briefly yesterday - just long enough to get the talk of lawsuits going. I guess the point of the exercise was to show rooftop owners that this new sign wouldn't block their precious view. I couldn't tell that from the street, but I do know a few things: 1) It's giant. B) It sticks out into the street a ton and...
Are you getting sick and tired of reading about the baseless rumors and speculation surrounding a potential Troy Tulowitzki to the Mets swap? Let's get real, welcome to Metsmerized. Javier Baez's name has been getting kicked around the New York Mets' fan base as a potential trade target for the Mets this winter, but there is virtually no chance this is going to happen. There...
Each day until free agency begins, we at Phillies Nation will take a look at a player who will become a free agent five days from the conclusion of the World Series. We will explore potential performance, fit, cost, and feasibility. We continue today with switch-hitting catcher Dioner Navarro. And a reminder: you can check out all the "Pass or Play" posts by clicking on the category...
With the World Series having concluded last night, the MLB 2013-14 "off-season" has officially begun. So there are a number of things that now come into play, including: Tags: Cubs Minor League RostersCubs 40-man RosterCubs Free-AgentsRead more about After the World Series
We are a little more than 26 hours removed from the end of the World Series and the offseason rumors are coming in hot. Many rumors are surrounding Masahiro Tanaka and Jacoby Ellsbury, but we may need to turn our attention to another intriguing situation. The Chicago Cubs could be trading Starlin Castro to try to improve their pitching. The St. Louis Cardinals have called the Cubs...
Cubs News

Delivered to your inbox

You'll also receive Yardbarker's daily Top 10, featuring the best sports stories from around the web. Customize your newsletter to get articles on your favorite sports and teams. And the best part? It's free!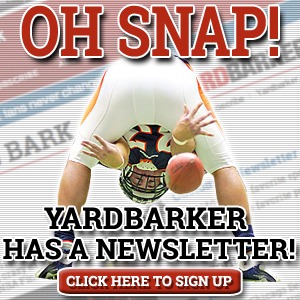 Latest Rumors
The Backyard

Today's Best Stuff

For Bloggers

Join the Yardbarker Network for more promotion, traffic, and money.

Company Info

Help

What is Yardbarker?

Yardbarker is the largest network of sports blogs and pro athlete blogs on the web. This site is the hub of the Yardbarker Network, where our editors and algorithms curate the best sports content from our network and beyond.