Found January 23, 2013 on Fox Sports:
The Chicago Cubs plan on restoring Wrigley Field, with or without the city's help. The team announced a five-year, $300 million plan to rebuild the Friendly Confines at the annual Cubs Convention on Saturday, and owner Tom Ricketts said his family is willing to foot the entire bill -- but only if some long-standing restrictions are lifted. "[We would] like to be treated like the other 29 clubs," Cubs president of business operations Crane Kenney said. "If [the Ricketts] are going to be able to build their business, put signs where they need them, hold games when they need them, they're prepared to write the entire check themselves." That doesn't mean the Cubs wouldn't accept some help from Chicago Mayor Rahm Emanuel. "If we're a public enterprise that's going to be restricted like a public asset, and it comes time for renovation, we'd like to be supported," Kenney said, adding that the mayor has been "terrific" throughout their conversations. A call to the mayor's office for comment was not immediately returned. Due to its location in the middle of a residential neighborhood, the Cubs are limited to a maximum of 30 home night games per season and can't play night games on Friday or Saturday. They're also the only major league team that faces advertising limitations. "We'd just like a little more flexibility to have that stuff," Ricketts said. "We have an opportunity that is tremendous. Just give us some relief on some of these restrictions and then we'll take care of Wrigley Field." Taxpayer burden and job creation are two other points of contention when it comes to the project. Ricketts tried to put them both to bed on Saturday. The remodeling, which the team hopes will start at the end of the 2013 season, would create about 2,100 jobs over five years, according to team projections. Ricketts, who bought the team in 2009, said the team has been looking beyond the taxpayers for help. "We're not looking at amusement taxes," he said. "We're trying to think of other things that might help us finance the renovations and move forward." The stadium overhaul includes a large increase in restrooms and an expanded concourse. More than 50 million pounds of concrete and steel will be removed. All of the historical aspects of the field will be retained, including the ivy, center field scoreboard and the iconic Chicago Cubs marquee. "The elements that really define Wrigley Field, we would be the last ones who would want to touch those," Kenney said. Kenney also called the Cubs facilities "the worst in Major League Baseball." General manager Jed Hoyer said the home clubhouse would top the priority list, comparing Wrigley's facilities to Fenway Park's when he and Cubs president of baseball operations Theo Epstein were in Boston. "Theo and I both saw how [the renovations] changed the organization, going from an iconic ballpark in a beautiful city, but also in adding first-class facilities," Hoyer said. Ricketts make it no secret that they have a similar path in mind. "We certainly watched what the Red Sox did and there are a lot of lessons we can use," he said. "We've hired a lot of the people they used on their park to do our park." The Cubs also hope to match Boston's success on the field under Epstein and Hoyer. The duo is in its second year of a rebuilding project much larger than just a stadium. The Cubs lost 101 games last season, haven't been to the playoffs since 2008 and haven't won a World Series since 1908. While the Cubs have a five-year plan for the stadium restoration, their on-field rebuilding is much murkier. "We're trying to get this organization healthy," manager Dale Sveum said. "Within a year, believe me, this thing has come a long, long way." Still, Ricketts, Hoyer and Epstein repeatedly dodged fan questions about specific timelines for success. "It doesn't happen overnight," Ricketts said. "You just have to think long-term. We think we have the right time horizon to do it the right way. "I really do believe we have the smartest guys in baseball building us a championship team. It just takes time."
Original Story:
http://msn.foxsports.com/mlb/story/ch...
THE BACKYARD
BEST OF MAXIM
RELATED ARTICLES
I actually like Lendy Castillo a fair bit. Lendy Castillo was signed by the Philadelphia Phillies in 2006… as a shortstop. He actually showed considerable promise on the defensive side, but could not hit to save his life. 2007: 684 OPS 2008: 566 OPS 2009: 453 OPS After it was apparently there was no way he was going to hack it even as an all-glove shortstop, the Phillies ended...
Sammy Sosa had an opportunity to go down in history as one of the best Chicago Cubs ever.  Then in 2003 a report came out that labeled Sosa as one of many players the used PED's, and well the rest is history. Sosa now says he's ready to forgive the Cubs, and during a live webcast that he set up, stated that the Cubs should have been retired his #21 jersey via ESPN Chicago. "I...
I am not sure how closely you have been paying attention, but the Chicago Cubs have been making a number of free agent signings over the off season making their 40 man roster a mess, Their free agent signings did not stop last night when reports came out of the newest acquisition Scott Hairston, formerly with the New York Mets. Even though the ball club has not yet confirmed the...
Less than one month until Chicago Cubs baseball is on the air! WGN Radio will broadcast nine games. I wouldn't be surprised if most of the rest are covered on Gameday Radio, as was the case last year. No word yet on any televised games, though I would be surprised if any are non-weekend games. The post Spring Training Broadcast Schedule Announced appeared first on Obstructed View.
Chicago Cubs scout Sam Hughes watches Colin Kaepernick nowadays and still wonders what the strong-armed NFL quarterback might look like on a pitching mound, as a power arm in the pros. It's hard not to, seeing the zip and accuracy on each throw, the competitive fire and focus. The Cubs never even watched Kaepernick throw a baseball before drafting him in the 43rd round almost...
COOPERSTOWN CALL
Sammy Sosa answered several questions during a web chat, and he said that he and Mark McGwire should be in the Hall of Fame.
The Chicago Cubs, adding another veteran to their outfield, have reached agreement with free agent Scott Hairston on a two-year contract, according to major league sources. Hairston, 32, figures to platoon with another free-agent signee, Nate Schierholtz, in right field. David DeJesus is projected to be in center and Alfonso Soriano in left. The New York Mets, New York Yankees...
"People ask me what I do in winter when there's no baseball. I'll tell you what I do. I stare out the window and wait for spring." ~Rogers Hornsby I don't remember much from when I was little, but one thing that I do remember is the day that I fell in love with baseball. There are a few people in my life that understand my passion for this game, that's why going to the...
Sammy Sosa thinks he and fellow steroid-tainted star Mark McGwire belong in the Hall of Fame. Slammin' Sammy also said the Chicago Cubs should retire his number, and he left open the possibility of running for president of the Dominican Republic during an interview Wednesday on the website Ustream.com. Asked if he thinks he or McGwire belong in the Hall, Sosa said: ''...
After a whirlwind weekend and trying to get back to "real life", I finally have a chance to sit down and give my take on the Convention this past weekend.  Now, keep in mind, I went to the Convention with my 13 year old son who lives and breathes baseball, so this weekend was to be more about him than seminars and Q&A sessions.  I would have loved to get to more of the...
Sammy Sosa woke up.   Someone must've told him he didn't get elected to the Hall of Fame.  Now he's all over the media talking about he deserves to be in the Hall of Fame, and how the Cubs should've retired his number a long time ago.   To the first point, I say no. [...]
Last we checked in on former Chicago Cubs slugger Sammy Sosa, he allowed me to absolutely, 100% legitimately spend two days with him and his new public relations team, as they are trying to attempt to rebuild his image with the hopes of getting him back into the good graces of the incredibly evil Baseball Writers Association of America. Basically, it seems that Sosa wants to get...
MLB News

Delivered to your inbox

You'll also receive Yardbarker's daily Top 10, featuring the best sports stories from around the web. Customize your newsletter to get articles on your favorite sports and teams. And the best part? It's free!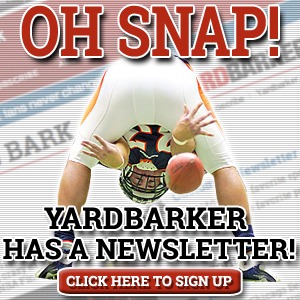 Latest Rumors
The Backyard

Today's Best Stuff

For Bloggers

Join the Yardbarker Network for more promotion, traffic, and money.

Company Info

Help

What is Yardbarker?

Yardbarker is the largest network of sports blogs and pro athlete blogs on the web. This site is the hub of the Yardbarker Network, where our editors and algorithms curate the best sports content from our network and beyond.