Posted February 27, 2013 on AP on Fox
PLAYERS:
Jeff Gordon
,
Ozzy Osbourne
,
Denise Richards
,
Kid Rock
,
Harry Caray
,
Theo Epstein
,
Tom Arnold
,
Vince Vaughn
,
Mike Ditka
,
Steve McMichael
TEAMS:
Chicago Cubs
,
Chicago White Sox
(Eds: Updates. With AP Photos.) By CARYN ROUSSEAU and DON BABWIN Associated Press Maybe it was race driver Jeff Gordon's shout out to the fans at "Wrigley Stadium." Or Ozzy Osbourne, who decided the lyrics of "Take Me Out to The Ball Game" were not nearly as interesting as the mostly unintelligible words he'd picked out for himself. Or perhaps it was actress Denise Richards, who brought along a little cheat sheet in case she forgot the words. Whatever the reason, the Chicago Cubs have decided to make the broadcast booth at Wrigley Field, and more importantly, the microphone, off limits to the likes of Vanna White, Erik Estrada and Mickey Rooney. Marion Ross will apparently be the last member of the "Happy Days" cast to sing during the seventh-inning stretch. No more Kid Rock, who, as the story goes, knew it was customary to say something at the end of the song, but went with "Let's get some lunch!" instead of the more traditional "Let's get some runs." "I think the last couple of years we had gotten away to a couple of people who weren't tied to Chicago," said Jim Oboikowitch, the Cubs in-game programming director in what might be a bit of understatement after more than a decade of Peter Frampton, David Cassidy, Barbara Eden and Frank Sinatra (Junior) leading the Wrigley faithful in song. Some fans are pleased. "It was a good idea at first," Al Yellon, who runs bleedcubbieblue.com, said of the Cubs' decision to allow celebrities to take over the job the late Harry Caray handled so famously for so many years. "But it turned into a celebrity fest with D-list celebrities." Ouch. Actor Joe Mantegna, a Chicago native and lifelong Cubs fan who has led the singing at Wrigley at least four times, said he agrees with the change. The co-author of play "Bleacher Bums" said there is something wrong with some "Jose Schmo who won an Oscar, is from Canada and hates baseball" donning a Cubs jersey and singing the song. Wrong in many ways, too: See YouTube for the evidence and bring your ear plugs. At the same time, as a fan of a team that hasn't won the World Series since 1908, Mantegna won't rule out bringing in someone - anyone- if it can somehow help the Cubs break the most infamous drought in American sports. "If it takes bringing a Martian to sing to get into the World Series, I'd advocate for that," he said. The song is played during the stretch around the major leagues, usually the ballpark organist leading the fans in song. Some parks have their own traditions, of course - Fenway Park and Neil Diamond's 'Sweet Caroline," for example. The Florida Marlins tried to skip "Take Me Out to The Ball Game" to go with dancers leading fans to Gloria Estefan songs, a tradition that lasted all of two games. For a team that doesn't exactly have a long history of embracing change - lights didn't arrive until 1988 - messing with a musical tradition tied forever to Caray might seem a dramatic step. But the Cubs have a new regime in place, with Theo Epstein and other front-office personnel trying to turn around baseball's famous losers and chairman Tom Ricketts pressing for upgrades to Wrigley, the oldest ballpark in the majors behind Fenway. The Cubs are coming off a year in which they lost 100 games in a season (101, actually) for the first time since 1966 and just the third time in their history. So maybe change is a good thing, wherever it comes. Not everybody is warmed by the thought that they have seen the last of Tom Arnold or Dawn Wells in the broadcast booth. "Part of the fun was having Erik Estrada up there," said Steve Rhodes, a longtime fan whose Chicago-oriented website, The Beachwood Reporter, once posted a song "Don't Start Believin'" to remind other fans what happens whenever they get their hopes up. "This is kind of the Cubs screwing up in reverse again (because) it was something stupid they should never have done in the first place but then making it worse by taking the fun part away, all these D listers." Caray, then with the White Sox, is credited with singing the song first at a game. He was so bad that team owner Bill Veeck had the idea to secretly put a microphone in the booth so everyone could join in and, well, mask the warbling. And join in they did, first at White Sox games and then at Wrigley, when Caray started his run with the Cubs in 1982. Fifteen years after his death, Caray is still part of the celebration, both inside the park where some guest singers still mention him, and outside, where fans can see a statute of Caray in his famous singing pose. Oboikowitch said the new plan calls for handing the microphone over to people like former Cubs players and various Chicago celebrities like actors Vince Vaughn and Gary Sinise. Always welcome would be any member of the 1985 Super Bowl champion Bears, of course. "They're always exciting for people to see ... to have them back and relive some of the glory," Oboikowitch said. That's not to say there won't be rough patches. Da Coach himself, Mike Ditka, raced through the entire song in a matter of seconds. Former Bears lineman Steve McMichael was the first - and last - guest singer to be ejected from the game by an umpire who didn't appreciate McMichael's critique of a call he'd just made. Rhodes also said the new plan could mean the same guest performers, from John and Joan Cusack to anyone who once performed at the city's famed comedy club, The Second City, sing over and over again. "You're telling me we're going to get more Jim Belushi?" he asked. "That's not a recipe for success in my book."
Original Story:
http://msn.foxsports.com/mlb/story/Cu...
THE BACKYARD
BEST OF MAXIM
RELATED ARTICLES
Darnell McDonald and Junior Lake each had a single, a double, and an RBI, leading the Cubs to a 5-3 victory over the A's in Cactus League action this afternoon at Dwight Patterson Field at HoHoKam Park in Mesa, AZ. Tags: Spring Training RecapDarnell McDonaldJunior LakeScott FeldmanTravis WoodHector RondonRead more about McDonald & Lake Lead Cubs to Victory
The Chicago Cubs were active sellers at the trade deadline last season, and president of baseball operations Theo Epstein told reporters, including Carrie Muskat of MLB.com, that the team could find itself in a similar situation this year if the struggles continue. "That's part of the business," Sveum said. "If your team is out of it, to start building...
Chicago Cubs star shortstop Starlin Castro sat out the first of two to three scheduled Spring Training games on Thursday, February 28, due to tightness in the leg that he strained while running out a ground ball in Wednesday's game. Castro mildly strained his left hamstring beating out a groundball that ended in an overthrow in his third at bat of the game. MLB.com's...
In his latest attempt at a comeback, Chicago Cubs pitcher Dontrelle Willis lasted just seven pitches in a cactus league game on Monday. The left hander made an unscheduled appearance in a game against the Los Angeles Dodgers and exited the game after just seven pitches, aided off the field with a trainer. Willis, the runner up for the 2005 NL Cy Young Award was seen pointing to his...
After injuring his lat muscle on February 17th, Chicago Cubs starter Matt Garza just started playing catch today, and might not be ready for Opening Day for the Cubs. *Of course* he might not be ready for Opening Day. "This is the first step to being ready to start pitching," he said of the throwing session. ``The schedule isn't for Opening Day, it isn't for opening week...
Former New York Yankee and current Chicago Cubs outfielder Alfonso Soriano told the New York Daily News he would consider approving a trade that would bring him back to the Bronx.
AVONDALE, Ariz. – Two years ago, Jeff Gordon and No. 24 crew chief Alan Gustafson won at Phoenix International Raceway (PIR) in only their second event working together. A lot has changed since then. A lot has changed since the NASCAR Sprint Cup Series raced here in November. After the event won by the No. 24 team in 2011, PIR was repaved and reconfigured. The relatively new layout...
MLB News

Delivered to your inbox

You'll also receive Yardbarker's daily Top 10, featuring the best sports stories from around the web. Customize your newsletter to get articles on your favorite sports and teams. And the best part? It's free!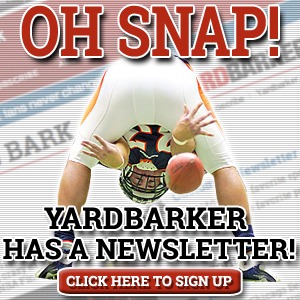 Latest Rumors
The Backyard

Today's Best Stuff

For Bloggers

Join the Yardbarker Network for more promotion, traffic, and money.

Company Info

Help

What is Yardbarker?

Yardbarker is the largest network of sports blogs and pro athlete blogs on the web. This site is the hub of the Yardbarker Network, where our editors and algorithms curate the best sports content from our network and beyond.