Found March 24, 2012 on UmpBump.com:
PLAYERS:
Justin Upton
,
Joey Votto
,
Matt Kemp
,
Ryan Zimmerman
,
Zack Greinke
,
Matt Cain
,
Cole Hamels
,
Clayton Kershaw
,
Roy Halladay
,
Cliff Lee
,
Madison Bumgarner
,
Trevor Bauer
,
Josh Collmenter
,
Tim Lincecum
,
Tyler Pastornicky
,
Devin Mesoraco
,
Ozzie Guillen
,
Carlos Zambrano
TEAMS:
Arizona Diamondbacks
,
Cincinnati Reds
,
Los Angeles Dodgers
,
Washington Nationals
,
Milwaukee Brewers
,
San Francisco Giants
,
Philadelphia Phillies
,
Atlanta Braves
,
Chicago White Sox
,
Miami Marlins
Following on from a run through the American League awards, here's some sure to be wrong predictions for the senior league.
MVP – Justin Upton
When trade rumours began circling around Upton just over a year ago, there were some  impressive packages of young talent being (theoretically) together as fans and analysis lined up to work out what it would take to acquire the Diamondbacks right fielder. Upton's excellent 2011 stats offered a glimpse, and I believe it was just a glimpse, of what he's capable of. Still just 24 and a couple of years away from his expected peak, Upton put up .289/.369/.529 line thanks to a career high in isolated power and a career low in strikeouts. Those are strong sides that Upton is maturing as a hitter and that there is more to come from an already outstanding player.
Also considered – Joey Votto, Ryan Braun, Troy Tulowitzski, Matt Kemp, Ryan Zimmerman
Cy Young – Zack Greinke
After the season, team's will have a rare chance to bid on three different young, top of the rotation starters when Greinke, Matt Cain and Cole Hamels all hit the open market at the same time. There may have been years with an equally talented free agent pitching class but, in an era where teams are more determined than ever to lock up young players, I don't remember a year with a year where the top free agent arms has so many high impact years left in the tank. Greinke's FIP and xFIP where both below 3 last year, indicating that his ERA of 3.83 could and probably should have been around a run lower. Another Cy Young would make him only the sixth player ever to win the award in both leagues.
Also considered – Clayton Kershaw, Roy Halladay, Cliff Lee, Madison Bumgarner, Cole Hamels
Rookie of the Year – Trevor Bauer
He may be starting the year in the minors, but once the Diamondbacks have had a month or two to manipulate his service time, Josh Collmenter isn't going to stop Bauer from claiming a spot in the team's rotation. The owner of the one of the more interesting player YouTube channels you'll see, Bauer's unorthodox training regime has put him under the spotlight since before he was even drafted. The comparison to Tim Lincecum is entirely unfair but he could come up and pile up big strikeout numbers from day one. Despite picking the Diamondbacks to have the MVP and the Rookie of the Year, I actually think the Snakes are in for a season of regression from last year.
Also considered – Zack Cozart, Tyler Pastornicky, Devin Mesoraco, Robbie Erlin
Manger of the Year – Ozzie Guillen
Because why not?
Comeback Player of the Year – Carlos Zambrano
It sounds like the Marlins new park is going to be a good pitching park and working with Ozzie Guillen is either going to work out brilliantly or completely blow up in the face of every involved. Either way it'll be fun to watch play out.
Original Story:
http://feeds.umpbump.com/~r/umpbump/~...
THE BACKYARD
BEST OF MAXIM
RELATED ARTICLES
SCOTTSDALE, Ariz. -- If anyone in the Diamondbacks organization was starting to worry about Trevor Cahill's rough start to the spring, his solid outing Saturday night against the Royals had to ease their concerns a bit. Though his night started with a rocky two-run first inning, Cahill recovered nicely with 3 23 scoreless innings and a final line of 4 23 innings, five hits,...
Key Stats: Justin Upton's strikeout rate went down by 9% last season while he actually gained power. Upton was called up at age 19 and this is a classic case of a player developing at the Major League level. The decrease in strikeouts resulted in a 16 point gain in his average. Skeptics Say: On the road last year Upton hit just .246 with an OPS of .767. Certainly ordinary numbers...
The Diamondbacks sent much-hyped pitching prospect Trevor Bauer to the minors on Friday, one of eight moves as the team continues to trim its camp roster leading up to Opening Day. Bauer, the No. 3 pick in last year's MLB draft out and the subject of much discussion in D-backs camp this spring, was optioned to Double-A Mobile. The move did not come as a surprise since manager...
PEORIA, Ariz. Josh Collmenter looked and felt like himself Sunday, justifying manager Kirk Gibsons earlier decision to assure him a spot in the starting rotation while seeming to allay Gibsons fears about lingering health issues. Collmenter gave up two runs in five innings in the Diamondbacks 4-3 loss to San Diego at the Peoria Sports Complex, both his most effective and longest...
The Arizona Diamondbacks have optioned right-hander Trevor Bauer to Double-A Mobile and made seven other moves to trim their roster in the closing days of spring training. Right-handers Sam Demel and Barry Enright, along with outfielder David Winfree were optioned to Triple-A Reno. Right-hander Chris Jakubauskas and infielder Rusty Ryal were reassigned to Reno. Right-hander Charles...
Photo Credits: dbking and Mwinog2777 The first base position is loaded at the top, but there are a ton of interesting options that we all can agree are intriguing sleepers… unless you are Starbonell and Justin Occhionero. You see, these two are ready to come to blows over their difference of opinions on Freddie Freeman and Paul Goldschmidt, so rather than settle the...
The Arizona Diamondbacks sent eight more players to minor league camp, leaving 37 still with the big league squad. Things are taking shape for a team that expects to be right in the thick of the National League pennant race.
Our homeboy, Pat "The Bat" Burrell, officially retired this offseason, but that doesn't mean he's done with baseball. He's decided to stay on with the San Francisco Giants as a scout. He's currently helping to evaluate the Giants prospects. Something tells me he'd be better suited for scouting off-field talent in San Fran, but then again, I heard...
MLB News

Delivered to your inbox

You'll also receive Yardbarker's daily Top 10, featuring the best sports stories from around the web. Customize your newsletter to get articles on your favorite sports and teams. And the best part? It's free!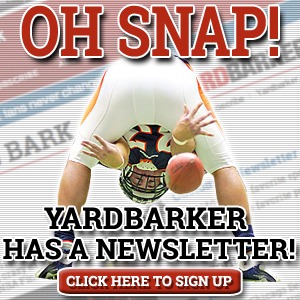 Latest Rumors
The Backyard

Today's Best Stuff

For Bloggers

Join the Yardbarker Network for more promotion, traffic, and money.

Company Info

Help

What is Yardbarker?

Yardbarker is the largest network of sports blogs and pro athlete blogs on the web. This site is the hub of the Yardbarker Network, where our editors and algorithms curate the best sports content from our network and beyond.