Found August 08, 2012 on Fox Sports Arizona:
PLAYERS:
Kevin Towers
,
Patrick Corbin
,
Tyler Skaggs
,
Trevor Bauer
,
Adam Eaton
,
Ryan Wheeler
,
Miguel Montero
,
Chris Owings
,
Michael Perez
,
A.J. Pollock
TEAMS:
Arizona Diamondbacks
,
Los Angeles Dodgers
When general manager Kevin Towers passed on trading deadline deals that would have thinned the Diamondbacks minor league system, the recent performance of Patrick Corbin was the sort of thing that informed his thinking. Corbin has made two quality starts since returning from Class AAA Reno to the rotation Aug. 1. He beat the Los Angeles Dodgers with six shutout innings that day and was in line for the victory Tuesday before the bullpen could not hold a 3-2 lead in Pittsburgh. His is one of the many quality arms in the D-backs system. The kind of arms opposing general managers sought. The kind that the D-backs refused to move. Pitching is always at a premium on the open market, and if you can grow it yourself, all the better. Combine interim general manager Jerry Dipotos astute 2010 deadline deals with the D-backs ability to make two of the top seven picks in the 2011 draft, the D-backs find themselves with several of the top-rated prospects in baseball. Long-term control is the key for mid- and small-market teams, and the D-backs were not about to sacrifice a piece of their future for a possible short-term gain. It makes a lot of sense, considering the talent on hand. Industry bible Baseball America ranked the Diamondbacks minor league system No. 4 entering in 2011, with Tyler Skaggs and 2011 first-round picks Trevor Bauer and Archie Bradley among the top 30. Baseball Prospectus ranked those three in the top 40. And that was before Bauer, Skaggs, Corbin, Adam Eaton and Ryan Wheeler, among others, took another step forward this season. Skaggs has appeared in the Futures Game in each of the last two seasons, and as with most of the D-backs top minor league talent, the future is drawing near. The Elite Eight RHP Trevor Bauer 11-1, 2.16 ERA, 125 strikeouts in 104 innings (AAA, AA) Sure, Bauer had a little trouble in his first four major league starts on either side of the All-Star break, when his velocity declined, although it appears that groin and leg injuries were more of an issue than originally believed. He still has a mid-90s fastball and a plus curveball, and he did shut out the Dodgers on two hits over six innings on July 8. Bauer threw six shutout innings for Class AAA Reno on Monday, and the most encouraging takeaway was that he used only 80 pitches. LHP Tyler Skaggs 9-5, 2.38 ERA, 112 strikeouts in 117 13 innings (AAA, AA) Skaggs has been the best pitcher in the system since being promoted from Mobile to Reno six weeks ago, moving up after Bauer was taken to the big leagues. Skaggs was at it again Wednesday, giving up one run in six innings. He has given up four earned runs in his last 40 23 innings, a 0.89 ERA. RHP Archie Bradley 9-5, 3.90 ERA, 115 strikeouts in 108 13 innings (A) Miguel Montero wandered over to the minor league camp to get a look at Bradley this spring and came back raving. It is easy to understand. Bradleys fastball has stayed in the mid-90 mph range all season, and his command has improved as his first pro season has progressed. SS Chris Owings .299, 15 home runs, 46 RBI (AA, A) Owings, who does not turn 21 until Sunday, is one of the youngest players in the Southern League, but he has held his own after being promoted from Visalia, where he made the California League midseason all-star team. Owings glove is major league-ready, and he already has set a career high in homers. OF Adam Eaton .384, 40 doubles, 41 RBI, 40 stolen bases (AAA) Eaton continues to lead the minor leagues in hits and runs, and he became the ninth minor league since 2008 to score 120 runs in a season when he reached that number on Saturday. He has a right fielders arm and a center fielders range and has the makings of a table-setting, base-stealing leadoff hitter D-backs have never had in their 15 years. 3B Matt Davidson .267, 20 home runs, 59 RBI (AA) Davidson, also one of the youngest players in the Southern League at 21, is third in the Southern League in home runs and fifth in OPS. His bat is his biggest weapon, and his all-fields approach will play at every level. He has 26 errors at Mobile, but scouts have seen improved range and footwork around the bag. LHP David Holmberg (AA, A) 9-7, 3.31 ERA, 137 strikeouts in 149 13 innings Holmbergs fastball has been clocked in the low 90 mph range, plenty when you consider he has shown ability to command his three other pitches, including a changeup that is probably his best offspeed pitch. He turned 21 on July 19. C Michael Perez (Rookie) .309, 7 homers, 45 RBI Perez, a fifth-round draft choice in 2011, has time to develop, inasmuch as Miguel Montero just signed a five-year, 60 million contract extension. After spending the early part of the season in the extended spring training program, Perez has 22 extra-base hits and 45 RBIs in 35 games at Missoula. Perez, who turned 20 on Monday, is built like Montero, and hits like him, too. Note: Corbin, Wheeler and A.J. Pollock were omitted fromthis list because of their extended major league playing time this season. Follow Jack Magruder on Twitter
Original Story:
http://www.foxsportsarizona.com/08/08...
THE BACKYARD
BEST OF MAXIM
RELATED ARTICLES
A season's worth of frustration seemed to bubble to the surface in the seventh inning Wednesday, when Arizona Diamondbacks center fielder Chris Young and best friend Justin Upton were ejected within moments of each other during a 7-6 loss to Pittsburgh at PNC Park. Batting with the bases loaded and two outs in a 7-5 game, Young was called out on strikes on what he believed...
Lyle Overbay is available. The 35-year-old was designated for assignment July 31 by the Diamondbacks, a move that set him to clear waivers Friday and become a free agent should no team take him off Arizona's hands. It's understandable why the Diamondbacks let Overbay go. He only mustered two hits in his final 25 at-bats for the team as Paul Goldschmidt established himself as...
Arizona Diamondbacks backup catcher Henry Blanco is scheduled for surgery Wednesday to repair a torn ligament in his left thumb and could miss the rest of the season. An MRI performed Tuesday in Phoenix revealed the tear. Blanco was injured Sunday in a game at Philadelphia when the Phillies' John Mayberry slid into his mitt at home plate. Diamondbacks manager Kirk Gibson said...
The Diamondbacks flexed their muscles on a 10-game trip, and the final game provided the exclamation point. Jason Kubel hit two two-run home runs and Wil Nieves hit one as the D-backs earned a split of a four-game series with a 6-3 victory over Pittsburgh on Thursday. Kubel has 25 home runs, third in the National League, and is three short of his career high set with Minnesota...
Exploring the Arsenal will run prior to each game, providing you with a brief scouting report on the starting pitcher expected to oppose the Pirates. The chart below shows the horizontal and vertical movement of every pitch thrown by that particular pitcher in 2012. This chart is from the catcher's point of view. Click here for a general guide to pitch types and classifications...
PITTSBURGH (AP) -- Jason Kubel homered twice, Joe Saunders pitched seven effective innings and the Arizona Diamondbacks beat the Pittsburgh Pirates 6-3 on Thursday. Both of Kubel's home runs immediately followed hits by Aaron Hill. Wil Nieves also hit a two-run homer in his Diamondbacks debut. Saunders (6-8) retired 14 consecutive batters in the middle innings. He allowed two...
About halfway to second, after he saw the path of the throw, you know he just wanted to turn around and head back to the dugout already
Justin Upton – This year his season has been tearing up my heart. He's posting the lowest OPS of his career since he was a rookie in 2007. Since that time, he's oscillated between great years in 2009 (.899 OPS) and 2011 (.898 OPS) and merely good years in 2008 (.816 OPS) and 2010 (.799 OPS). Currently, he's producing a .756 OPS, but there are many signs pointing to a potential...
Pittsburgh's Jeff Karstens hopes this start against the Arizona Diamondbacks goes better than his first. Based on how he's been pitching lately, his dominance at home and his previous success in the series, he would seemingly have better luck in the rematch. Karstens tries to win his fifth straight decision and help the Pirates move 17 games over .500 for the first time...
Did we seriously think the bullpen was never going to lose us a game?  It happens.  Put it behind you and take the next two.   First Pitch:  7:05 PM EST Where To Watch:  Root Spots, MLB.TV, FS-A Ian Kennedy, RHP (27) Ian Kennedy went from a Cy Young candidate last year to Ian Kennedy [...]
I would be lying if I said these last few games instilled a ton of confidence.  Maybe the bullpen is just going through a bad stretch, I don't know.  Still two more runs allowed by the pen is at least slightly concerning and something to keep an eye on.   First Pitch:  4:05 PM EST [...]
Huge win last night.  Mostly because of the start by Bedard.  What a start, eh?   First Pitch: 7:05 PM EST Where to Watch:  Root Sports, MLB.TV, FS-A   Patrick Corbin, LHP (23) Yeah, you saw that right. Another lefty. The Diamondbacks seem to be overflowing with lefties. Hell the Pirates are slated to see [...]
MLB News

Delivered to your inbox

You'll also receive Yardbarker's daily Top 10, featuring the best sports stories from around the web. Customize your newsletter to get articles on your favorite sports and teams. And the best part? It's free!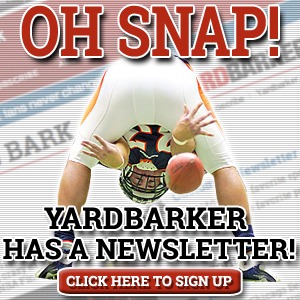 Latest Rumors
The Backyard

Today's Best Stuff

For Bloggers

Join the Yardbarker Network for more promotion, traffic, and money.

Company Info

Help

What is Yardbarker?

Yardbarker is the largest network of sports blogs and pro athlete blogs on the web. This site is the hub of the Yardbarker Network, where our editors and algorithms curate the best sports content from our network and beyond.