Found March 01, 2013 on Fox Sports Arizona:
SCOTTSDALE, Ariz. -- At 13, Martin Prado saw what Venezuelan youth league teammates Miguel Cabrera and Francisco Rodriguez could do and wondered if he fit the sport. If he would ever fit. Now, Prado finds himself compared to hitters such as Edgar Martinez and Placido Polanco. Dedication and a singleness of purpose can cover a lot of ground. I never thought from that group I would be at this level, Prado said. I wasnt that talented. I couldnt complain. How was I supposed to play here? But everybody went in a different direction, and I just kept going. I didnt want to change my path. I didnt look back. I didnt turn a different direction. I just kept straight and worked hard. I guess it paid off. No guesswork required. Prados four .300 seasons in the last five years testify to that, and his new Diamondbacks teammates know what they have, too, as Prado prepares to join then-teenage teammate Cabrera to represent Venezuela in the World Baseball Classic. Prado was the lower-profile return when high-profile right fielder Justin Upton was sent to Atlanta in a seven-player trade in January, and he may not hit as many home runs as Upton this season, although Chase Field should help his average of about 12 a year in the last four. Then again, Prado will put the ball in play more often, one of the ways this team believes it will have no trouble compensating. He was third in the National League in strikeout-to-walk ratio last season at just over one strikeout per walk, and he is second in the league in multi-hit games and third in doubles since 2009. Willie Bloomquist spent three seasons in Seattle with Edgar Martinez, one of the best pure hitters of his time. I dont want to compare him to somebody great, but he reminds me a lot of Edgar with his approach, his ability to stay inside the baseball and just having a flat-out good idea what he doing up there, Bloomquist said of Prado. He (Prado) controls the situation. It doesnt matter who is pitching; he dictates what is going on in the batters box. He stays inside the baseball and stays up the middle. Edgar was about as good as it gets, so thats why I tread cautiously about that. But hes got that kind of approach. Hes not a left-field guy. He can spray it all over the ballpark. Hes only getting better. Comparisons to Martinez may be unfair, but it does not mean they cannot shed some light. Martinez put up Hall of Fame-caliber offensive numbers as a late bloomer, not becoming a regular until 1990, when he was 27. His best seasons were from age 32 to 38, when he averaged 42 doubles and 110 RBIs for the Mariners. Prado had more success through his age 28 season, with 168 doubles, 52 home runs, 286 RBIs. That is not to say Prado will become Martinez, but it does add fuel to a discussion. The scouting report on Prado? We couldnt find a hole, one D-backs player said. There is no scouting report, another said. The only scouting report is, dont throw the same pitch twice. Some may rush to judge Prados performance in the light of Uptons, fairly or not, even though the differences in their games can be felt in other, perhaps subtler areas. "Im a different player than Justin is," Prado said. "He is a six-, seven-tool guy. Im not a seven-tool guy. But there are a lot of things that I can do. I just want to let people know I am not trying to be him. I am just trying to be me. "I dont want to change anything on my hitting or my defense. I want to keep doing what I was doing with the Braves and my whole career. What worked for Prado with the Braves -- and from age 13 on -- was work. One example that impressed the D-backs front office earlier this spring: Prado had done his early work and finished his round in batting practice, so he picked up his glove and went out to take extra grounders at third base, where he will start this season. And his batting practice is truly practice, that of a seasoned hitter working the field and the strike zone. "He has a lengthy day, D-backs manager Kirk Gibson said. "Hes there very early. Hes there very late. Prado is very serious about what he does. He feels an obligation to baseball and to his new team, and he is very serious about proving that. He does it through very serious preparation. "Hes self-made. He does a lot of good things. We feel confident he will fit in well. Prado puts in lengthy days to prepare for lengthy seasons. He prepares as if it were a 200-game season, the better to stay fresh. "I make sure I get my workout in. Whenever I go home, I go home knowing Ive tried everything I could to get better that day. Getting to know my body and building my muscle memory, said Prado, a native of Maracay, Venezuela. "I know a lot of players assume when the postseason starts its a new season and everybody will have a lot of energy. If you prepare for 200, you are going to take those postseason games like nothing. This sports is getting so demanding physically, you have to prepare for taking 600 at-bats, 700 at-bats. "If you are not prepared, this game is going to eat you."
Original Story:
http://www.foxsportsarizona.com/03/01...
THE BACKYARD
BEST OF MAXIM
RELATED ARTICLES
Willie Bloomquist had what has become his signature Diamondbacks' at-bat Saturday. After taking a strike, he doubled down the right-field line. He stayed inside the ball and found an open landing place. Kelly Johnson once said he saw the same approach every time Bloomquist hit, and he sounded envious when he said it. Healthy again after missing virtually all of the final two...
SCOTTSDALE, Ariz. Team Mexicos loss was Team USAs gain, as Diamondbacks right-hander David Hernandez switched teams for the World Baseball Classic on Saturday in an eligibility snafu. Originally scheduled to pitch for Mexico, Hernandez found out Friday that his family tree did not go back far enough for him to qualify. But when Cleveland reliever Chris Perez was a late scratch...
PHOENIX -- At FanFest last month, Diamondbacks left-hander Tyler Skaggs said he planned to treat every chance to pitch this spring, while competing for the final spot in the starting rotation, as if it were the seventh game of the World Series. Manager Kirk Gibson said recently that he believed that self-imposed pressure has had something to do with Skaggs early spring struggles...
Lest Team USA be accused of not playing to win the World Baseball Classic, consider the gamesmanship involved in the Americans' latest roster decision. When Cleveland Indians closer Chris Perez withdrew from the tournament Friday because of a shoulder injury, USA needed to find another relief pitcher. They chose Arizona Diamondbacks right-hander David Hernandez. On one level...
SCOTTSDALE, Ariz. Adam Eaton can get under your skin. Ask the Sacramento River Cats. As part of adapting to the leadoff role at Triple-A Reno, Eaton chose to work on his bunting in a game last May 25. He beat out a bunt toward second base to lead off the game. He did the same thing in the third inning. And in the fifth. After he doubled in the seventh, the River Cats had had enough...
Ex-Cub Tony Campana laced a two-run pinch-hit double to cap a four-run 6th, and then tripled in the 8th, helping to rally the Arizona Diamondbacks to a 6-2 victory over the Cubs in Cactus League action this afternoon at Dwight Patterson Field at HoHoKam Park in Mesa. Tags: Spring Training RecapRafael DolisJeff SamardzijaTony Campana.Read more about Tony Campana Helps Rally D...
The Associated Press Gerardo Parra drove in three runs and threw out a base runner Thursday, leading the Arizona Diamondbacks to a 6-5 victory over the Cincinnati Reds. Willie Bloomquist had three hits, including a double, and drove in a run. The Reds built a 4-1 lead against starter Ian Kennedy and left-handed prospect Tyler Skaggs. Parra and Bloomquist helped put the Diamondbacks...
We all knew this would happen. After seeing this happen time and time again, this was inevitable. Any time the Chicago Cubs let go of a player, they always come back to bite the hand that once fed them. This very situation happened for what seems like the millionth time in the history of this franchise, happened yet again today. Allow me to set the scene for you. In today's Spring...
MLB News

Delivered to your inbox

You'll also receive Yardbarker's daily Top 10, featuring the best sports stories from around the web. Customize your newsletter to get articles on your favorite sports and teams. And the best part? It's free!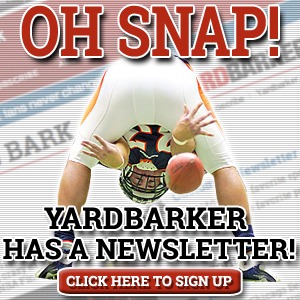 Latest Rumors
The Backyard

Today's Best Stuff

For Bloggers

Join the Yardbarker Network for more promotion, traffic, and money.

Company Info

Help

What is Yardbarker?

Yardbarker is the largest network of sports blogs and pro athlete blogs on the web. This site is the hub of the Yardbarker Network, where our editors and algorithms curate the best sports content from our network and beyond.