Found January 13, 2013 on Obstructed View OLD:
Good teammate To the surprise of no rational Cubs fan here or elsewhere, Alfonso Soriano is a good teammate. During his time in Chicago, Theo Epstein has come to realize what a tremendous teammate Soriano is and how willing he is to help younger players. Epstein considers Soriano an excellent clubhouse presence, and after a 32-homer, 108-RBI season, the Cubs president contends that he will need a player of note in return if he is to trade Soriano and assume a majority of the $36 million left on his contract. Soriano will only accept a deal to an East Coast team, so the Phillies, Rays, Orioles, Yankees, and Marlins are teams that could benefit by him. I don't believe the national media has taken a **** on Soriano like the Chicago media has in recent years, but it's been remarkable and enjoyable to finally see Soriano treated like the player he was always known to be. Prior to joining the Cubs, Soriano was known as one of the friendliest players in the game, one of the better teammates, someone who smiled all the time and just loved to play baseball. Upon arriving in Chicago and not winning the MVP, Cy Young and Manager of the Year Award, the Chicago media decided to flip that story around and pretend otherwise. The fans bought in. Soriano was booed relentlessly. He was called names that I can only imagine were racist. He was called lazy, a piece of **** and so on and so forth. It was disgusting and embarrassing to be a Cubs fan while it happened. Then last year, Soriano rebounded, had a pretty good season and all of a sudden he's a team leader, a positive clubhouse presence and someone who goes out there every day and does his job with a smile on his face. In other words, it only took the Chicago media 6 years to learn what every other person in the media already knew. Them Chicago sportswriters are a bright bunch of people. NFL Hall of Fame The football Hall of Fame released the candidates for 2013. Here are all the articles that talked about steroids or performance enhancing drugs in the NFL: It's almost like they don't care about steroids in the NFL. It's also like they don't treat the Hall of Fame like a shrine. Like in baseball. The shrine that has a bunch of piece of **** human beings already in it. What can we learn here? That the football writers are significantly smarter than about 65% of the BBWAA. And most baseball fans. Michael Bourn market shrinks Also in that article by Nick Cafardo was this bit about Michael Bourn: Nobody really knows what happened to the Bourn market. He's a top defender and a good leadoff man. I have a pretty good idea what happened to the market. GMs have realized that signing guys who rely heavily on speed to large contracts are not such good ideas. Although the Soriano contract has actually turned out OK (in that it's not as bad as it might have been), the Carl Crawford contract looks to be so bad at this point that it's going to hurt the market for speed players for awhile. A leg injury and their outlook changes entirely. Dontrelle Willis Saw this title on Cubs.com: Inbox: Could Willis crack Cubs' roster? A lot of **** would have to go wrong for that to happen. So let's just hope an already bad team doesn't have a bunch of players go down to injury making them even worse. Nate Silver Nate has a fantastic article about the crowded waiting room at the Hall of Fame. It's a must read for all fans. It's not something football fans or their sportswriters need to read, but those who root or write about baseball, yes, they need to read it.
Original Story:
http://www.obstructedview.net/major-l...
THE BACKYARD
BEST OF MAXIM
RELATED ARTICLES
The Chicago Cubs should be getting some offers for their 37-year-old outfielder Alfonso Soriano. The Philadelphia Phillies would be a perfect destination for Soriano considering that they are looking for some outfield help bad. KenRosenthal of Fox Sports reports that the Phillies GM Ruben Amaro is seeking some outfield help to make his team into more of a contender...
Here's the deal.  We know that prospects are important in baseball.  We know that one of the primary methods of acquiring these prospects is through the amateur draft, and that the guys who are picked early are usually the most likely to succeed in the major leagues, which intuitively makes sense. We know that a team is more likely to succeed in the regular season and make the...
It still takes a little adjustment to writing 2013, but I found myself looking at the Cubs 40 man roster situation this morning. The Cubs have a full 40 man roster at the moment and have by all reports signed Carlos Villanueva to a 2 year deal nearly a month ago. The Cubs pitching staff has become very crowded with people that are unable to be sent to the minors without being exposed...
Holy crap the Phillies have made a move. According to Fernando Ballesteros at the Mexican baseball magazine Puro Beisbol, the Phillies have signed 37-year-old Rodrigo Lopez to a minor league deal. Lopez, who is signing on for his second stint with the Phillies, last played for the team in 2009....
As a Cubs blogger, I think I'm going to have to get down on my knees and thank the good Lord that Sammy Sosa has joined us in the social media world. We've seen his Pinterest page and his Twitter account. He also has a Facebook page littered with the same awesome yellow-sweatered photos as his Pinterest (which @harrypav pointed out were directly pinned from his Flickr account...
Lopez will join the Phillies in Spring Training on a Minor League deal in 2013. Photo: AP Fernando Ballesteros of Puro Béisbol first reported that right-handed veteran Rodrigo Lopez has signed a Minor League contract with an invitation to Spring Training with the Phillies. Lopez can make up to $1 million should he play with the Phillies the entire year. Lopez, 37, posted a 5...
During a recent Cricket match, Brad Haddin blasted a six into the crowd and a spectator came down with one of the best grabs we have seen, especially considering he was carrying an iced coffee and two hamburgers. The spectator is a 16-year old named Peter Spurling who according to the Herald Sun is already being recruited heavily while he plays for his AIS AFL Academy. The catch...
Yesterday, we outlined the mess the new front office had to clean up.  Today, unencumbered by playoff football and random awards shows, let's try to figure out how they may work towards that goal in regards to player development. The Way of the Pitcher Once upon a time, I happened upon an article about the Minnesota Twins' minor league pitcher development program.  There was...
The Philadelphia Phillies have signed pitcher Rodrigo Lopez to a minor-league deal, Jim Salisbury of CSNPhilly.com reports. If Lopez makes the team, he will earn $1mm plus incentives. Lopez appeared in only 4 games for the Cubs last season going 0-1 with a 5.68 ERA and a career low 2.9 K/9. He spent most of the season at Triple-A where he went 5.28 ERA and 6.8 K/9. Image taken by...
Chicago Cubs president of baseball operations Theo Epstein says he understands the ballclub's culture better now than he did when he first arrived. Epstein spoke about the Cubs' reputation as ''lovable losers.'' While that allowed the team to draw almost 2.9 million fans despite losing 101 games, Epstein won't consider it a success until the team wins...
Owners of the Boston Red Sox thought the team wasn't marketable after the 2010 season and needed to add ''sexy players,'' former general manager Theo Epstein says in a new book co-written by former manager Terry Francona. Epstein says owner John Henry, chairman Tom Werner and president Larry Lucchino made the team's image a priority, according to excerpts...
NEW YORK (AP) -- Owners of the Boston Red Sox thought the team wasn't marketable after the 2010 season and needed to add "sexy players," former general manager Theo Epstein says in a new book co-written by former manager Terry Francona. Epstein says owner John Henry, chairman Tom Werner and president Larry Lucchino made the team's image a priority, according to...
MLB News

Delivered to your inbox

You'll also receive Yardbarker's daily Top 10, featuring the best sports stories from around the web. Customize your newsletter to get articles on your favorite sports and teams. And the best part? It's free!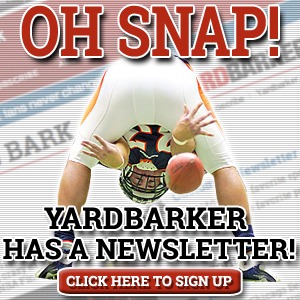 Latest Rumors
The Backyard

Today's Best Stuff

For Bloggers

Join the Yardbarker Network for more promotion, traffic, and money.

Company Info

Help

What is Yardbarker?

Yardbarker is the largest network of sports blogs and pro athlete blogs on the web. This site is the hub of the Yardbarker Network, where our editors and algorithms curate the best sports content from our network and beyond.