Found March 19, 2012 on Obstructed View OLD:
PLAYERS:
Geovany Soto
,
Steve Clevenger
,
Adrian Cardenas
,
Joe Mather
,
Tony Campana
,
Jeff Samardzija
,
Chris Volstad
,
Josh Vitters
,
Casey Coleman
,
Andy Sonnanstine
,
James Russell
,
Travis Wood
,
Randy Wells
,
David DeJesus
,
Blake DeWitt
,
Rafael Dolis
,
Bryan LaHair
TEAMS:
Chicago Cubs
,
Miami Marlins
Weekend practice game roundup
Geovany Soto homered, doubled, and walked in Saturday's game, so it looks like he's feeling better from his groin injury. Steve Clevenger, Adrian Cardenas, and Joe Mather also homered this weekend. Tony Campana broke his hitless streak with a hit or two but is probably out of a spot on the roster at this point.
On the pitching side, both Jeff Samardzija (more on him later) and Chris Volstad both had yet another solid outing. Maholm got into trouble in his outing thanks to a Josh Vitters error extending the inning, but largely did Maholm things. Casey Coleman pitched three scoreless innings (put him in the rotation!!!1!), and Andy Sonnanstine likely pitched himself into being released. James Russell also had a lousy outing, quieting the ridiculous talk that he could step in for Sean Marshall. He's a good LOOGY, not a shutdown setup man.
Is there a Cubs game today?
The Cubs play the Mariners at 3:05 PM CT. Travis Wood will start for the Cubs. Len and Mick will have the call on mlb.com gameday. Randy Wells is also starting an even less official "B" game against the Indians.
MO's nightmare ends
Mercurial Outfielder was last seen clutching a bottle of quadruple-hopped IPA and muttering "the horror….the horror". Hopefully someone will tell him that
The bunting tournament is over, and leadoff hitter David DeJesus is the last player standing.
Roster taking shape
In case you missed all the consternation yesterday, Dale Sveum says that Samardzija is "close" to locking up a rotation spot. The rest of the non-bullpen roster seems to be taking shape as well. Joe Mather and Blake DeWitt seem to have taken a big lead for the last two position player spots, and Rafael Dolis has a vote of confidence to replace Samardzija in the 7th inning role.
News in Maddicies
Mike Maddux said that if he had come to manage the Cubs, his brother would have come along as the pitching coach.
Or not, as both brothers backtracked on the comments the next day.
Cubs did make a credible offer for Cespedes
6/36 – same money, but two more years than what he got from the A's
A look at how the scouting department is shaking up
Phil Rogers wrote a profile of Jason McLeod and the changes he's bringing to the Cubs scouting organization. One thing they're trying to do is make sure that every scout they have has a video camera to send video along with their reports to the Hall of Justice.
An outside perspective on the Cubs
Tom Loxas at Cubs Den interviewed a NL scout on what he saw in Cubs camp. He likes what he sees from the Cubs coaching staff and think that they could make a difference on Castro's defense. He's also very down on Bryan LaHair.
In case you wanted to know everything about the Cubs 40-man roster and rules thereof
TCR has a breakdown of the roster, as well as everyone's options status. To call this exhaustive would be a vast understatement. (h/t @AJWalsh)
Obstructed View Bracket Challenge update
WaLi and Mish are tied for first place in the Bracket challenge, with 440 points each. WaLi also has the most possible points remaining in his bracket with 1280, thanks to an entirely intact elite eight. GBTS is in last place.
Revenue sharing and college football conferences
MB21 wrote a post on DailyBigTen (where former Cubs blogger and TOOTBLAN progenitor wrigleyville23 now writes) about revenue sharing and the Big Ten vs the SEC. It's a good read.
Nerd video of the day
Just because I watched a ton of it yesterday. Season two is less than two weeks away! Even better, Game of Thrones set all sorts of sales records for HBO dvds, so this series isn't going away anytime soon.
Original Story:
http://www.obstructedview.net/chicago...
THE BACKYARD
BEST OF MAXIM
RELATED ARTICLES
Dale Sveum says Jeff Samardzija is close to locking down a spot in the rotation. "Obviously, that lock's getting a little closer and closer to being finalized," Dale Sveum said Sunday, one day after Samardzija's four innings against the Rangers. The right-hander gave up one run on three hits. He has not walked a batter over six innings this spring. "It's impressive and...
Since Jeff Samardzija is now a "near-lock" to make the rotation, per Dale Sveum. Let's take a look at his projections for 2012. Just about everyone projected him as a reliever, though a few of them had him making 1-3 starts. It's enough that I'm not going to worry about trying to split all of those numbers out. Here's his projection as a reliever and roughly...
The Cubs signed DeJesus on November 30th to a 2-year guaranteed contract with a 3rd year option. He's guaranteed $10.5 million over the contract. I think a couple of the reasons the Cubs chose DeJesus is quite simple and I mentioned them in that article. DeJesus played RF for 116 games last season and played 8 games in CF. He's a damn good fielder so it's not surprising...
Bryan LaHair singled, doubled, and tripled, scored two runs, and knocked-in two more, and Nate Samson had two hits, drove-in three runs and scored another, but it wasn't anywhere near enough, as the Arkansas Travelers (Los Angeles Angels AA affiliate) took advantage of six errors to defeat the Tennessee Smokies 7-3 on Field #2, and the Salt Lake Bees (Angels AAA affiliate) outlasted...
On Saturday I published this year's playing time survey and more than 50 of you took the time to fill it out. Thanks for taking the time. I'm going to go ahead and publish the results here. I didn't make any adjustments to the batters because you guys pretty much nailed it as far as position and team totals go. I did make some small adjustments to the pitchers as our...
Projected lineup RF - David DeJesus SS - Starlin Castro CF - Marlon Byrd 1B - Bryan LaHair LF - Alfonso Soriano C - Geovany Soto 3B - Ian Stewart 2B - Darwin Barney SP - Matt Garza SP - Ryan Dempster SP - Paul Maholm SP - Jeff Samardzija SP - Chris Volstad/Randy Wells CL - Carlos Marmol Five things to think about: - Castro is 32nd overall in my rankings, which is...
Travis Wood sucks.  He started the day with a 20.50 ERA.  He was spotted a 7-0 lead before he took the mound.  He left after allowing the game to be tied by the 3rd inning. His ERA now stands at 25.07. Don't talk to me about small sample sizes.  He blows.
Ryan Dempster allowed two runs on four hits and two walks in six innings of work (72 pitches - 50 strikes, 5/8 GO/FO, 3 K), but the Texas Rangers rallied for two in the 8th off Lendy Castillo and two more in the 9th off Alberto Cabrera (two-run HR by 23-year old Cuban defector Leonys Martin) to defeat a Cubs split squad 6-2 in Spring Training Cactus League action this afternoon at...
2011 wasn't a great year for the Cubs by any stretch of the imagination, and as large market teams tend to do when they get into that situation, the Cubs retooled. A new manager in Dale Sveum, a new president in Theo Epstein, and a new general manager in Jed Hoyer are in the process of completely blowing up the Cubs and rebuilding them. It might take awhile, but the results will...
LAS VEGAS (AP) -- Joe Mather hit a tiebreaking solo home run off Sean Green in the ninth inning, giving the Chicago Cubs a 3-2 split-squad victory over the Texas Rangers and a two-game split at Cashman Field. Texas tied the score in the eighth against Alberto Cabrera when Guilder Rodriguez doubled and scored on Ryan Strausborger's single. Texas starter Matt Harrison gave up...
Joe Mather hit a tiebreaking solo home run off Sean Green in the ninth inning, giving the Chicago Cubs a 3-2 split-squad victory over the Texas Rangers and a two-game split at Cashman Field. Texas tied the score in the eighth against Alberto Cabrera when Guilder Rodriguez doubled and scored on Ryan Strausborger's single. Texas starter Matt Harrison gave up one run and one hit...
Jonny Gomes homered to start a three-run rally in the ninth, and the Oakland Athletics tied a Chicago Cubs' split squad 5-5 in 10 innings Tuesday. Kila Ka'ahilue homered and doubled for the A's, playing their final spring training home game before heading to Japan for a season-opening, two-game series against Seattle in Tokyo next week. Tony Campana doubled and scored...
MLB News

Delivered to your inbox

You'll also receive Yardbarker's daily Top 10, featuring the best sports stories from around the web. Customize your newsletter to get articles on your favorite sports and teams. And the best part? It's free!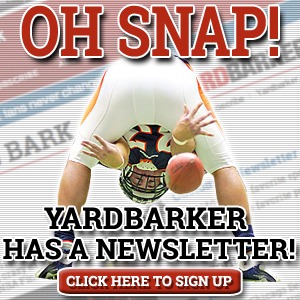 Latest Rumors
The Backyard

Today's Best Stuff

For Bloggers

Join the Yardbarker Network for more promotion, traffic, and money.

Company Info

Help

What is Yardbarker?

Yardbarker is the largest network of sports blogs and pro athlete blogs on the web. This site is the hub of the Yardbarker Network, where our editors and algorithms curate the best sports content from our network and beyond.