Found October 05, 2012 on Mike Silva's Sports Media Watchdog:
Rk Player WAR/pos Age Tm G AB R H 2B 3B HR RBI BB SO SB BA OBP SLG OPS 1 Mike Trout 10.7 20 LAA 139 559 129 182 27 8 30 83 67 139 49 .326 .399 .564 .963 3 Miguel Cabrera 6.9 29 DET 161 622 109 205 40 0 44 139 66 98 4 .330 .393 .606 .999 Provided by Baseball-Reference.com: View Play Index Tool UsedGenerated 10/5/2012. Everyone is caught up in the debate of whether Mike Trout or Miguel Cabrera should be the American League MVP. On one side you have a 20-year old rookie centerfield that has five-tools. On the other, you have a pure hitter that just won the first Triple Crown in 45 years. Although it makes for interesting copy and talk radio debate, the real discussion should be about MLB changing the MVP award as we know it. More change to America's pastime? Yes, in addition to a second Wild Card, Bud Selig should consider adding an award that is the position player equivalent to the Cy Young. The MVP should be a combination of numbers and intangibles voted on by the BBWAA. ...
Original Story:
http://sportsmediawatchdog.com/2012/1...
THE BACKYARD
BEST OF MAXIM
RELATED ARTICLES
Detroit TIgers third baseman Miguel Cabrera was confirmed as baseball's first Triple Crown winner since 1967 Wednesday night with an 0-for-2 performance that dropped his batting average a point to .330 to go with 44 home runs and 139 RBI. He got a standing ovation from the Kansas City crowd and Royals players when he came up to bat in the first inning, and he received a loud...
Miguel Cabrera is in demand. On Wednesday night, the Tigers third baseman secured the first Triple Crown in Major League Baseball in 45 years -- the last being Red Sox left fielder Carl Yastrzemski in 1967 -- finishing with a .330 batting average, 44 home runs and 139 RBIs. While his MVP candidacy is still up for debate, MLB decided to immediately cash in on the newly made history...
For the first time since the steroid era ended, the MLB playoffs will have the Yankees, a first-time Nats, Miguel Cabrera, Justin Verlander, the World Series runner-up Rangers, Bryce Harper (22 HR, 59 RBI) and a new wildcard playoff game. Can't get excited about that? What's wrong with you? It'll also be the first playoffs for MLB girlfriends Kate Upton and Angela Rypien. Still...
I have to admit, I never thought I would live to see a Triple Crown winner in Major League Baseball. On this night, Miguel Cabrera becomes the first man in baseball to win it since Carl Yastremski in 1967. Cabrera polished off a .330, 44 home run, 139 RBI season. And I didn't own him on any fantasy teams. What a joy that must have been.
If you're a baseball fan – hell, any type of sports fan whatsoever – this whole Miguel Cabrera winning the first triple crown since 1967 is gigantic news. It's like the time you found out that the you know what coming from your you know what didn't make you different, and that it was actually [...]
Wednesday night, Detroit Tigers third baseman Miguel Cabrera won Major League Baseball's first Triple Crown since Carl Yastrzemski did it in 1967. After starting the regular season finale against Kansas City, Cabrera was lifted in the fourth inning as he went 0-2 on the night with a strike out. Cabrera though finished the season with 44 home runs, 139 RBIs and a .330 batting average...
KANSAS CITY, Mo. (AP) -- Miguel Cabrera became the first player in 45 years to achieve the Triple Crown in the AL Central-champion Detroit Tigers' 1-0 victory over the Kansas City Royals on Wednesday night. Cabrera went 0 for 2 with a strikeout, then left in the fourth inning of the regular-season finale. He received a standing ovation from the opposing fans. He finished with...
This is what we know early Wednesday afternoon: The Detroit Tigers have won the American League Central and will open the playoffs at home on Saturday, with Justin Verlander on the mound. Miguel Cabrera is on the verge of winning baseball's first Triple Crown since Carl Yastrzemski accomplished the feat in 1967. The only person really standing in Cabrera's way is Texas...
KANSAS CITY, Mo. (AP) -- Tigers slugger Miguel Cabrera became the first player in 45 years to win baseball's Triple Crown on Wednesday night, joining an elite list that includes Mickey Mantle, Ted Williams and Lou Gehrig. Cabrera's milestone wasn't official until the Yankees pinch hit for Curtis Granderson in their game against the Boston Red Sox. Granderson had homered...
Last night was a great night for Venezuelan Baseball.We all know the story by now, Miguel Cabrera is the first non-American born player to ever hit for the Triple Crown, and even when he didn't have to – he went out and played in a meaningless game on the road, and had 2 at bats before Manager Jim Leyland took him out of the game. He deserves not only a ton of respect for his...
Welcome to the year end Razzball awards.  I'm your host, Grey Albright and I'm joined by Random Italicized Voice, Hey.  Also, on the red carpet for everyone's arrival we have, MR. AL CAPS, "HOW ARE YOU?"  And up in the balcony critiquing everyone's outfits we have Clunky Segue, "As you were…"  Before the show even begins, we have a very special musical guest...
MLB News

Delivered to your inbox

You'll also receive Yardbarker's daily Top 10, featuring the best sports stories from around the web. Customize your newsletter to get articles on your favorite sports and teams. And the best part? It's free!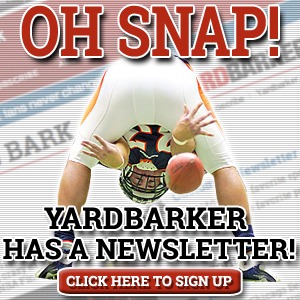 Latest Rumors
Best of Yardbarker

Today's Best Stuff

For Bloggers

Join the Yardbarker Network for more promotion, traffic, and money.

Company Info

Help

What is Yardbarker?

Yardbarker is the largest network of sports blogs and pro athlete blogs on the web. This site is the hub of the Yardbarker Network, where our editors and algorithms curate the best sports content from our network and beyond.