Found August 19, 2012 on Fox Sports North:
The last time Twins catcher Ryan Doumit was behind the plate for a start by Samuel Deduno, Doumit talked about the uncertainty with which each of Deduno's pitches approaches the plate. Deduno's curveball often ends up in the dirt before bouncing into the chest of the catcher. His fastball has good movement on it as well and darts any which way. As a result, Doumit just sets up right behind the plate and lets Deduno's pitches do the work. Like he had been in his previous seven starts with Minnesota, Deduno was effectively wild in Sunday's series finale against the Mariners, although he was hit with his first loss of the year in a 5-1 Seattle win. Deduno picked up a quality start by allowing just two runs in six innings of work. During that time, though, he walked six batters while striking out just two. "Deduno was Deduno," Twins manager Ron Gardenhire said. "A lot of walks, and we were out there a long time playing defense. ... But he didn't break. He bent a little bit, got himself into some messes, but he got out of them." The six walks were a season high for Deduno, who walked five batters in each of his last two outings. Despite his wildness Sunday, Deduno was able to prevent the floodgates from completely opening, thanks to a trio of double plays turned behind him. The biggest double play Deduno induced came in the third inning, after he walked in a run with the bases loaded. Yet after walking John Jason to bring home Dustin Ackley, Deduno got Jesus Montero to ground to shortstop for a 6-4-3 double play. A run scored on the play, but it limited the damage as Deduno escaped the inning with two runs -- the only two he allowed. In that third inning, Deduno issued four walks. Instead of getting the hook, though, Minnesota allowed him to stay on the mound and clean up the mess. "He's got good stuff, and that's how he's able to get away with the walks," said Mariners third baseman Kyle Seager, who walked twice and got a hit against Deduno on Sunday. "He's got the real good sinker and a real good curveball. He's got good stuff. I was just fortunate to be able to walk a few times and get the one hit." With a runner on third and one out in the first inning, Deduno got a ground ball double play to end the inning without allowing a run. Deduno's final double play of the game came in his sixth and final inning as Trayvon Robinson grounded to shortstop, allowing the Twins to turn two behind Deduno. "He can make some pitches when he has to," Gardenhire said. "Living like that, with those guys out there like that and base on balls is eventually going to get to you. He worked his way through it somehow or another. I don't know how he did it. It's kind of amazing, to tell you the truth." Through his eight starts, Deduno has now allowed 75 base runners, but just 24 percent of those runners (18) have come around to score. That percentage is the lowest among all Twins starters. But given his high walk totals, it's unlikely that Deduno can sustain that type of success long-term. And Minnesota knows that. "It'll eventually catch up to you," Gardenhire said. "There's going to be some big hits when you're walking people and putting them out there and it's going to eventually get you buried. But he seems to be able to make some pitches when he has to. ... But that's not a good formula walking all those people like that." Because of the high walk totals, Deduno certainly doesn't fit the typical mold of a Twins pitcher; Minnesota prides itself on pitchers who can pound the strike zone consistently. But with eight starts under his belt, it's fair to ask the question: does Deduno deserve a shot at the starting rotation next year? Amid his erratic control, Deduno lowered his ERA to 3.33 after Sunday's start. For a Twins team with many questions among its pitching staff, Deduno might end up being one answer. Robby Incmikoski contributed to this report. Follow Tyler Mason on Twitter.
Original Story:
http://www.foxsportsnorth.com/08/19/1...
THE BACKYARD
BEST OF MAXIM
RELATED ARTICLES
The Seattle Mariners have put together a nice stretch over the last month, bolstered by their strong play at home. They'll go for their first three-game sweep of the Minnesota Twins in 11 years Sunday. After a 3-2 victory Saturday night, Seattle has won 14 of its last 21, including four straight and six of seven. The majority of those victories have come at home, where the...
With the Twins having been completely out of it since the second week of the season your thoughts end up turning to the future.  Then, when you realize all those guys suck too, you dig a little deeper into the younger prospects.  With that in mind, here are the first 10 guys I thought of to check on in the Twins' system.  They might not be the top 10 guys, but they're...
The Minnesota Twins have outrighted struggling right-hander Nick Blackburn to Triple-A Rochester. The team will make a corresponding move to fill Blackburns spot on the 25-man roster prior to Tuesdays game in Oakland. Minnesota also outrighted infielder Tsuyoshi Nishioka, who is currently playing for Rochester. The moves mean that both Blackburn and Nishioka are no longer on the...
When the Twins promoted shortstop Pedro Florimon from Triple-A on Tuesday, it was less for his abilities than because of the struggles of another. Brian Dozier was slumping, bound for Rochester, and the team needed a replacement.That replacement was Florimon, a defensive specialist whom the team decided to get a closer look at in the final days before September call-ups. The expectations...
There were already going to be plenty of question marks surrounding the Minnesota Twins' rotation for the 2013 season. For a while, Nick Blackburn didn't appear to be one of the question marks.But the Twins outrighted Blackburn to Triple-A Rochester on Monday, which changes at least his immediate future with the club. Outrighting a player is different than optioning a player...
When the Twins promoted shortstop Pedro Florimon from Triple-A on Tuesday, it was less for his abilities than because of the struggles of another. Brian Dozier was slumping, bound for Rochester, and the team needed a replacement.That replacement was Florimon, a defensive specialist whom the team decided to get a closer look at in the final days before September call-ups. The expectations...
The Minnesota Twins have sent struggling starting pitcher Nick Blackburn back to Triple-A Rochester and taken him off their 40-man roster. The move was made before Monday's game at Oakland. The Twins will replace him on the 25-man roster on Tuesday. Blackburn was scheduled to take the mound on Wednesday against the A's. After a decent performance over his first two major...
The Twins made a roster move that was all together rational and easy to understand today. In fact, if there was a problem with the maneuver it was that it wasn't done sooner. Nick Blackburn and Tsuyoshi Nishioka were outrighted off of the 40 man roster. First it should be noted that there was a reason this move was done now aside from the obvious "they haven't been very good...
After struggling earlier this month, the Oakland Athletics seem to have gotten back on track. Facing the Minnesota Twins could help them keep it going. The Athletics look to win their fifth straight Monday night when they begin a three-game home series against the slumping Twins. Oakland (65-55) starts the week a half-game back of the second AL wild-card spot after completing a...
Josh Willingham drove in two runs against his former team, Joe Mauer hit a two-run single and the Minnesota Twins snapped Oakland's four-game winning streak with a 7-2 victory over the Athletics on Monday night. Brian Duensing (3-8) struck out seven and walked one in six innings to win for the first time in three starts after consecutive losses, helping the Twins bounce back...
After the Minnesota Twins lost 99 games in 2011, it seemed unlikely that the club would approach 100 losses two years in a row. But after this weekend's sweep at the hands of the Seattle Mariners, Minnesota is indeed in danger of losing 100 games in 2012. The Twins' 5-1 loss in Sunday's series finale dropped them to 50-70 on the season, 20 games under .500 for the first...
By ALAN FERGUSON, STATS WriterWhile their teams' performances have largely been lackluster, the Seattle Mariners' Jason Vargas and the Minnesota Twins' Scott Diamond are enjoying fine seasons.The two will attempt to add to their team-best win totals when they face off Saturday night at Safeco Field.Vargas (13-8, 3.56 ERA) has never finished with a winning record over...
MLB News

Delivered to your inbox

You'll also receive Yardbarker's daily Top 10, featuring the best sports stories from around the web. Customize your newsletter to get articles on your favorite sports and teams. And the best part? It's free!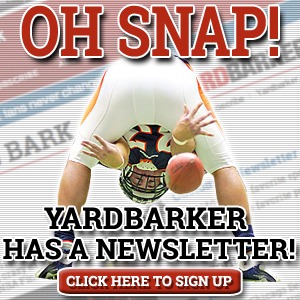 Latest Rumors
The Backyard

Today's Best Stuff

For Bloggers

Join the Yardbarker Network for more promotion, traffic, and money.

Company Info

Help

What is Yardbarker?

Yardbarker is the largest network of sports blogs and pro athlete blogs on the web. This site is the hub of the Yardbarker Network, where our editors and algorithms curate the best sports content from our network and beyond.