Two House Democrats, Reps. Henry Waxman of California and Frank Pallone of New Jersey, are pushing for Major League Baseball and the players' union to implement testing for human growth hormone and ban chewing tobacco by players in uniform who are in public view.
The two representatives submitted a letter to MLB commissioner Bud Selig and MLBPA executive director Michael Weiner on Wednesday. Major League Baseball's collective bargaining agreement with the players' union is set to expire next month. Waxman is the top Democrat on the Energy and Commerce Committee and Pallone is the head Democrat on the panel's health subcommittee. Neither the union or MLB have commented on the letter.
The NFL acted as a trailblazer as they agreed to use a blood test implemented to catch HGH users as part of their collective bargaining which was agreed to in July. The tests have not begun as the NFLPA has asked for more scientific data to support the test's reliability.
A piece of the letter by Waxman and Pallone stated:
"There is ample precedent for a ban on the use of smokeless tobacco on the field and in the dugout. The use of cigarettes by players in uniform and in view of the public has been banned for over three decades. Minor league baseball has banned the use or possession of smokeless tobacco in ballparks since 1993, with no adverse impact on the game or its players."
Several players were interviewed by the Associated Press at the end of the season and many were receptive to the bans.
I'm all for the bans too. There's no reason players can't "resort" to chewing bubble gum or sunflower seeds instead of tobacco. Chewing tobacco is a disgusting habit and shouldn't be done in the presence of children, whether in person or on television. The ban for HGH is a no-brainer. While HGH isn't as publicized as anabolic steroids, its place in the game is very similar. The health risks aren't exactly known and the substances are fair from natural.
My problem with this is that the government needs to stay out of it. Republican or Democrat, they have a different and more important job to do. Why should their letter be given anymore creedence than one from It's Always Sunny in Detroit or a doctor or a grocery bagger? Last time I checked, this country had a lot bigger issues (like maybe the unemployment rate, health care, gas prices, terrorism, the national debt, the war overseas, policies involving gays and lesbians, taxes, the overall corruption of the government, immigration issues, helping the homeless, shoot, maybe teaching Barack Obama how to throw a baseball) than whether Timmy Tiger chews tobacco in front of children.  But to them it's important to create rules in baseball.  This is just yet another reason why American government is inept.
Bottom line: these bans need to be put in place. I don't know if Selig can be trusted to put them in motion, but it'd be ignorant of the players' union not to accept them. But, the pressure shouldn't come from two Representatives. It should come from within.
Original Story:
http://feedproxy.google.com/~r/ItsAlw...
MORE FROM YARDBARKER
MLB News

Delivered to your inbox

You'll also receive Yardbarker's daily Top 10, featuring the best sports stories from around the web. Customize your newsletter to get articles on your favorite sports and teams. And the best part? It's free!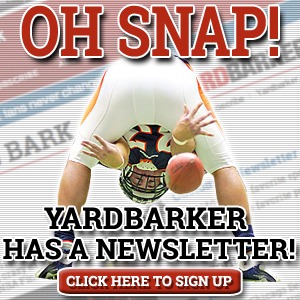 Latest Rumors
Best of Yardbarker

Today's Best Stuff

For Bloggers

Join the Yardbarker Network for more promotion, traffic, and money.

Company Info

Help

What is Yardbarker?

Yardbarker is the largest network of sports blogs and pro athlete blogs on the web. This site is the hub of the Yardbarker Network, where our editors and algorithms curate the best sports content from our network and beyond.