Found August 21, 2013 on RedSoxLife:
Sam Galanis Contributing Writer There's still a lot of talk swirling around Ryan Dempster's five-day paid suspension. Obviously the Yankees don't think it's harsh enough. And before the suspension was dealt, John Farrell didn't even think it was going to happen. But as it turns out, Demspter's suspension is pretty standard. Writer Marc Normandin of Over the Monster spoke to Jeff Euston of Cot's Contracts, who explained the normal routine for suspensions for on-field activity. "A suspension for an on-field incident is usually with pay," Euston said. "So a player generally does not lose salary or service time after throwing at A-Rod or charging the mound." The player may be be fined in addition to their suspension, however. The consequence for the team in that situation is that the player can't be replaced on the roster, so they must play with 24 instead of 25. They also explained the differences with suspensions for off-field incidents. "A suspension for a positi...
Original Story:
http://www.redsoxlife.com/2013/08/dem...
THE BACKYARD
BEST OF MAXIM
RELATED ARTICLES
Irony is never a stranger to Major League Baseball.  Boston Red Sox starter Ryan Dempster was suspended five games for plunking controversial New York Yankees slugger, Alex Rodriguez, with a pitch. Major league pitchers start every five or six games, depending on team off days, so in reality Dempster won't miss any starts. Dempster was not ejected after hitting Rodriguez in the...
STAND-UP GUY
Following last night's drama in Boston stemming from Ryan Dempster beaning A-Rod (most likely intentionally), Rodriguez spoke with a hoard of media members in the visitors clubhouse at Fenway. When one reporter asked if A-Rod thought Dempster should be suspended for his actions, the Yankees third baseman – who currently is appealing a 211-game suspension from the league for PED...
Ryan Dempster of the Boston Red Sox was suspended for five games and fined by Major League Baseball for intentionally hitting Yankees star Alex Rodriguez with a pitch last weekend. The penalty was announced Tuesday by MLB senior vice president Joe Garagiola Jr., two days after Dempster hit A-Rod in the second inning at Fenway Park. Garagiola also fined Yankees manager Joe Girardi...
Boston Red Sox starting pitcher Ryan Dempster has officially received a five-game suspension from Major League Baseball for intentionally throwing at and hitting New York Yankees third baseman Alex Rodriguez on Sunday night. Yankees manager Joe Girardi was also fined for his argument with umpire Brian O'Nora following the incident. It was the right move for Major League Baseball...
Ryan Dempster made it obvious that he was intentionally trying to hit Alex Rodriguez during Sunday's Boston Red Sox-New York Yankees game, but did you realize that Dempster likely had this planned for a while? Ottawan Citizen sports writer Wayne Scanlan tweeted that Dempster told him he planned to "drill" A-Rod the first chance he […]
Jim Rogash/Getty Images SAN FRANCISCO—If Boston Red Sox pitcher Ryan Dempster was looking for full support from his teammates for hitting New York Yankees third baseman Alex Rodriguez in the second inning of Sunday's game, he will not have it. David Ortiz told Jorge L. Ortiz of USA Today Sports on Thursday that he did not agree with Dempster hitting Rodriguez in that situation...
Yesterday, torrents of rage boiled from the Hertz 24/7 Broadcast Booth, (formerly the Lowe's Broadcast Booth: "Let's build something togethahhhhhh....") as John Sterling and Suzyn Waldman learned of MLB's "punishment" of Ryan Dempster... who may be the reincarnation of Phil Linz's harmonica. Quickly, the Yankiverse truth posse called the...
Yankees manager Joe Girardi said it will be ''open season'' on Alex Rodriguez if Major League Baseball fails to suspend Boston pitcher Ryan Dempster for hitting the New York star with a pitch.
Joe Girardi thinks that Ryan Dempster should be suspended. John Farrell, as you might expect, feels differently. Major League Baseball is currently in the process of determining whether or not Dempster should be disciplined for hitting Alex Rodriguez with a pitch in the second inning of Sunday's Red Sox-Yankees game. Farrell reiterated his stance on the incident Monday, telling...
Boston Red Sox slugger David Ortiz spoke with USA Today Sports about his feelings on the Ryan Dempster and Alex Rodriguez fiasco. "I didn't like it. I don't think it was the right thing to do," Ortiz said. "But we don't all think alike, and the guy who did it, Dempster is a great guy." Not only does Ortiz think that Dempster's actions were wrong, but he doesn't...
Rants: Ryan Dempster- his hit on ARod woke up a sleeping Giant in the Yankees and fuled their recent run of wins. Even his own teammate David Ortiz said that hitting ARod with that pitch wasn't the right thing to do. Ouch! Rants:Philadelphia Phillies for firing Charlie Manuel- he is the winningest manager in recent memory and this was only his first real bad season in 9 years with...
MLB News

Delivered to your inbox

You'll also receive Yardbarker's daily Top 10, featuring the best sports stories from around the web. Customize your newsletter to get articles on your favorite sports and teams. And the best part? It's free!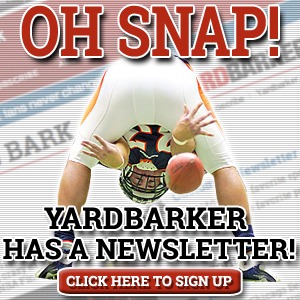 Latest Rumors
Best of Yardbarker

Today's Best Stuff

For Bloggers

Join the Yardbarker Network for more promotion, traffic, and money.

Company Info

Help

What is Yardbarker?

Yardbarker is the largest network of sports blogs and pro athlete blogs on the web. This site is the hub of the Yardbarker Network, where our editors and algorithms curate the best sports content from our network and beyond.