Found November 16, 2012 on Fox Sports Detroit:
DETROIT -- You might call Tigers owner Mike Ilitch and Torii Hunter an odd couple, but the two are bound by something very powerful: An overwhelming desire to win a championship. That desire was so strong and Hunter's belief in the Tigers so great that he had already decided that if the Los Angeles Angels didn't offer him a contract, he wanted to come to Detroit. Hunter was the one who arranged to visit Detroit with his wife, Katrina, this past Tuesday. When he met Ilitch for the first time, he recognized a kindred spirit. "This guy has a lot of fire," Hunter said. "He just greeted me with a big smile. He said, 'You came here, you played against us with a fire and that's what we need, fire.' "Just looking at him and talking to him, I could tell that he really wants to win that World Series. I've been playing Major League Baseball for 14 seasons and I see that same fire. I could look at him and I feel it because I'm searching for the same thing. "I really want to win a World Series and he's given me that great opportunity to win a World Series with the Detroit Tigers in 2013. I want to say thank you to Mr. I." Ilitch and Hunter also realize time is not on their side. At 84, Ilitch knows he doesn't have forever to win. At 37, Hunter knows his career is closer to the end than the beginning. Ilitch has won four Stanley Cups with his Detroit Red Wings. He's built an incredibly successful business in Little Caesars Pizza, among other enterprises. But there's still something missing. Hunter has been an All-Star four times, has won nine Gold Gloves and made the playoffs. But there's still something missing. "That's definitely the hole," Hunter said. "You could say the Gold Gloves, the All-Stars, whatever it may be, but it's not complete. Nothing's going to be more gratifying and satisfying until I win that World Series. "All that stuff, I don't feel complete. So I know what's going to make me complete is winning a World Series, and I think the Tigers give me a better chance of winning a World Series." As much as Hunter wants to win a championship, that's not all there is to him, which made Ilitch appreciate his new outfielder even more. "Torii had a reputation of being an upscale player, lots of enthusiasm," Ilitch said. "But the thing that impressed me in the time we spent together is that he cares about everybody. He cares about poor people. The first thing I talked to him about was the conditions in Detroit, and he wants to help." Ilitch said meeting Hunter was like being with someone he's known 20 years. Even during the press conference, Hunter bantered easily with his new owner and got it right back. "I'll pay you later for what you just said," Hunter said to Ilitch after hearing the compliments. "I said it the way you wanted me to," Ilitch responded, eliciting laughter from the crowd. Later, when Hunter tried to respond to a question that was directed at Ilitch, the owner smiled and said, "Is it OK, boss," to Hunter before answering. "I found that this baseball player had other concerns, about other people in the world and in life," Ilitch said. "That made me feel real good ... I got a solid individual here, a solid human being." Hunter had similar things to say about Ilitch. "Mr. I, you guys have something special here," Hunter said. "I heard about him for so many years, and I got a chance to really meet him and sit down and talk to him. He has a great personality, good character man, and he's very down to earth. I like that about him." Ilitch already has done a lot for the people of Detroit, and Hunter hopes to join him in some of those charitable endeavors. Each knows that one of the best ways to bring joy to the city and Tigers fans is winning it all. "It's just a perfect marriage, a perfect fit, and I really think I can win my World Series here in 2013," Hunter said. "And '14.''
Original Story:
http://www.foxsportsdetroit.com/11/16...
THE BACKYARD
BEST OF MAXIM
RELATED ARTICLES
The Detroit Tigers signed free agent outfielder Torii Hunter to a two year contract worth $26 million on Wednesday, filling the need for both a right handed bat and everyday right fielder. But did the Tigers overpay to sign Hunter, who will turn 38-years-old during the 2013 MLB season and is coming off of one of his worst seasons in terms of home run numbers? Yes, Hunter made up...
DETROIT (AP) -- The Detroit Tigers have finalized their 26 million, two-year deal with outfielder Torii Hunter. Hunter hit a career-best .313 last season for the Los Angeles Angels with 16 home runs and 92 RBIs. Acquiring a corner outfielder was a major offseason priority for Detroit, and Hunter won nine consecutive Gold Gloves from 2001-09 before gradually switching from center...
The signing of Torii Hunter for the Tigers was extremely beneficial to the team from an offensive standpoint as well as a defensive standpoint in the outfield. However the Tigers seem to be getting more for their money (2 years, $26 million) beyond what he does on the field which don't get me wrong is the meat and potatoes of any big deal. After taking a look at the Angels' Facebook...
Mike Trout's mother, Debbie, may have set the example for her son's success. But she's giving Torii Hunter credit for her son's development, too. When news broke that Hunter signed a two-year, $26 million deal with the Tigers, Debbie reached out to the former Angels outfielder and expressed her gratitude for offering guidance to Trout –– who was named the AL Rookie of...
DETROIT -- New Tigers outfielder Torii Hunter will wear his familiar No. 48 in Detroit, and victims of Hurricane Sandy will benefit from it. Although the number has been worn by Tigers pitcher Rick Porcello during the past four seasons, he was willing to give it to Hunter -- who also wore 48 during 14-plus combined seasons in Minnesota and Los Angeles -- for a good cause. Hunter...
Torii Hunter is officially no longer an Angel, something we all have seen coming for weeks now.  For the most part, we've all made our peace with his departure and moved on.  We know the Halos have as they've already made it clear that they have a succession plan in place.  Peter Bourjos will take Hunter's spot in the outfield.  Albert Pujols and Mike Trout will fill...
As a sports fan, I like to think I've evolved into a cross between Randy Quaid's overly-obsessed, annoying character "Johnny" in Major League II and the more dignified Frank Deford. When word came out that the Detroit Tigers had signed … Continue reading →
The New York Yankeeshot stove is about as ice-cold as it has been in years. Angels Torii Hunter – 08-09-2011 – Yankee Stadium But please don't hang your hat on the theory that no news is good news here as there have been plenty of headlines about players hitting the free agent market and rejecting qualifying offers. All fans can do is hope that something good is announced soon...
The November 15th, 2012 edition of daily news for the Los Angeles Angels of Anaheim including Hunter signs in Detroit, Weaver finishes third in Cy Young voting, Nate Silver says Trout should win AL MVP and much more... The Story: Torii Hunter signed with the Detroit Tigers for $26 million over two years. The Monkey Says: This kind of worked out for everyone.  Torii is a...
At one point the Atlanta Braves had hopes of signing both Torii Hunter and B.J. Upton. With Hunter signing a two year deal with the Detroit Tigers, the Braves are turning their sights solely to Upton. The Braves have two spots to fill in the outfield thanks to Michael Bourn becoming a free agency and the move of Martin Prado to third base. Upton hit .246/.298/.454 last season. He...
Last night on The Baseball Show Podcast, co-hosts Mike Rosenbaum and M.J. Lloyd and I discussed the following topics: -The Marlins/Blue Jays blockbuster trade -The Toronto Blue Jays chances in the AL East -Why it sucks to be a Marlins fan -Giancarlo Stanton's future in Miami -What is it like to be a Marlins fan right now? -The prospects on the way to Toronto via trade -Torii Hunter...
With all the stories of PEDs, ridiculous contract negotiations and general bad behavior by MLB stars, this story restores some of my faith in humanity: Torii Hunter has worn 48 his entire career, both with the Twins and Angels. On Friday, he officially signed a two-year, $26 million deal with the Tigers, where right-hander Rick Porcello has worn No. 48 since [...]
MLB News

Delivered to your inbox

You'll also receive Yardbarker's daily Top 10, featuring the best sports stories from around the web. Customize your newsletter to get articles on your favorite sports and teams. And the best part? It's free!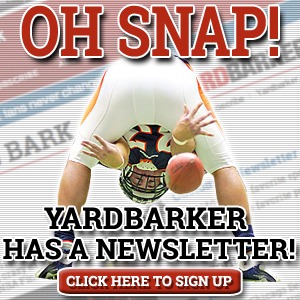 Latest Rumors
The Backyard

Today's Best Stuff

For Bloggers

Join the Yardbarker Network for more promotion, traffic, and money.

Company Info

Help

What is Yardbarker?

Yardbarker is the largest network of sports blogs and pro athlete blogs on the web. This site is the hub of the Yardbarker Network, where our editors and algorithms curate the best sports content from our network and beyond.