Found November 12, 2012 on It's Always Sunny in Detroit:
PLAYERS:
Mike Ilitch
,
Jim Leyland
,
Miguel Cabrera
,
Justin Verlander
,
Prince Fielder
,
Jose Valverde
,
Bruce Rondon
,
Zack Greinke
,
Anibal Sanchez
,
Hiroki Kuroda
,
Kyle Lohse
,
Danny Haren
,
Curtis Granderson
,
Austin Jackson
,
Max Scherzer
,
Phil Coke
,
Ryan Dempster
,
Brandon McCarthy
,
Shaun Marcum
,
Jeremy Guthrie
,
Justin Upton
,
Nick Castellanos
,
Avisail Garcia
,
Torii Hunter
,
Nick Swisher
,
Melky Cabrera
,
Josh Hamilton
,
Michael Bourn
,
Angel Pagan
,
BJ Upton
,
Shane Victorino
,
Victor Martinez
TEAMS:
Detroit Tigers
,
Los Angeles Angels
,
New York Yankees
,
St. Louis Cardinals
,
Texas Rangers
,
Oakland Athletics
,
Milwaukee Brewers
,
Kansas City Royals
,
Arizona Diamondbacks
,
San Francisco Giants
,
Atlanta Braves
,
Tampa Bay Rays
,
Los Angeles Dodgers
There were 28 other teams that wished they were the Detroit Tigers on October 24, the day of Game One of the World Series. 90% of the ESPN.com "experts" predicted that the Tigers would be hoisting the Commissioner's Trophy (given to the World Series champs).  99.9% of Detroiters expected it too. We know now that it didn't.  We also know that the Tigers are not going to sit idle and come back in 2013 with the same team.  Owner Mike Ilitch is starving for a World Series ring and isn't getting any younger.  Manager Jim Leyland isn't getting any younger.  The Tigers core – Miguel Cabrera, Justin Verlander and Prince Fielder, while all outstanding, have not been enough to put the team over the top.  Top heavy teams don't often win the World Series and that's what the Tigers were. So come this offseason, which is already underway, the Tigers are still seeking to improve.  Their likely additions will come on the bump (starting pitcher), in a corner outfield spot and possibly in the bullpen.  Jose Valverde is a free agent and won't be back.  But, I believe they'll be going with an incumbent, possibly Bruce Rondon who rose to Toledo in 2012.  So we'll focus on starting pitchers and corner outfielders As the Fielder signing showed us last year, it doesn't appear that any expenses will be spared.  So, who will the Tigers look to?  We'll lay out the options.  You can decide which direction they should choose. Free agent starting pitchers: Zack Greinke — This would be a shocker and I don't see it happening.  He's the "crown jewel" of the FA pitchers and because of that, he's seeking  a nine-figure deal.  He's had success in the American League before, including some against the Tigers when he was in Kansas City.  But, he'd be the pitching equivalent to the Fielder signing…and I highly doubt that happens in back-to-back years. Anibal Sanchez — After being acquired from Florida prior to this year's deadline, Sanchez went 4-6 with a 3.74 ERA and 57 Ks in 72 innings.  He went 1-2 in three starts with a 1.77 ERA in the postseason.  The Tigers have said they're interested, but Sanchez is said to be commanding six years at $90 million.  That's too rich for my blood, but I still see him as a real possibility. Hiroki Kuroda — He isn't coming here.  He'll sign in a huge market.  Book it. Kyle Lohse — Lohse's numbers have been better than I give him credit for.  In '12 he sported a 2.86 ERA with a 16-3 record for St. Louis.  But he lacks an outpitch and that's scary with the Tigers immobile infield defense.  No thank you. Dan Haren — Back problems + probably wanting a large deal = I'll pass Edwin Jackson — The underrated arm in this list.  He'll probably get the least inexpensive deal of the bunch and his numbers will more than likely stand up against most of them.  The former Tiger who was jettisoned in the trade that also sent Curtis Granderson and brought Austin Jackson, Max Scherzer and Phil Coke, would be a nice fit as the #4 or 5.  His price tag would also allow the Tigers to spend more on a bigger impact corner outfielder. Ryan Dempster — If the Tigers were in the National League, I might consider him on a short deal.  But they aren't, so I'm not. Other possibilities include: Brandon McCarthy, Shaun Marcum, Jeremy Guthrie and others down the line.  While I wouldn't hate McCarthy, he doesn't miss many bats and falls into the Lohse category.  If I'm Dave Dombrowski, I'd stick with Porcello and Smyly in the 4 and 5 spots instead of resorting to any of these guys.   Potential corner outfielders: Justin Upton — He's under contract with the Diamondbacks for another three years at $38 million.  So should the Tigers decide he's their guy, they're not only giving up $38 million, but they're also giving up their top prospect Nick Castellanos and another top prospect/young player or two.  Smyly, Porcello, Rondon, Avisail Garcia are names that have been mentioned.  While I would definitely surrender Castellanos and Porcello for Upton, anything more would probably make me lean toward a free agent. Torii Hunter — This seems to fit.  Hunter can cover a good amount of ground despite being 37 years old.  He'd fit in nicely in right field next to Austin Jackson.  He hasn't shown much, if any, offensive dropoff in the last half decade except for on the bases.  But with the amount Jim Leyland runs (he doesn't), that's irrelevant.  This seems like a great fit.  Hunter won't command a long-term deal (two years) and the annual salary seems like it'll be reasonable.  Two years for 20-22, maybe 24…I'm game. Nick Swisher — There isn't a player out there who enjoys playing baseball more than Swish.  He's a switch hitter.  He gets on base.  He has decent power and is a run producer.  But he's also a free swinger and plays a so-so right field.  He'll probably want a four-year (or more) deal, which is why he isn't my first or second choice.  If he wants a two-year deal, he'd be a nice option in the Tigers two-hole. Melky Cabrera — We all know that Melky was banged with a 50-game suspension for PEDs last season.  And even when you include the post-PED dropoff, he could put up very very nice numbers hitting in front of the Tigers' current Cabrera.  He'd spray doubles all over CoPa and find the right field porch 15+ times too.  He'll likely seek a one-year deal to prove himself while clean.  One for seven.  I'm game for this, too. Josh Hamilton — Easily the biggest name on the market this year.  .285, 43 bombs, 128 RBIs in 2012.  The numbers are sick.  What's also sick is that he supposedly wants $175M over seven.  He's 32, often broken and has the whole alcohol/drug thing still hanging over his head.  If he wants to go three years at $20 per, I'd consider — even if it were my money.  Anymore and he won't play for my team — and hopefully he won't be a concern until the World Series (and he ends up in the NL). Michael Bourn — Speedy, speedy, speedy.  No power.  Career .272 hitter.  He's more of a center fielder and that spot is taken.  He wouldn't be a bad guy leading off.  AJax could hit in the two-spot.  But Bourn supposedly wants $100M.  No thanks, no time. Angel Pagan — Pagan hoisted the Commissioner's Trophy as a Giant, so he would bring the experience here.  He also plays a nice outfield, hits left-handed and can run.  The World Series win will boost his value though and I don't like to play that game.  His tools fit with what the Tigers could use, but his contract will be too inflated for my liking. BJ Upton — Speedy, free swinger, .240 hitter.  20 HR power.  Lackadaisical.  No thank you. Others: Ichiro, Shane Victorino, Delmon Young.  I'd take Ichiro on a one-year, $10M deal in a second, but he isn't coming to Detroit.  Victorino is one of the most overrated players in the game for my money, which is why he won't be getting it.  Delmon Young – been there, done that.  Victor Martinez is back and DHing.  I have no interest in supplying Delmon with a helmet in left field. I firmly believe that the Tigers will trade for Justin Upton or sign one of the guys I listed. If money was no option, I'd make Greinke my #2 and Justin Upton my right fielder.  But since it is, I'm signing Hunter to a two-year deal at $20 or 22.  On the bump, I'd try to talk Sanchez down to a four for $56M.  If that doesn't happen, I'm pursuing Edwin Jackson at a two or three year deal worth nine or ten per.    
Original Story:
http://itsalwayssunnyindetroit.com/20...
THE BACKYARD
BEST OF MAXIM
RELATED ARTICLES
Your newest member of the Detroit Tigers is Torii Hunter! Or at least that's my best guess at this point. Some people who are 'in the know' have indicated that Hunter is most likely going to land with the Tigers or the Texas Rangers. Hunter is 37 (turns 38 in July) and will likely get a 2-year contract, wherever he lands, for approximately $10M/year. Hunter says, "It's...
This week, free agent starting pitcher Anibal Sanchez's contract demands became known: six years, $90 million or seven years, $100 million, according to Jon Heyman of CBS. While that may seem like a lot of money for Anibal Sanchez, all things considered, it might not be all that out of bounds. Since 2010, Sanchez has accumulated 12.0 fWAR, 16th among all starting pitchers in...
Table of Contents Here's the table of contents for today's edition of Daily Notes. 1. Two Comments on the Venezuelan Winter League 2. SCOUT Leaderboards: Venezuelan Winter League 3. Video: Bruce Rondon Attempts a Little Murder Two Comments on the Venezuelan Winter League Comment No. 1: Regarding Possible Detroit Closer, Bruce Rondon There have been indications so far this offseason...
DETROIT -- Justin Verlander deserves to win his second consecutive American League Cy Young Award. He's unlikely to get it, though, when the results of voting by the Baseball Writers Association of America are announced Wednesday night. Tampa Bays David Price is the favorite, and Jered Weaver of the Angels also could finish ahead of Verlander among those three finalists. Price...
Detroit Tigers prospect James McCann discusses his experience at the Arizona Fall League and more in this one-on-one interview.
The Detroit Tigers have made no secret that they're interested in free-agent outfielder Torii Hunter. Continue reading →
When I hear the name Anibal Sanchez one thing comes to mind…  I would attempt to finish that sentence but I can't.  Now keep in mind Sanchez was an integral pickup for the Detroit Tigers in their run to the World Series, but when I hear sources; Sportsnet, FOX Sports reporting that Sanchez is eyeing $90M over 6-years, I shake my head.  To get a grip on what he is asking...
The Detroit Tigers are very close to winning a World Series, and they have proven that they will do whatever it takes to get the job done over the next couple of years. Torii Hunter is a free agent who wants to win a World Series within the next couple of years, as his illustrious career is drawing to a close. Is it just me, or is this a logical fit for the Tigers to sign Hunter...
The Tigers were only four wins away from a World Series title in 2012, but they're already looking to improve for 2013. According to ESPN's Jim Bowden, the Tigers are front-runners in the Torii Hunter sweepstakes. Other teams rumored to be interested in the 37-year-old outfielder are the Red Sox, Rangers and Braves — although all reports are indicating that he's likely going...
The Detroit Tigers selected left-hander Joe Rogers in the fifth round of the 2012 MLB First-Year Player Draft. Recently, Rogers was kind enough to check in with us to discuss draft day and his experience with the Connecticut Tigers in short-season ball.
The Detroit Tigers reportedly have a free-agent target in town today. Jon Paul Morosi of Foxsports.com reported via Twitter that Torii Hunter is meeting with Tigers officials. Hunter, 37, hit .313 with 16 home runs and 92 RBIs last season for the Los Angeles Angels. He's also a nine-time Gold Glove winner.
Free agent outfielder Torii Hunter was in Detroit Tuesday to meet with Tigers officials, major-league sources told FOXSports.com. The team -- like Hunter -- is desperately trying to win the World Series The Tigers won the American League this year with a convincing sweep of the New York Yankees but lost to the San Francisco Giants in similar fashion, showing a glaring vulnerability...
MLB News

Delivered to your inbox

You'll also receive Yardbarker's daily Top 10, featuring the best sports stories from around the web. Customize your newsletter to get articles on your favorite sports and teams. And the best part? It's free!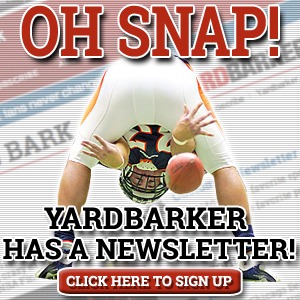 Latest Rumors
Best of Yardbarker

Today's Best Stuff

For Bloggers

Join the Yardbarker Network for more promotion, traffic, and money.

Company Info

Help

What is Yardbarker?

Yardbarker is the largest network of sports blogs and pro athlete blogs on the web. This site is the hub of the Yardbarker Network, where our editors and algorithms curate the best sports content from our network and beyond.