Found April 30, 2012 on isportsweb.com:
The Detroit Tigers don't exactly have one of the better minor league systems. In fact, in Keith Law's preseason breakdown he ranked the Tigers 24th out of 30 MLB teams.
Despite the lack of firepower across the board, there are some intriguing names that bear watching. This list will illuminate 7 names that you probably already know as well 7 names that have been flying under the radar.
Nick Castellanos
Marquee Names:
Nick Castellanos (20 y/o, 3B, High A Lakeland) – Castellanos has started his 2nd season of pro ball with High A Lakeland. Last year he was awarded as the Tigers' minor league hitter of the year. It looks like he wants to make that 2 in a row. In 21 games, he's off to a .398 start with a .435 on-base%. He has 8 doubles, 1 homer, and 14 RBI's. He will probably finish the season at AA Erie and start pounding on the Tigers' door next spring.
Jacob Turner (21 y/0, RHP, High A Lakeland) – After making it all the way to Motown last year, Turner had a dreadful spring depressed by a 'dead arm' period and now finds himself working his way back to good with Lakeland. He took some time to rest and has now started 2 games for Lakeland, pitching 10 scoreless innings so far with 3 walks and just 3 strikeouts. The future may still be bright, but the road has become noticeably longer.
Andy Oliver (24 y/o, LHP, AAA Toledo) – At 24, he's not getting any younger, and his repertoire is not becoming any more refined. In fact, it might be regressing. In 26.1 innings so far in 2012, he has an impressive 27 K's and a head-shaking 25 walks. Unless he can find a delivery that lets him pound the strike zone with his power arsenal, this former 2nd round pick is on the fast track to nowhere.
Casey Crosby (23 y/o, LHP, AAA Toledo) – Crosby suffers the same ailment as Oliver – walks. The only difference is he can use the Tommy John recovery excuse. However, that setback is becoming a bit too far in the rearview mirror to keep going back to. He has electric stuff but little control. He has walked 10 in 18 innings thus far while striking out 16. His ERA sits at 5.00 after 4 starts.
Rob Brantly (22 y/0, C, AA Erie) – Brantly was a 3rd round pick back in 2010 and has been rising steadily through the system ever since. He is off to a blistering start for the SeaWolves. Hitting .365 with 2 homers and 16 RBI's puts the Tigers in a unique position of strong catching depth beyond their starter Alex Avila.
Avisail Garcia (20 y/o, OF, High A Lakeland) – Garcia is the kid with all the tools. The Tigers are excited about his long-term potential assuming he can limit the strikeouts. He's hitting .395 for the Flying Tigers in the early going with 3 doubles, 2 homers, 11 RBI's, and 5 steals. He has fanned 17 times in 81 at-bats (21%), which is an improvement. Remember this name.
James McCann (21 y/0, C, High A Lakeland) – McCann was the Tigers' top pick in 2011 and brings even more upside to the Tigers' catching depth. He spent the spring with the big club and is hitting well (.283, 9 RBI's) for Lakeland. He's behind Brantly at this point but not by much.
Bruce Rondon
Sleeper Names:
Brian Flynn (22 y/o, RHP, High A Lakeland) – Flynn was a 7th round pick in 2011 and goes 6'8'', 240 lbs. He got off to a red-hot start in his first 3 appearances for Lakeland this year before getting thumped around. A guy with his size and command (2 walks) is a name worth remembering. He'll move up through the system and be fighting for a spot in a few years or make for a really nice trade piece.
Steven Moya (20 y/o, 1B, low A West Michigan) – Moya is a 6'7'' first baseman and is off to a .377 start for the Whitecaps. He has 6 doubles, 1 homer, and 11 RBI's so far and is outshining the legacy names on the roster such as Colin Kaline, Patrick Leyland, and Nicholas Avila.
Tyler Collins (21 y/o, OF, High A Lakeland) – Collins was selected last year from Howard Junior College in Texas and has a lot of game. He has started off .342 with 7 doubles, 8 RBI's, and 3 steals. He's a guy I like as a sneaky fast riser in the system.
Dean Green (22 y/o, 1B, low A West Michigan) – Also drafted in 2011, out of tiny Barry College, Green has some pop. He's already hit 5 homers for the Whitecaps and is looking to have the kind of season that puts his name on the map.
Brennan Smith (22 y/o, RHP, low A West Michigan) – Smith was a 33rd round pick out of Bowling Green in 2010 and has been lights out so far. He sports a 1.23 ERA so far in 2012 and a 2.73 ERA throughout parts of 3 minor league seasons. He has struck out 160 in 217.2 innings of minor league work.
Bruce Rondon (21 y/o, RHP, High A Lakeland) – Rondon might have the biggest strikeout upside of any reliever in the Tigers' system. The big fella has been racking up saves in the low minors for a few years now and will be on his way toward the top soon. He has 14 K's though 8 innings with the Flying Tigers already but does have 7 walks, which will be his one roadblock.
Melvin Mercedes (21 y/o, RHP, low A West Michigan) – Mercedes was a fast riser until Tommy John surgery struck. He has a big arm out of the bullpen and is working his way back into the conversation. He has 9 K's in 6.2 innings this year and will need to build on that momentum to start climbing the prospect list once again.
Follow me on Twitter @isportsJoe or subscribe to our Detroit Tigers Feed
Original Story:
http://isportsweb.com/2012/04/30/detr...
THE BACKYARD
BEST OF MAXIM
RELATED ARTICLES
DETROIT -- While the Tigers were dealing with the fallout from Delmon Young's arrest and seven-day suspension and a cold rain fell at Comerica Park, a ray of light appeared in the clubhouse. Victor Martinez, newly freed from his crutches and sporting longer hair and a big knee brace, sat smiling at his familiar spot in front of his locker. Before long, he had new teammate Prince...
Detroit Tigers right-hander Doug Fister reportedly will make a rehabilitation start this week. Fister, who was placed on the disabled list at the beginning of the month with a rib cage strain, will pitch Wednesday for the Triple-A Toledo Mud Hens, according to CBS Sports.com. Fister has started one game, going 3 2/3 innings with a 0.00 ERA. He had a 2.83 ERA last season.
On the same road trip that capped a bad week for the Detroit Tigers, a little girl's wish came true in Cy Young -- and MVP -- fashion. Meet Shayna Hersh. She's an 11-year-old from Huntington Woods, Mich., whose nickname just happens to be Verlander. Her favorite team is, obviously, the Detroit Tigers. Her favorite player is, of course, Justin Verlander, and she's been...
Major League Baseball suspended Detroit Tigers slugger Delmon Young for one week without pay Monday following his drunken anti-Semitic rant and arrest. The suspension is retroactive to last Friday, when the incident occurred, the league announced. "Those associated with our game should meet the responsibilities and standards that stem from our game's stature as a social...
DETROIT (AP) -- Austin Jackson had four hits and Rick Porcello pitched eight strong innings to lead the Detroit Tigers past the Kansas City Royals 9-3 on Tuesday night. The Tigers scored five runs in the first and won for only the third time in 11 games. Porcello (2-2) took advantage of the offensive support to snap out of his slump, allowing three runs and seven hits. In his previous...
Four days after being released by the Detroit Tigers, Brandon Inge has found a new home. The veteran infielder, who turns 35 in May, signed on Monday with the Oakland A's. The team cleared a roster spot by designating Luke Hughes for assignment. Inge was released by the Tigers after hitting .100 with a home run and two RBI in nine games. It marked the end of more than a decade...
In the top of the 8th inning of the Tigers-Royals game on Tuesday night, Billy Butler "lined out to right field," according to the box score. Sounds simple enough, but it wasn't your ordinary line out. Tigers' right fielder Brennan Boesch, who has made catching routine fly balls quite an adventure this season*, lost the ball in the lights, I assume, and turned...
Major League Baseball has decided to suspend Detroit Tigers slugger Delmon Young following his drunken anti-Semitic rant and arrest, two sources told the New York Post.
APNewsNow. Will be updated. With AP Photos. The scheduled game between the Kansas City Royals and Detroit Tigers has been postponed because of rain. It will be made up Sept. 24 at 7:05 p.m., which had been a mutual off day for both teams just before facing each other the following day in Detroit. Luke Hochevar had been slated to pitch Monday night for the Royals against Tigers...
The Oakland A's are struggling at third base. Struggling to the extent that they are begging for an upgrade. The A's are begging so badly that according to Ken Rosenthal of FOXSports.com, they have signed Brandon Inge. The long time Detroit Tiger was finally released by his former club earlier this week. Inge has a career batting average
Third baseman Brandon Inge has agreed to terms on a contract with the Oakland Athletics. FOXSports.com's Ken Rosenthal reported news of the agreement Sunday. Once they put him on the 40-man roster, the A's must pay Inge only a prorated portion of the $480,000 minimum - or about $412,000 - of the $5,308,743 he was owed when released by Detroit on Thursday. Inge hit .100...
Tigers News

Delivered to your inbox

You'll also receive Yardbarker's daily Top 10, featuring the best sports stories from around the web. Customize your newsletter to get articles on your favorite sports and teams. And the best part? It's free!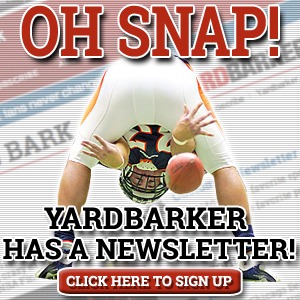 Latest Rumors
The Backyard

Today's Best Stuff

For Bloggers

Join the Yardbarker Network for more promotion, traffic, and money.

Company Info

Help

What is Yardbarker?

Yardbarker is the largest network of sports blogs and pro athlete blogs on the web. This site is the hub of the Yardbarker Network, where our editors and algorithms curate the best sports content from our network and beyond.