Found March 22, 2013 on The Detroit Sports Site:
Rick Porcello has been the subject of endless trade rumors this offseason. One way or another, a resolution had better happen soon. (Keith Allison, Flickr) This winter, there seems to have been no end to the Rick Porcello trade rumor mill. One week, he's staying with the Detroit Tigers as the team's fifth starter. The next, he's getting dealt for a bundle of different minor league prospects, a few of which are outfielders and infielders. Today, it was revealed that the Tigers have even been sniffing around the market offering Porcello up for potential closers. ESPN's Jim Bowden claims the San Diego Padres turned down two separate deals for Porcello centered around Huston Street and late inning setup man Luke Gregerson. It's still March 22, meaning the Tigers have more than enough time to work all their roster question marks out ahead of April 1, but for team chemistry sake, they should seek a resolution to these particular fiascos sooner rather than later. This parade of endless trade rumors certainly isn't helping anybody feel better about themselves, be it Porcello, young closer candidate Bruce Rondon, shortstop Jhonny Peralta or anyone trying to crack the roster as a potential extra outfielder. All these issues, be it the fifth starter battle or closer competition, need to be settled as soon as possible. The 2013 Tigers don't need any additional drama hanging over their clubhouse prior to first pitch on opening day. After all, we've seen this drama play out before on contending teams, and it isn't pretty. In 2008, a squad expected to contend for the World Series fell flat in April during the midst of positional uncertainty during spring training. Miguel Cabrera was taking over third base and Brandon Inge wasn't happy. Inge stayed on the roster. It was no coincidence the Tigers started a disorganized 0-10. If Porcello feels slighted and stays on the roster amid these rumors, that might affect him mentally in whatever role the Tigers decide to use him. A bigger issue that certainly relates? Rondon's confidence. The Tigers have allowed him to twist in the wind for weeks. They'll use him in spring training games and say they're prepared to enter the season with him as the closer, but in the meantime, constant trade rumors swirl. Imagine how that must feel. It'd be like a company telling you they're perfectly pleased with your performance as water cooler rumors claim you're on the chopping block next week. Good luck performing. Those personal problems have the ability to manifest themselves and drag down a team as a whole. A team with as many expectations as the Tigers doesn't need these avoidable distractions overshadowing the goals at hand. Lest everyone forget, Detroit was whitewashed last fall in the World Series for the second time in seven years. The expectation has become that the Tigers will not just make it back to the fall classic in 2013, but this time, actually win it. That's not happening with distractions from spring training which linger into April and perhaps even May. So, as the saying (sort of) goes, it's time for the Tigers to either use the toilet or get off it with regards to their lingering roster situations. Whether they keep Porcello or not, add other pieces or eventually name Rondon the closer, the moves had better happen before the season starts so everyone can move on from watching the hot stove and get to work. In 2013, a season of baseball redemption in Detroit, that should be the only important thing to worry about. Max DeMara is a senior editor at The Detroit Sports Site. You can find him on Twitter @SportsGuyTheMax
Original Story:
http://www.thedetroitsportssite.com/2...
THE BACKYARD
BEST OF MAXIM
RELATED ARTICLES
Rick Porcello – Photo by Keith Allison Jim Bowden has reported via twitter According to Tigers source the Padres have turned down Porcello for Street and Porcello for Gregorson but talks continue The Padres were first rumored to have interest in Rick Porcello back in December.  Talks were on, then off, then on, and now this.  The encouraging part of this tweet is "talks continue"...
Rick Porcello is still young enough that he could hold some untapped potential. That doesn't exactly mean trading for him would be the wisest decision, though. Porcello has been the subject of trade rumors all offseason. Tigers general manager Dave Dombrowski on Thursday denied sending out any proposals involving the right-hander, but he claimed that his "phone has been ringing...
A half-dozen scouts stood behind a chain-link fence Wednesday, making a spring training game between the High Class-A affiliates of the Tigers and Astros actually seem important. And in a way it was. Tigers right-hander Rick Porcello, the subject of trade speculation, started the minor-league game because it was his day to pitch and the parent club was off. Yet it quickly became...
Manager John Farrell acknowledged on Monday that the Red Sox have been looking to bolster their pitching depth. Don't expect that depth to come in the form of Rick Porcello, though. The Red Sox are not currently pursuing Porcello, who has been the subject of trade speculation recently, according to FOXSports.com. There has been plenty of talk all offseason about whether the Tigers...
If it looks like a duck, quacks like a duck and walks like a duck I'm assuming it's a damn duck. Clearly the Red Sox don't see it that way as the organization is denying any interest in the Detroit Tigers right-hander Rick Porcello. It's been well documented by general manager John Farrell that the Red Sox are looking to add depth to their starting rotation and Porcello...
Rick Porcello's name continues to get tossed around in trade talks. And with Boston manager John Farrell saying recently that his team is considering adding pitching depth, many are left wondering whether the Red Sox might check in with the Tigers about the 24-year-old. We learned early Wednesday that the Red Sox don't appear to be pursuing Porcello, but FOXSports.com's Ken...
If I were Rick Porcello, I would be sick of all the rumors surrounding me. He has been talked about for the last three months, at least once a week by all the talking heads in Baseball. Here are arguments for trading and not trading Rick Porcello. Trade Him If: You can get a upgrade at the shortstop position. Jhonny Peralta is an average major league shortstop at best. He wasn't...
LAKELAND, Fla. -- With 10 days remaining in spring training, things could be heating up on the Rick Porcello trade front -- provided Tigers president Dave Dombrowski gets what he's seeking. According to Jim Bowden of ESPN and Sirius XM's Inside Pitch, the San Diego Padres rejected one Tigers offer to send Porcello to the Padres for Huston Street and an offer to exchange Porcello...
MLB News

Delivered to your inbox

You'll also receive Yardbarker's daily Top 10, featuring the best sports stories from around the web. Customize your newsletter to get articles on your favorite sports and teams. And the best part? It's free!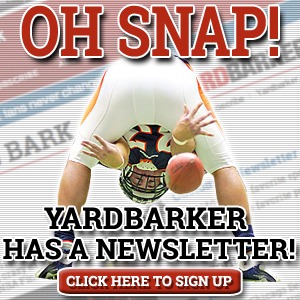 Latest Rumors
The Backyard

Today's Best Stuff

For Bloggers

Join the Yardbarker Network for more promotion, traffic, and money.

Company Info

Help

What is Yardbarker?

Yardbarker is the largest network of sports blogs and pro athlete blogs on the web. This site is the hub of the Yardbarker Network, where our editors and algorithms curate the best sports content from our network and beyond.