Found March 29, 2012 on isportsweb.com:
The Detroit Tigers have solved virtually nothing regarding their tough roster decisions as the final cut downs loom. This is probably a good thing as it leads one to believe that the competition is stiff enough to require as many looks as possible by management before levying a decision. Left field is still up for grabs, Brandon Inge is still confusing things at 2nd base, and a 5th starter has yet to be determined. When you're a writer, you get the easy job. You get to say what should happen based on the things we see, which certainly isn't the whole puzzle. Here's my stance on which way these 3 debates should finish up: Andy Dirks Left Field goes to Andy Dirks. I like Clete Thomas and his upside but the strikeouts are a concern, and when you factor in that Austin Jackson might need someone to fill his spot at leadoff on occasion, Dirks seems like the better fit. Thomas' defense isn't enough to overcome the certainly that Dirks' bat brings to the equation. In a similar amount of spring at-bats, Dirks has hit .405 with 9 RBI's compared to Thomas' .208 with 7 RBI's. Thomas has whiffed 15 times to 9 for Dirks who has thrown in 2 stolen bases for good measure. I'm firmly entrenched in the camp of not putting too much weight on spring training numbers, but that doesn't change my perspective here. Dirks was up with the Tigers last year and fared very well in sporadic playing time. Thomas has been battling his way back from injury and slumps for a few years now. It's a tough decision, but Dirks deserves the gig. Brandon Inge goes home. It's not because he's hitting .184 this spring, although that stat certainly doesn't help. The problem with Inge making the roster is that it takes playing time away from players that are quite simply more valuable. Say what you want about Ryan Raburn and how spring stats are meaningless, but I want to see the guy play 5 times/week and see what comes of it. If Inge makes the roster, Raburn once again gets moved to a roster spot situation of uncertainty. He has played his best baseball late in the year for 2 reasons, it's warm (and he is on record saying he is not a cold weather hitter) and he gets consistent at-bats often due to another player's injury. If Raburn gets 5 starts/week at 2nd and Santiago fills in the rest and gives spot rest to Jhonny Peralta at short, the Tigers are a better team. The alternative is Inge getting 4-5 starts/week, Raburn working the gumball jar all summer, and Santiago remains about the same. Give me Raburn all day long. The x-factor here is the fact that Brandon Inge is the longest tenured Tiger who is locked in at $6M this season. Paying out a dead contract is not an easy decision, nor is saying goodbye to one of the most beloved Tigers of this generation. If Inge breaks camp with the Tigers it will be over utility infielder Danny Worth. Worth has hit .303 this spring with 5 doubles and a homer and is, in my opinion, the best infield glove in the organization. No decision will cause a greater stir amongst the fan base than the fate of Brandon Inge. Duane Below may not be the sexy name, but he's my pick as the #5 starter. My heart wants Drew Smyly to win this battle because I believe that between him, Below, and Andy Oliver, he is the best pitcher, flat out. However, options matter, and Smyly still has them. In other words, he's not on the 40-man roster and keeping him with the big club would mean the Tigers having to reshuffle that earlier than desired. The reason I like Smyly over Oliver is simple; the ability to throw strikes. When Oliver is on the hill, I consistently find myself holding my breath with each pitch. He leads all Tigers this spring with 10 free passes issued. Not so with Smyly, or Below for that matter. [Update 1:57 p.m.: naturally, moments after I published this, the Tigers announced the demotion of Andy Oliver, leaving the gig to Smyly or Below.] And to that point, Below has experience as a starter and reliever at the big league level. Early in the season, when 5 starters aren't necessarily needed, Below can start out as an extra bullpen arm (like Phil Coke did last year) and then move to the rotation when the time is right. Asking this of Oliver or Smyly would compromise their comfort levels. Moving both of them back to the minors allows them to stay on schedule, work out any remaining kinks and start pounding on the door when the ho-hum'ness of Below starts to set in. No matter what, the intrigue has persisted throughout camp and is about to come to a head. Stay tuned to find out how Dave Dombrowski and Jim Leyland want this team to look on Opening Day. Follow me on Twitter @isportsJoe or subscribe to our Detroit Tigers Feed
Original Story:
http://isportsweb.com/2012/03/29/detr...
THE BACKYARD
BEST OF MAXIM
RELATED ARTICLES
Should he and Will he are two different questions. Based on what I know of JL and his loyalty to veterans and unwillingness to change, I think Inge is a shoe-in. Despite the fact that Dombrowski may be pushing the other way. But let's see what we know: Turner, Strieby and Berry (and 3 others) were sent down on Monday, so there goes my Quentin Berry for CF campaign. Pitchers...
95 wins and an American League Central championship have left Detroit Tigers fans hungry for more. The 25-man roster is nearly set and the boys will be headed to Boston for Opening Day on Thursday, April 5th before we know it. Now it's time to put my brain where my keyboard is and tell you how this marathon is going to shake out in 2012 from a statistical perspective. Following...
Through the ups and downs of Brandon Inge's tenure as a Detroit Tiger, dating back to 2001, I've been one of his bigger fans.  His middle name has been versatile as he was drafted to play catcher despite being a shortstop/closer in college.  After learning the catcher position, he was moved to third base upon the arrival of Pudge Rodriguez.  Then he was moved to the outfield...
LAKELAND, Fla. (AP) -- Brennan Boesch is not your typical No. 2 hitter. He's not fast, he hits for power and is prone to striking out. But the Detroit Tigers outfielder is quick to suggest that he doesn't mind being in that spot, especially if it means he'll be getting better pitches as sluggers Miguel Cabrera and Prince Fielder follow him in the order. Boesch often...
SARASOTA, Fla. (AP) -- Tony Plagman hit a tiebreaking, two-run triple off Jim Johnson in the ninth inning to give the Detroit Tigers a 6-4 victory over the Baltimore Orioles on Friday. Johnson walked Curt Casali and Daniel Fields before Plagman hit a two-out liner to right-center. Johnson, who is dueling with Kevin Gregg for the closer's job, has a 7.71 ERA this spring. Jai...
By STEVE KORNACKISpecial to FOXSportsDetroit.com LAKELAND, Fla. -- Think of Delmon Young being to the Detroit Tigers what Robert Duvall was to The Natural and James Earl Jones was to Field of Dreams. If this season were a movie, he would be a star in his own right, working as a supporting actor to the glamor duo of Miguel Cabrera and Prince Fielder. And when you have a player such...
FOX Sports Detroit steps into the batter's box with a powerful lineup of programming for APRIL IN THE D: Tigers Premiere Week. Special Tigers programming is scheduled, including a season preview special, encores of Tigers Weekly shows, two classic games from 2011 and the start of the 2012 season: Sunday, April 1 7 p.m. Classic Game replay -- Justin Verlander's no-hitter...
Tony Plagman hit a tiebreaking, two-run triple off Jim Johnson in the ninth inning to give the Detroit Tigers a 6-4 victory over the Baltimore Orioles on Friday. Johnson walked Curt Casali and Daniel Fields before Plagman hit a two-out liner to right-center. Johnson, who is dueling with Kevin Gregg for the closer's job, has a 7.71 ERA this spring. Jai Miller doubled with two...
Tigers News

Delivered to your inbox

You'll also receive Yardbarker's daily Top 10, featuring the best sports stories from around the web. Customize your newsletter to get articles on your favorite sports and teams. And the best part? It's free!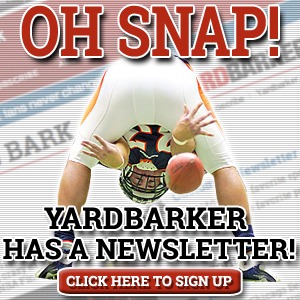 Latest Rumors
Best of Yardbarker

Today's Best Stuff

For Bloggers

Join the Yardbarker Network for more promotion, traffic, and money.

Company Info

Help

What is Yardbarker?

Yardbarker is the largest network of sports blogs and pro athlete blogs on the web. This site is the hub of the Yardbarker Network, where our editors and algorithms curate the best sports content from our network and beyond.