Found November 27, 2012 on isportsweb.com:
Much has been made of the Detroit Tigers adding Torii Hunter to the roster and how much that will improve the offense and defense of a team that was so frustratingly close to winning it all last year. Indeed, Hunter will provide a huge piece to the Tigers' puzzle, but he doesn't cure all of the ills. Most people with an opinion have the Tigers' 2013 Opening Day lineup looking something like this: Austin Jackson – CF Torii Hunter – RF Miguel Cabrera – 3B Prince Fielder – 1B Victor Martinez – DH Andy Dirks – LF Jhonny Peralta – SS Alex Avila – C Omar Infante – 2B Assuming Jackson and Dirks can put up repeat performances from a season ago that top 6 will be as fearsome as any other team. As confidently as Jim Leyland can pencil in that top 6 though, slots 7 and 8 raise a lot of questions. Alex Avila needs to do more of this in 2013 I covered the Jhonny Peralta/Stephen Drew issue in this article. Here, we will discuss the major concerns that come with the catching position. Rewind one year ago and not many people expected an article of this tone regarding Alex Avila. He was entering his age 25 season and had just hit .295 with 19 homers and 82 RBI's. For all intents and purposes, he was the top young catcher in the game. And then 2012 happened. Despite the Tigers making it all the way to the World Series, they did it by and large without contribution from Avila. He batted just .243 and saw his power all but zapped. He hit just 9 homers and 21 doubles (he had 33 in '11). Avila managed to drive in just 48 runs. It wasn't long before Leyland turned to a lefty-righty platoon with the surprisingly productive Gerald Laird. Laird just signed a new deal to back up Brian McCann in Atlanta. Throw in the fact that the Tigers coughed up uber prospect Rob Brantly in the Anibal Sanchez/Infante trade and the catching depth has been thinned. Two names quickly become relevant: James McCann and Bryan Holaday. McCann is the reason why the Tigers felt like Brantly was expendable. I mean, how many left-handed hitting catchers can one team hold? The problem is that while Brantly was stellar in 2012 as the Marlins even gave him the call at the end of the season to play in the bigs, McCann, the Tigers' 2nd round pick in the 2011 draft, has had a rough intro to pro ball. In '11, he hit just .146 in limited action (14 games) after being drafted. In his first full year, at age 22, he earned a promotion from High-A ball after hitting .288 for Lakeland in 45 games. Despite the solid average, he had just 10 doubles, and no homers but did post a solid .345 on-base %. However, once he got to Erie he struggled again. In 64 games he mustered up just a .200 average, .227 on-base %, 12 doubles and 2 homers. The lesson here is that if Avila continues to regress, the Tigers are in trouble from the left side of the plate from the catching position for the foreseeable future. And it's not like Holaday is a stud from the right side. As of now, Holaday is the odds on favorite to break camp as the right-handed hitting catcher for Leyland. Holaday was a 6th round pick by the Tigers in 2010 out of TCU. In 214 minor league games he has put together a .237 average, .314 on-base %, 12 homers, 38 doubles, and 79 RBI's. That's the equivalent of about a season and a half of full-time major league action. Translation – don't expect much thump from Holaday. [Follow me on Twitter @isportsJoe or subscribe to our Detroit Tigers Feed] Once again, the burden falls on Avila. If he falters, the catching slot in the Tigers' order will become a revolving black hole of offensive ugliness. Despite his struggles with the bat, Avila still maintained his ability to work the count (61 walks) and post a solid .352 on-base %. As he enters what will be his age 26 season, still before his expected prime, there is reason to believe that volatility should be expected and improvement likely. Avila's career trend so far has been an every-other-year pattern of solid play. Subscribe to that wishy-washy theory and great things should be in store for Avila in 2013. It's either that or he's just not ready to be consistently solid at the plate. Which theory are you buying?
Original Story:
http://feedproxy.google.com/~r/isport...
THE BACKYARD
BEST OF MAXIM
RELATED ARTICLES
SHOOTER!
Tigers ace Justin Verlander tweeted a photo of himself in a tough spot on the golf course and a Twitter account ascribed to Happy Gilmore villain Shooter McGavin replied.
FOX's Jon Morosi reported Wednesday that Brennan Boesch could be on another roster in the very near future. Continue reading →
Aside from their top two outfielders, the Detroit Tigers have a lot of questions to answer regarding the rest of the 2013 outfield rotation. Barring a potential trade of Jhonny Peralta, and once Detroit determines who will be the main man in left, the Tigers' starting lineup for 2013 is essentially set in stone. Now ask yourself: what do Brennan Boesch, Andy Dirks, and Quintin...
Jarrod Washburn was a left-handed pitcher for the Anaheim Angels, Seattle Mariners and Detroit Tigers between 1998-2009. His best year came in 2002, where he went 18-6 and had a career best 3.15 ERA for the Angels. However, Washburn experienced from postseason struggles that season. Washburn won his only ALDS start against the New York Yankees, and pitched extremely well in the ALCS...
DETROIT -- The going rate for starting pitchers is becoming movie-star money. That trend is almost certain to see the Tigers and free-agent pitcher Anibal Sanchez part ways. Sanchez appears to be seeking something in the neighborhood of 90 million over five years. If he can command anything near that, the Tigers will wave goodbye. Justin Verlander has two years remaining on a five...
 Justin Verlander tweeted this picture of him playing golf out to his twitter followers saying this is where his ball ended up at Kinloch Golf course.  Haha, had to write about this story for two reasons.  One being that I use to caddy at that course in Richmond, Va back when I was in high school.  One of my good friends still caddies there full time and probably is the person...
Over the weekend, Tigers ace Justin Verlander decided to take in a round of golf at the Kinloch Golf Club in his native Virginia. During the outing, Verlander had a pretty amazing errant shot that ended up landing on top of a tree stump in what looks to be a pretty unforgiving rough. Verlander also tweeted an image of his unfortunate situation. Check out where my ball ended up on...
DETROIT The going rate for starting pitchers is becoming movie-star money. That trend is almost certain to see the Tigers and free-agent pitcher Anibal Sanchez part ways. Sanchez appears to be seeking something in the neighborhood of 90 million over five years. If he can command anything near that, the Tigers will wave goodbye. Justin Verlander has two years remaining on a five...
The Detroit Tigers on Tuesday announced their 2013 exhibition schedule. Next spring will mark the Tigers' 77th season at TigerTown in Lakeland, Fla., extending the longest-standing relationship between a major league team and a current spring training host city. The 2013 spring season marks the Tigers' 48th consecutive season of exhibition play at Joker Marchant Stadium...
Bruce Rondon, a young flamethrower, is expected to be in the mix for the job during spring training. Continue reading →
Wednesday the Detroit Tigers announced their 2013 Spring Training schedule which includes 18 games at Joke Marchant Stadium, their home away from home for 77 seasons now. The Tigers will open up the Spring Training schedule on February 22nd when they take on the Atlanta Braves from Disney World. First pitch in that game is scheduled for 1:05PM ET. Detroit will then eventually wrap...
(see what I did there? Tres? You can call me the blog post title Expert, if you'd like) It's been a while, so let's get caught up on Free Agent news around the club. There hasn't been much movement around Detroit, but some interesting things nonetheless. I am fascinated by the Josh Hamilton situation. Living in Dallas, I can tell you that the club's attitude towards him...
Tigers News

Delivered to your inbox

You'll also receive Yardbarker's daily Top 10, featuring the best sports stories from around the web. Customize your newsletter to get articles on your favorite sports and teams. And the best part? It's free!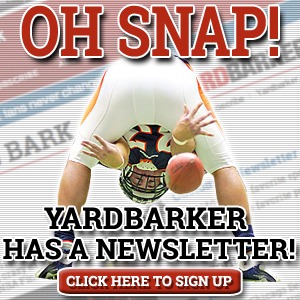 Latest Rumors
Best of Yardbarker

Today's Best Stuff

For Bloggers

Join the Yardbarker Network for more promotion, traffic, and money.

Company Info

Help

What is Yardbarker?

Yardbarker is the largest network of sports blogs and pro athlete blogs on the web. This site is the hub of the Yardbarker Network, where our editors and algorithms curate the best sports content from our network and beyond.