Found January 09, 2013 on isportsweb.com:
Sourced rumors are starting to swirl that the Detroit Tigers are engaged in talks to move Rick Porcello in a 3-way deal. The other teams rumored to be involved are the Chicago Cubs and Baltimore Orioles. If a deal like this were to go down, it means that the Tigers are most likely targeting Baltimore's JJ Hardy to be the new shortstop in Motown. The obvious questions that follow are: How much should the Tigers expect to get in return by moving an everyday infielder (as Jhonny Peralta would have to be moved in that deal) and a 24-year old starting pitcher? Is JJ Hardy worth the trouble? Moving Rick Porcello alone should net something solid for the Tigers. He is a young pitcher with gobs of experience who is still a few years away from entering merely the beginning of his prime. Detroit's problem with Porcello is he lacks a true strikeout pitch and as a result just gives up way too many hits. JJ Hardy When a team has an infield that is as defensively challenged as that of the Tigers, strikeout pitchers are vital to success. A stat that I've mentioned before that bears repeating is that when you tally up Detroit's Big 4 in the rotation and then throw in Drew Smyly you get 868 strikeouts in 2012 covering just 882.2 innings of work. Porcello K'd 107 in 176.1 innings. Simply put: he just doesn't fit in anymore. If the Tigers add Peralta to the Porcello deal, it seems reasonable that they could land another starting shortstop in return (i.e. Hardy) and maybe even some potential bullpen help. And who knows, such a 3-way deal might also prove to be the ideal time to ship Brennan Boesch out of town if it enhances the return package that much more. But is JJ Hardy worth all the fuss? I monitored Twitter a bit yesterday as the news of the potential trade started to leak. By and large Tigers fans seemed excited by the idea. I wonder if they know that Hardy hit .238 last year with a putrid .282 on-base %? Yes, the 22 homers, and 30 in 2011, are always easy on the eyes, but Hardy lacks the entire offensive package and always has. It can be argued that aside from 2008 and 2011, easily Hardy's best years of production, that Peralta has been the more complete offensive performer. Jhonny's career average is .264, Hardy's is .259. Peralta has historically gotten on base at a .327 clip as compared to .314 by Hardy. Their slugging and OPS numbers are virtually identical. So if you're excited about a possible boon to the offense as a result of this swap, you better reconsider. Hardy would likely see a drop in his home run production if he played half of his games in Comerica Park as well. I think we can all agree that the Tigers are clearly after an upgrade at defense and a probable wash offensively if they make this move. Anyone who watches the Tigers knows that Peralta's range leaves much to be desired. In fact, a lot of the people reading this article probably have better lateral quickness than he does. But the Tigers have hung their hat on the fact that when he gets to a ball, he almost always makes the play. The numbers bear that out. In 595 total chances in 2012, Peralta made just 7 errors. But Hardy was even better. He amassed 779 total chances and committed just 6 errors for a sterling .992 fielding percentage. Hardy helped turn 113 double plays to just 75 by Peralta. Defensive Wins Above Replacement (DWAR) is one metric used to measure a player's value on defense. Hardy posted a DWAR of 2.8 in 2012 compared to just 0.7 for Peralta. The translation is that Hardy would have earned the Tigers 2 extra wins based on his defense. 2 wins doesn't sound like much, but as we saw with a tight pennant race last year, they can loom large in the standings late in September. Look back a bit further and the issue gets a little more clouded. The 3 years prior to last season, Hardy's DWAR's were 0.7, 0.1, and 1.5. 2012 was by far his best year defensively. At age 30, will there be more to come or was it merely an outlier in an otherwise average defensive career? During those same 3 years, Peralta posted numbers of 0.7 (splitting time at 3B and SS), 1.0, and 1.0. Peralta has never had a great year defensively, or even a really good year for that matter. At least Hardy has the ability to give that to the Tigers. He's quicker on his feet and will throw a few extra outs on the board over the course of several weeks as a result. Contractually, Peralta is likely in the last year of his run as a Tiger. Hardy is signed through 2014 and will make a shade over $7.4M each of the next 2 years. So, he is affordable and not a 1-year rental, which increases the attraction level for potential suitors. Of course, none of this has happened yet and is all merely rumor. GM Dave Dombrowski has surprised us all before when it seems like he has locked in on one target and suddenly swoops in and grabs an off the radar guy as his man. In what has turned into a fairly intriguing offseason due to some free agent spending, the Tigers seem likely to have one big splash left in them. What Dombrowski must weigh is whether the potential of the 2 extra wins per year that Hardy might give them, along with perhaps some other spare parts for the bullpen, is worth completely depleting the top-end starting pitching depth in the system, which is what Porcello's exit will cause. To receive an email each time a new Tigers article is published, fill out the Email Notification Form [Follow me on Twitter @isportsJoe]
Original Story:
http://feedproxy.google.com/~r/isport...
THE BACKYARD
BEST OF MAXIM
RELATED ARTICLES
Will Rick Porcello still be with the Detroit Tigers when spring training rolls around next month? That's one of the key remaining questions of the Tigers' offseason, and it sounds as if the Porcello trade rumors may be picking up steam again. Roch Kubatko of MASNsports.com reported that the Tigers may be involved in talks with the Cubs and Orioles over a possible three-way trade...
Ready to talk Tigers? Want to hear the opinion of the TigsTown staff? Welcome to the TigsTown Roundtable! This week's question: Should the Tigers trade starting pitcher Rick Porcello?
Since the Tigers re-signed Anibal Sanchez in late December, general manager has supposedly received numerous calls from teams looking to acquire a starting pitcher.  The Tigers currently have six starters with Justin Verlander, Doug Fister, Max Scherzer and Sanchez having rotation spots one through four locked up.  Drew Smyly and Rick Porcello would vie for the fifth spot in spring...
DETROIT Jack Morris remains on the outside looking in. Morris, who won 198 games in 14 seasons with the Detroit Tigers and pitched for four World Series winners, failed to cross the 75-percent threshold required for induction into the Baseball Hall of Fame. In totals released Wednesday afternoon, he got only 67.7 percent of the vote just a percentage point ahead of last year&...
It's pretty odd that PlayStation is making a guy who became the first guy to win the American League Triple Crown since 1973 plea for your votes to be on a video game cover. It's also odd that they had him do it in Spanish.
We know he can pitch, but can he putt? On the weekend before spring training begins for pitchers, Justin Verlander of the Detroit Tigers will be focused on a different type of swing. Verlander, the 2011 Cy Young and American League MVP winner, has accepted an invitation to play in the AT&T Pebble Beach National Pro-Am golf tournament, scheduled for Feb. 7-10 on the popular...
Jack Morris' quest to reach the MLB Hall of Fame is down to its final shot. The former Detroit Tigers pitcher again fell short of induction (as did everyone else on the 2013 ballot) — Morris received 67.7 percent of votes, shy of the 75 percent required to make the Hall. This was Morris' 14th year on the Hall of Fame ballot, meaning he has just one year of eligibility left...
David Denson, a 17-year-old first baseman from South Hills High School in California, recently put on a display that left agents and scouts drooling on themselves and had to turn the heads of power hitters like Detroit Tigers Miguel Cabrera and L.A. Angels Josh Hamilton. Participating in the DPL Baseball Power Showcase at Marlins Park, [...]
Tigers News

Delivered to your inbox

You'll also receive Yardbarker's daily Top 10, featuring the best sports stories from around the web. Customize your newsletter to get articles on your favorite sports and teams. And the best part? It's free!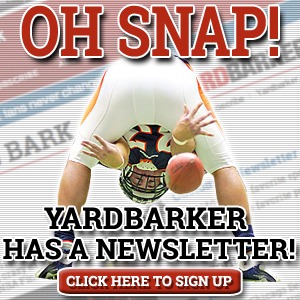 Latest Rumors
Best of Yardbarker

Today's Best Stuff

For Bloggers

Join the Yardbarker Network for more promotion, traffic, and money.

Company Info

Help

What is Yardbarker?

Yardbarker is the largest network of sports blogs and pro athlete blogs on the web. This site is the hub of the Yardbarker Network, where our editors and algorithms curate the best sports content from our network and beyond.