Found November 13, 2012 on isportsweb.com:
Your newest member of the Detroit Tigers is Torii Hunter! Or at least that's my best guess at this point. Some people who are 'in the know' have indicated that Hunter is most likely going to land with the Tigers or the Texas Rangers. Hunter is 37 (turns 38 in July) and will likely get a 2-year contract, wherever he lands, for approximately $10M/year. Hunter says, "It's not about money. I've made money. I want a ring." And he means it. So naturally his top 2 suitors are the teams that have represented, and ultimately failed, the American League in the last 2 World Series. Hunter has indicated that he will end his free agency at the earliest possible moment. As in likely before or just after Thanksgiving, which means we'll know his destination very soon. Torii Hunter might be patrolling Comerica Park's outfield in 2013 And if you don't like Torii Hunter, then you just don't like baseball. He is everything good about the game. He smiles, he leads both on and off the field, he takes care of his body, he produces like he's 27, not 10 years older. And he should be the Tigers' #2 hitter next April. Last night MLB Network discussed the possibility of him joining the Tigers and showed a projected lineup that had Quintin Berry hitting 2nd, Hunter 5th, and Victor Martinez 6th. Sorry, guys. That's not how it would go down. Hunter would slam shut the revolving door that has been the #2 spot in the Tigers' order the past few years. Hunter's 2012 stats, as good as they were, should be taken with a grain of salt. He hit .313 for the season. He had never hit higher than .299 during his 15-year career. He drove in 92 runs, his most since 2007. Those are the main 2 stats his proponents will call out when urging the Tigers to sign him up. Detractors will note that he whiffed 133 times in 2012, the most K's he's ever produced. He hit 16 homers, which while not a terrible number, was the lowest he's ever put up in a non-injury season. Hunter's batting average a season ago was boosted by a .389 batting average on balls in play (BABIP). That number represents his highest output ever, by a wide margin. The best he's ever done aside from that was a .336 BABIP and that was in an injury-shortened season 12 years ago. His lifetime BABIP is just .307. Getting cold feet yet? To pair Hunter up behind Austin Jackson, which is surely what the Tigers would do, would be a boom or bust scenario. Both players strike out frequently but do damage when they make contact. When they're hot the Tigers would be virtually unstoppable. But when they're cold, well, we Tiger fans don't have to think back too far to know how ugly that can get… The lesson here is to not buy a .313 average and 92 RBI's. What the Tigers would likely be buying would be something more like a .280 hitter, 15 homers, 70 RBI's, and single-digit steals, which is the former speedsters new norm. But guess what? With the other intangibles that Hunter brings to the mix, it's good enough. His defense is superb. He played a dynamic right field last year for the Angels and put it on full display when his team visited Comerica Park last summer. He is the ultimate clubhouse guy, which would put him in great company alongside a host of other Tigers. But what's more is that it's only a 2-year deal that he'll require. On this site I have discussed other names such as Angel Pagan, Melky Cabrera, and Justin Upton as potential acquisitions. Aside from Hunter, only Melky would not tie up one of the Tigers' corner outfield spots for years to come. Spots that have been earmarked for future stars Avisail Garcia and Nick Castellanos. And therein rests the beauty of Hunter. He would provide the perfect bridge and protect the farm system all while playing at a high level. When his deal is up both Garcia and Castellanos should be fully ready to contribute at the Major League level without fear of being 'rushed'. And for this same reason, if Hunter goes to Texas (where he keeps his offseason home), then Melky might be the next best fit, despite his PED transgressions this past summer. But for now, Hunter appears to be the Tigers' main target. His son is heading up to Notre Dame to play football, which gives Hunter an awfully convenient excuse to play deep into October with a team just a few hours northeast of South Bend.
Original Story:
http://feedproxy.google.com/~r/isport...
THE BACKYARD
BEST OF MAXIM
RELATED ARTICLES
Torii Hunter, as speculated in this article yesterday, has officially signed a 2-year, $26 million contract with the Detroit Tigers. He got a bit more money that the speculated 2-year, $20M deal that was floated out there but the Tigers feel like they got their man. Torii Hunter is pumped to be a Detroit Tiger Hunter will bat 2nd and play right field for Jim Leyland in 2013 and '14...
DETROIT -- Its said that youre judged by the company you keep, and Tigers teammates Miguel Cabrera and Justin Verlander might soon join a very select circle. If third baseman Cabrera wins the American League Most Valuable Player award Thursday night, it would come one year after pitching ace Verlander received that honor. The duo would be only the fourth pitcher-position player...
Table of Contents Here's the table of contents for today's edition of Daily Notes. 1. Two Comments on the Venezuelan Winter League 2. SCOUT Leaderboards: Venezuelan Winter League 3. Video: Bruce Rondon Attempts a Little Murder Two Comments on the Venezuelan Winter League Comment No. 1: Regarding Possible Detroit Closer, Bruce Rondon There have been indications so far this offseason...
Detroit Tigers prospect James McCann discusses his experience at the Arizona Fall League and more in this one-on-one interview.
The Detroit Tigers have made no secret that they're interested in free-agent outfielder Torii Hunter. Continue reading →
The Detroit Tigers are very close to winning a World Series, and they have proven that they will do whatever it takes to get the job done over the next couple of years. Torii Hunter is a free agent who wants to win a World Series within the next couple of years, as his illustrious career is drawing to a close. Is it just me, or is this a logical fit for the Tigers to sign Hunter...
This afternoon, Matt Klaassen detailed the NL Cy Young decision, which basically comes down to Clayton Kershaw and R.A. Dickey. Both had excellent seasons, and it's essentially hair-splitting to pick one or the other, though as Matt notes, most of the hairs tend to fall Kershaw's way when you actually do split them. Over in the AL, the story is similar, though in this case...
The first big free agent is off the board. Right fielder Torii Hunter reached agreement Wednesday with the Detroit Tigers on a two-year contract, according to major-league sources. The deal, pending a physical, will give the American League champions a new No. 2 hitter, boosting an offense that will receive an additional lift next season if designated hitter Victor Martinez makes...
The Detroit Tigers selected left-hander Joe Rogers in the fifth round of the 2012 MLB First-Year Player Draft. Recently, Rogers was kind enough to check in with us to discuss draft day and his experience with the Connecticut Tigers in short-season ball.
The seemingly inevitable signing of Torii Hunter with the Detroit Tigers has been completed. Hunter has agreed to a two-year deal with the Tigers, and will make $26 million. Earlier today, Garrett explored Hunter's popularity on the free agent market in comparison  to Josh Hamilton, Michael Bourn, and Nick Swisher. With the Angels last season, Hunter amassed 5.3 fWAR, the...
Tuesday morning news broke that free agent outfielder Torii Hunter, a 37-year-old, nine-time gold glove winner was in town meeting with the Detroit Tigers on a possible deal that would bring him to the Motor City. Sources: Free agent outfielder Torii Hunter is meeting with #Tigers officials in Detroit today. @mlbonfox — Jon Morosi (@jonmorosi) November 13, 2012 Hunter who is coming...
Tigers News

Delivered to your inbox

You'll also receive Yardbarker's daily Top 10, featuring the best sports stories from around the web. Customize your newsletter to get articles on your favorite sports and teams. And the best part? It's free!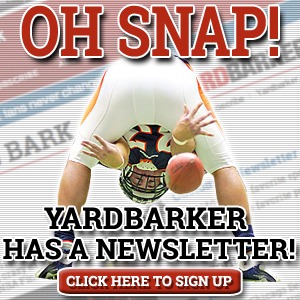 Latest Rumors
Best of Yardbarker

Today's Best Stuff

For Bloggers

Join the Yardbarker Network for more promotion, traffic, and money.

Company Info

Help

What is Yardbarker?

Yardbarker is the largest network of sports blogs and pro athlete blogs on the web. This site is the hub of the Yardbarker Network, where our editors and algorithms curate the best sports content from our network and beyond.