Found October 05, 2012 on isportsweb.com:
Following up yesterday's article (click here), I will now provide a 'tale of the tape' of sorts between the Detroit Tigers and their ALDS opponent, the Oakland A's. I will categorically break down the areas of the game that I think are most important and declare a likely advantage in this series for each section, and then tell you who I think wins the series overall.
Offense
The Tigers had better batting average and on-base numbers than the A's, and in general, have a more proven and prolific offense. Oakland's top producers throughout the year were Josh Reddick and rookie Yoenis Cespedes. They combined for 55 homers and 167 RBI's during the regular season. Reddick hit just .242 on the season while Cespedes was a strong .292. Oakland gets a lot of added thump from reclamation project Brandon Moss who launched 21 homers in a mere 265 at-bats.
What can Miguel Cabrera possibly do for an encore?
The Tigers have a few guys you may have heard of. Triple Crown and MVP hopeful Miguel Cabrera and Prince Fielder hit .330 and .313 respectively, while combining for 74 homers and 247 RBI's. Clearly, the Tigers have the better high-caliber firepower in the middle of the order. Throw in 18 homers and 74 RBI's from Delmon Young, plus a bunch of homers from him in last year's playoff run, and the Tigers are well equipped to out-bash the A's.
Austin Jackson is the catalyst for the Tigers and just wrapped up his first career .300 batting average season. Coco Crisp sets the tone for the A's out of the leadoff spot but hits just .259 with a .325 on-base %. Jackson hit .300 with a .377 on-base %. Each player has sneaky power and Crisp has the better speed but Jackson is the player to beat here.
Oakland will mix and match a lot of players throughout the rest of their lineup. Josh Donaldson (.241 avg.) will play 3rd on most days, Stephen Drew (.250) will man shortstop, and Cliff Pennington (.215) gets the bulk of the starts at 2nd base. Moss will platoon with slugger Chris Carter at 1st base. Carter will sit in this series though as the Tigers will start all righties, as usual. Likewise, the catching platoon will favor the left-handed hitting George Kottaras (.211). He is backed up by Derek Norris (.201).
Have any of these averages frightened you yet? They actually make some disappointing seasons by certain Tigers hitter look halfway respectable. Jhonny Peralta (.239) will play short, Omar Infante (.257) gets second base duties. Alex Avila (.243) has scuffled enough this year that he will split time with Gerald Laird (.282) in a lefty-righty platoon.
Quintin Berry (.258) will play against righties and hit 2nd while 21-year old rookie Avisail Garcia (.319) will take his spot against lefties and hit in the bottom third of the order. Andy Dirks and his hearty .322 average will be in the everday lineup.
Advantage: Tigers
Starting Rotation
When you're talking about Justin Verlander, Doug Fister, Max Scherzer, Brett Anderson and Jarrod Parker you are talking about some really special pitchers.
The problem for Oakland is none of their guys have been there before. This will be their first taste of the playoffs. Not to mention the lefty Anderson, maybe their most talented pitcher, has made just 6 starts this season and is once again coming off of an injury right before the playoffs. One of those 6 starts came against the Tigers and Detroit tagged him for 3 earned runs on 3 hits and 3 walks in just 2.1 innings. Detroit also torched AJ Griffin at Comerica Park. Parker and left-hander Tommy Milone did well in their turns against the Tigers this year.
Detroit will go with Verlander, Fister, Scherzer, and perhaps Anibal Sanchez in a potential Game 4. Verlander has dominated Oakland this year. In two starts he is 2-0. He's gone 13 innings and given up just 7 hits, 4 walks, 1 run, and struck out 13. If this series goes the distance, he'll pitch twice.
Fister actually lost his only start against the A's this year. He went 6 innings, gave up 5 hits, 2 walks, just 1 run, and struck out 8. He is pitching some of his best baseball of the season right now.
Scherzer has started twice against Oakland this year. The 2nd outing was when he left after just 2 innings of work with a deltoid issue that he is now 100% recovered from. His line is 8.1 innings, 7 hits, 4 walks, 3 runs, and 13 K's. He has a 14-strikeout game to his credit against the A's from last year as well.
Anibal Sanchez got roughed up in hist one start v. Oakland. He gave up 5 earned over 5.2 innings, which was his only ugly start out of his final 8 regular season appearances. With the off-day on Monday the Tigers don't have to use 4 starters unless Leyland so chooses. A double dose of Verlander and Fister sounds really good right about now but the rumor is that he will use Sanchez in Game 4, if necessary.
Advantage: Tigers
Bullpen
The Tigers entered 2012 thinking their bullpen was one of the team's most obvious strengths. That has been far from the case. Jose Valverde terrifies fans with every pitch. The mere thought of him taking the mound in a 1-run playoff game is exasperating. He has one pitch: a slightly above average fastball. There isn't any deception left in his game. Hopefully he can do just enough to get by one last time, but don't bet the house on it.
A's closer Grant Balfour
On top of his struggles, lefty Phil Coke has been a drain all year long. Between his antics and Rick Porcello's, hitters can't get to the batter's box fast enough. Joaquin Benoit has had stretches of domination and a few horrendous moments as well. Octavio Dotel has been solid. Al Alburquerque is a strikeout artist, but his command is always a concern. Brayan Villarreal has the physical tools but his mental game is not to be trusted in October. Leyland will be playing a very delicate game with his bullpen for however long this lasts.
Meanwhile, Oakland has received tremendous seasons from all of their main bullpen arms. Grant Balfour has been electric in the closer's role. Setup guys Ryan Cook and Sean Doolittle have been lights out. Lefty specialist Jerry Blevins is always strong. Throw in Evan Scribner and submariner Pat Neshek and Oakland is in far better shape than Detroit once their starter leaves the game.
Advantage: Oakland
Defense
We'll keep this one real short and sweet. The Tigers sacrificed defense before they laced up their cleats for the season opener back in early April. It almost cost them the playoffs, but here they are nonetheless. The Tigers gave up 29 more unearned runs than the A's during the regular season.
Advantage: Oakland
X-Factor
When you look at the offensive output that Oakland had this year you wonder how in the world they got this far. The easy answer is pitching. The fun answer is good ol' mojo baby. This team oozes confidence and chemistry with every step, every at-bat, and every pitch.
The Tigers should have a feeling of relief now that they got the "they'll definitely make the playoffs" monkey off of their backs. They should be loose and ready to exorcise some 2011 playoff demons. But as relaxed and happy as they appear, Oakland has the fire and confidence that swings this category in their favor.
Advantage: Oakland
Coaching
Bob Melvin is in his 9th season as a major league manager. He has only been to the playoffs once, while coaching the 2007 Arizona Diamondbacks. He went 3-4 that year. He has had a special season in his first full year as the head man in Oakland.
Jim Leyland has been doing this for 21 years and this is year 7 with the Tigers. It has been a tumultuous season for Leyland. His 2013 fate is to be determined. But I ask you this: who would you rather have coaching your team right now, the guy with 60 playoff games on his resume and multiple World Series appearances to his name, or Bob Melvin?
Advantage: Tigers
So we've analyzed 6 categories and each team has the advantage in 3 of them. Category 7 will have to be my perspective. I see the Tigers winning this series in no more than 4 games, and perhaps a sweep. Detroit's starting rotation is that good and Oakland's offense really struggles to get on base. Verlander & Company were the best such unit in the big leagues during the month of September. Just a little help from some of the struggling players in the bottom of the order will be all the Tigers need to take down the A's.
The best chance Oakland has is if the series becomes a battle of the bullpens. If it does then the Tigers are doomed.
So when exactly do those ALCS tickets go on sale again?
Original Story:
http://feedproxy.google.com/~r/isport...
THE BACKYARD
BEST OF MAXIM
RELATED ARTICLES
Detroit TIgers third baseman Miguel Cabrera was confirmed as baseball's first Triple Crown winner since 1967 Wednesday night with an 0-for-2 performance that dropped his batting average a point to .330 to go with 44 home runs and 139 RBI. He got a standing ovation from the Kansas City crowd and Royals players when he came up to bat in the first inning, and he received a loud...
Miguel Cabrera is in demand. On Wednesday night, the Tigers third baseman secured the first Triple Crown in Major League Baseball in 45 years -- the last being Red Sox left fielder Carl Yastrzemski in 1967 -- finishing with a .330 batting average, 44 home runs and 139 RBIs. While his MVP candidacy is still up for debate, MLB decided to immediately cash in on the newly made history...
For the first time since the steroid era ended, the MLB playoffs will have the Yankees, a first-time Nats, Miguel Cabrera, Justin Verlander, the World Series runner-up Rangers, Bryce Harper (22 HR, 59 RBI) and a new wildcard playoff game. Can't get excited about that? What's wrong with you? It'll also be the first playoffs for MLB girlfriends Kate Upton and Angela Rypien. Still...
I have to admit, I never thought I would live to see a Triple Crown winner in Major League Baseball. On this night, Miguel Cabrera becomes the first man in baseball to win it since Carl Yastremski in 1967. Cabrera polished off a .330, 44 home run, 139 RBI season. And I didn't own him on any fantasy teams. What a joy that must have been.
If you're a baseball fan – hell, any type of sports fan whatsoever – this whole Miguel Cabrera winning the first triple crown since 1967 is gigantic news. It's like the time you found out that the you know what coming from your you know what didn't make you different, and that it was actually [...]
Wednesday night, Detroit Tigers third baseman Miguel Cabrera won Major League Baseball's first Triple Crown since Carl Yastrzemski did it in 1967. After starting the regular season finale against Kansas City, Cabrera was lifted in the fourth inning as he went 0-2 on the night with a strike out. Cabrera though finished the season with 44 home runs, 139 RBIs and a .330 batting average...
Miguel Cabrera wrapped up the American League Triple Crown, becoming the first player to do so since Carl Yastrzemski in 1967. Continue reading →
KANSAS CITY, Mo. (AP) -- Miguel Cabrera became the first player in 45 years to achieve the Triple Crown in the AL Central-champion Detroit Tigers' 1-0 victory over the Kansas City Royals on Wednesday night. Cabrera went 0 for 2 with a strikeout, then left in the fourth inning of the regular-season finale. He received a standing ovation from the opposing fans. He finished with...
This is what we know early Wednesday afternoon: The Detroit Tigers have won the American League Central and will open the playoffs at home on Saturday, with Justin Verlander on the mound. Miguel Cabrera is on the verge of winning baseball's first Triple Crown since Carl Yastrzemski accomplished the feat in 1967. The only person really standing in Cabrera's way is Texas...
KANSAS CITY, Mo. (AP) -- Tigers slugger Miguel Cabrera became the first player in 45 years to win baseball's Triple Crown on Wednesday night, joining an elite list that includes Mickey Mantle, Ted Williams and Lou Gehrig. Cabrera's milestone wasn't official until the Yankees pinch hit for Curtis Granderson in their game against the Boston Red Sox. Granderson had homered...
Last night was a great night for Venezuelan Baseball.We all know the story by now, Miguel Cabrera is the first non-American born player to ever hit for the Triple Crown, and even when he didn't have to – he went out and played in a meaningless game on the road, and had 2 at bats before Manager Jim Leyland took him out of the game. He deserves not only a ton of respect for his...
Tigers News

Delivered to your inbox

You'll also receive Yardbarker's daily Top 10, featuring the best sports stories from around the web. Customize your newsletter to get articles on your favorite sports and teams. And the best part? It's free!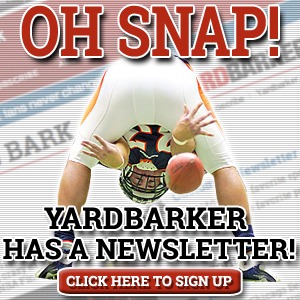 Latest Rumors
Best of Yardbarker

Today's Best Stuff

For Bloggers

Join the Yardbarker Network for more promotion, traffic, and money.

Company Info

Help

What is Yardbarker?

Yardbarker is the largest network of sports blogs and pro athlete blogs on the web. This site is the hub of the Yardbarker Network, where our editors and algorithms curate the best sports content from our network and beyond.