Found February 17, 2013 on Pirates Prospects:
DEVIN IVANY CATCHER Born: July 27, 1982 Height: 6'2″ Weight: 185 Bats: Right Throws: Right Drafted: 6th Round, 174th overall, 2004 (Expos) How acquired: Minor League Free Agent High School: University of South Florida Agent: N/A WTM'S PIRATE PLAYER PROFILES Ivany was one of the last links for the Nationals to the Expos, the team that drafted him.  He looked like a decent prospect for about two years, in 2005-06, but his bat didn't hold up.  He ended up as an organizational catcher for the Nats, staying with them for nine years.  He's a good defensive catcher who receives well and has a solid arm. 2004 A-:  125/143/125, 48 AB, 1 BB, 5 K, 0-1 SB A:  170/239/208, 106 AB, 4 2B, 8 BB, 21 K, 2-2 SB Ivany opened in short season ball after signing, but the Expos soon promoted him to low A.  Obviously, he didn't hit at all. 2005 A:  262/315/428, 409 AB, 27 2B, 1 3B, 13 HR, 25 BB, 65 K, 7-14 SB The team, now the Nationals, sent Ivany back to low A and he had a solid season at the plate, including decent power, while throwing out 39% of opposing base stealers.  After the season, Baseball America ranked him as the 19th best prospect in a system that was desperately thin at that point. 2006 A:  262/311/359, 446 AB, 19 2B, 3 3B, 6 HR, 25 BB, 64 K, 12-15 SB Ivany had almost exactly the same season in high A, except most of his power went away. 2007 R:  333/500/333, 3 AB, 1 BB, 2 K A:  167/333/250, 12 AB, 1 2B, 3 BB, 1 K, 1-1 SB A+:  275/313/427, 131 AB, 5 2B, 5 HR, 7 BB, 26 K, 4-6 SB AA:  178/244/233, 73 AB, 4 2B, 7 BB, 21 K, 1-2 SB Ivany started the season in AA, but struggled and was sent to extended spring training.  He eventually worked his way back up to high A. 2008 A+:  250/318/400, 40 AB, 3 2B, 1 HR, 4 BB, 8 K AA:  262/327/442, 206 AB, 9 2B, 2 3B, 8 HR, 16 BB, 50 K, 4-7 SB Spending most of the season catching part-time in AA, Ivany had one of his better hitting years. 2009 A+:  269/360/474, 171 AB, 14 2B, 7 HR, 25 BB, 30 K, 2-6 SB Despite his good showing in AA the previous year, the Nationals sent Ivany to high A, where he served as the backup catcher and hit very well against less experienced competition. 2010 AA:  289/388/470, 83 AB, 3 2B, 4 HR, 12 BB, 27 K, 1-2 SB AAA:  197/269/299, 137 AB, 7 2B, 2 3B, 1 HR, 15 BB, 36 K, 5-7 SB Ivany finally got a shot at AAA, although he didn't hit there. 2011 AA:  231/292/340, 156 AB, 8 2B, 3 HR, 12 BB, 36 K, 3-7 SB Ivany settled in as the backup catcher at AA Harrisburg and declined at the plate. 2012 AA:  212/266/333, 156 AB, 6 2B, 2 3B, 3 HR, 10 BB, 28 K, 1-1 SB Back at Harrisburg, Ivany's hitting declined some more.  The Nationals released him near the end of the season. Ivany provides the Pirates with some upper level catching depth.  He'll most likely battle for the backup catching job at Altoona, but could also serve in that role at Indianapolis or even Bradenton. STATS Baseball Reference–Majors Baseball Reference–Minors Fangraphs MLB.com MiLB.com CONTRACT INFORMATION 2013: Minor league contract PLAYER INFORMATION Signing Bonus: $160,000 MiLB Debut: 2004 MLB Debut: N/A MiLB FA Eligible: 2013 MLB FA Eligible: 2019 Rule 5 Eligible: Eligible Added to 40-Man: N/A Options Remaining: 3 MLB Service Time: 0.000 TRANSACTIONS June 5, 2001: Drafted by the Anaheim Angels in the 9th round, 269th overall pick. June 7, 2004: Drafted by the Montreal Expos in the 6th round, 174th overall pick; signed on June 23. November 6, 2010: Became a free agent. January 28, 2011: Signed as a minor league free agent with the Washington Nationals. November 2, 2011: Became a free agent. January 6, 2012: Signed as a minor league free agent with the Washington Nationals. August 14, 2012: Released by the Washington Nationals. Febuary 7, 2013: Signed as a minor league free agent with the Pittsburgh Pirates.
Original Story:
http://feedproxy.google.com/~r/Pirate...
THE BACKYARD
BEST OF MAXIM
RELATED ARTICLES
(Photo of Raffy in the cold on Sunday in Viera by @djbinFl) On Sunday, Adam Kilgore of the Washington Post Tweeted a link to a 2012 WSJ story about Rafael Soriano's entrance song: "El Rey de Monticulo—"The King of the Mound." The song is about Soriano, was written for Soriano by a family friend in the Dominican Republic, and features inspirational lyrics (in...
Biggest news out of Nationals camp today? Jordan Zimmermann and the Nats avoiding arbitration by signing a one year deal? Raffy clearing up his visa issues and being cleared to leave the Dominican Republic? No and No. The answer: Ian Desmond's mustache, of course. And the stache is staying a while, confirms @IanDesmond20: (Screencap above via this CSNWashington.com...
SO LONG
R.I.P. Danny Espinosa's beard. Video of Danny shaving his beard via MLB.com. We hardly knew ya. At least we still have Ian Desmond's mustache and Jayson Werth's beard. Befriend Nats Enquirer on Facebook. Follow on Twitter.
MLB.com / @sarabethmosher Washington Nationals' second baseman Danny Espinosa had a decent season in 2012 (except for those NL-leading strikeouts). Unfortunately, Espinosa and Washington packed away their Nattitude for the year after blowing Game 5 to the Cardinals in the National League Division Series. It was a crappy ending for the team with baseball's best record in the regular...
Adding 10 pounds of muscle in the offseason, Washington wunderkind Bryce Harper is determined to dominate the diamond and help lead the Nationals to the "World Series" this autumn. "There are [personal] goals in my head, but I'm not going … Continue reading →
So the Nationals held their first full team workout today in the (*gasp*) frigid Florida air, and Raffy was there, too. Spring is in the air! Meanwhile, Teddy and William Howard Taft continued their "Bill and Teddy's Executive Adventure" race to Mt. Rushmore, which ends on Presidents Day tomorrow. Something about the photo above, Tweeted Sunday by @NatsBigChief27...
In addition to the roster moves from earlier this afternoon, Baseball America has announced that the Pittsburgh Pirates have signed catcher Devin Ivany to a minor league deal. Like the two earlier moves, Ivany is strictly on a minor league deal, with no invite to Spring Training. The 30-year-old catcher has spent his entire career in the minors, and hasn't played above Double-A...
Ben and Sam preview the Nationals` season with Paul Sporer and Daniel Rathman, and Pete talks to Adam Kilgore, who covers the Nationals for the Washington Post (at 19:51).
Jeff Passan of Yahoo! Sports suggested yesterday that Tommy John surgery is not nearly the frightening experience it used to be.  He may have a point.  He says there have been over 1,000 pitchers to undergo the procedure since Tommy John himself pioneered it.  One of those pitcher is Washington Nationals' prospect Cole Kimball. Amanda Comak of the Washington Times says...
In baseball, they say you can never have too much pitching. The Yankees seem to be taking that to heart. According to George King of the New York Post, the New York plans on sending scouts to watch Chien Ming Wang pitch for Taiwan in the World Baseball Classic. Billy Connors, who used to serve as a vital part in developing pitching within the organization for the last 20 plus...
After Danny Espinosa shaved his winter beard I wasn't ready to love again, but now Ian Desmond is growing a mustache (via @fpdougiefresh), and here I am over the moon. Sounds like he's keeping it, too.
This is the first podcast since Gio Gonzalez was tied to a clinic that allegidly provided performance-enhancing drugs, so we address that issue before we get into spring training. We explore if the Washington Nationals have any real roster battles, and we evaluate the NL East competition a bit, focusing on the Atlanta Braves offseason moves.
MLB News

Delivered to your inbox

You'll also receive Yardbarker's daily Top 10, featuring the best sports stories from around the web. Customize your newsletter to get articles on your favorite sports and teams. And the best part? It's free!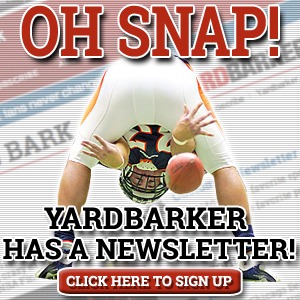 Latest Rumors
Best of Yardbarker

Today's Best Stuff

For Bloggers

Join the Yardbarker Network for more promotion, traffic, and money.

Company Info

Help

What is Yardbarker?

Yardbarker is the largest network of sports blogs and pro athlete blogs on the web. This site is the hub of the Yardbarker Network, where our editors and algorithms curate the best sports content from our network and beyond.