Found July 01, 2012 on Fox Sports Arizona:
PLAYERS:
Daniel Hudson
,
Joe Saunders
,
Aaron Hill
,
Jason Kubel
,
Miguel Montero
,
Paul Goldschmidt
,
Joey Votto
,
Kirk Gibson
,
Willie Bloomquist
,
Chris Young
,
Justin Upton
,
Gerardo Parra
,
Wade Miley
,
Ian Kennedy
,
Trevor Cahill
,
Josh Collmenter
,
Trevor Bauer
,
David Hernandez
,
Brad Ziegler
,
Craig Breslow
,
Bryan Shaw
,
Kevin Towers
,
Kevin Youkilis
,
Will Middlebrooks
,
Jimmy Rollins
,
Matt Kemp
TEAMS:
Arizona Diamondbacks
,
Cincinnati Reds
,
Boston Red Sox
,
Chicago White Sox
,
Philadelphia Phillies
,
Los Angeles Dodgers
,
Los Angeles Angels
Until pitching injuries struck, the Diamondbacks' June was in full bloom. A season-ending injury to No. 2 starter Daniel Hudson and a lesser injury to Joe Saunders thinned the starting rotation temporarily, but the D-backs powered through those setbacks with their best offensive month of the season. With Aaron Hill and Jason Kubel as the pace-setters, the D-backs scored 135 runs, hit 38 home runs, had 433 total bases and posted a .485 slugging percentage. Big numbers, all. Their slugging percentage was the best in the league, as was their .820 OPS. That flexing helped the D-backs to a 16-10 record that was reminiscent of their second half in 2011, when they had 15-, 19- and 16-victory months en route to the NL West title. The big June also helped D-backs put themselves squarely back into the playoff picture after falling as far as 11 12 games back in May. The D-backs cut their division deficit by more than half; they entered the month nine games behind the first-place Dodgers and ended it four games behind the new NL West leaders, the Giants. The Giants and Pirates, with 17 victories apiece, were the only NL teams with more victories in June. The D-backs are playing like they believed they could all along. Kubel, settled nicely in the cleanup spot, led the NL with 27 RBIs in June. Miguel Montero was tied for fourth with 22, and Hill was tied for seventh with 20. Paul Goldschmidt 1.147 OPS was second only to Reds first baseman Joey Votto, the NL All-Star starter at the position. The batting averages for the month: Hill, .370; Goldschmidt, .341; Bloomquist, .341; Upton, .333; Montero, .329; Kubel, .289. Stephen Drews return on June 27 gave the D-backs another bat in the lineup, although he is not expected to play every day, at least not at the outset. The loss of Hudson will force a new-look rotation, which the D-backs will address during the All-Star break. Offense: A. The numbers were remarkable, and the D-backs seemed to settle in when manager Kirk Gibson went to a fairly set lineup, especially through the heart of the order. When Gibson asked, Kubel said he preferred hitting fourth, and Gibson put him there when the team got back from a road trip to Texas and the Los Angeles Angels in which they were shut out three times and limited to one run once. With Hill hitting second behind Bloomquist, and Upton and Goldschmidt bracketing Kubel the latter half of the month, the D-backs scored 68 runs in the final 11 games. Finding a comfortable spot for Drew while keeping the rest of the lineup in place will be a challenge for Gibson, who hit Drew second and first in his first three starts. Defense: A. The D-backs were as close to flawless as a pitching staff could ask for, starting with the plate of Willie Bloomquist and Aaron Hill up the middle and the outfield quartet of Jason Kubel, Chris Young, Justin Upton and Gerardo Parra. Starting the final week of May, the D-backs committed only two errors in a span that reached 26 full games and 234 innings, and one of those errors was on a failed swipe tag on a bang-bang play at the plate. They have cooled only slightly since. Catcher Miguel Montero remains the most difficult catcher in the league to steal against, with help from a staff that understands the value of holding runners close to give catchers a chance. Bloomquists three errors at shortstop are the lowest among NL regulars at the position, and when he moved to third base when Drew played shortstop in Atlanta, he made a spectacular diving stop of a ball hit down the line to end the game. Starting pitching: B-. There were good signs. Wade Miley continued to pitch at an All-Star level, Ian Kennedy got a lot closer to his 2011 form in June and Trevor Cahill won four of his five starts. Miley became the only D-backs left-hander besides Randy Johnson to limit opponents to one earned run or less in four consecutive starts in his four starts before clunker in Milwaukee. Hudsons season-ending torn ulnar collateral ligament is a big blow, and it remains to be seen how the D-backs will fill his spot in the second half. Josh Collmenter is to make two starts before the break, and if his mechanics have returned would be a candidate to remain in the second half. Rookie phenom Trevor Bauer had some jitters in his major league debut last Thursday, and he is another candidate if his game management equals his stuff. Saunders is expected to return after the All-Star. There are options, and it will be interesting to see how it plays out. Relief pitching: B. The biggest news in June was the two-year contract extension for setup man David Hernandez, a move that seems to indicate that the D-backs will give Hernandez a shot at the closers role next season if they decline J.J. Putzs option. Putz, for his part, had his best month of the season after early struggles. He only pitched eight times, with save opportunities limited in large part to the bountiful offense, and was only scored upon once. His split-finger pitch appears to be back, and he had 1-2-3 innings in four of his last six. Brad Ziegler, Craig Breslow and Bryan Shaw stepped into the breach when first Saunders and then Hudson went down. Ziegler has included 10 double play ground balls in 31 innings this season, the most of any NL reliever. Management: General manager Kevin Towers opted against pursuing Red Sox third baseman Kevin Youkilis, who basically was there for the taking after rookie Will Middlebrooks took over the spot in May. The Red Sox would have eaten much of Youkilis salary but asked for Gerardo Parra in early talks. That was a non-starter. Boston also was interested in left-hander Joe Saunders, a free agent at the end of this season, but the D-backs kept Saunders, choosing not to overpay on the deal. The season-ending injury to Daniel Hudson makes Saunders a less likely trade candidate now, although Saunders still could be had for the right price. Player of the month: There were plenty of candidates, specifically Hill, Kubel, Miley, Montero, Goldschmidt. But two cycles in a month -- bi-cycle? re-cycle? -- is special. Only player in modern baseball history (since 1900) had two cycles in the same season, and Hill did in the space of 10 games. Along the way to his second cycle Friday, he also stole a base. He had nine doubles, three triples and six homers, with a slugging percentage of .700 and an OPS of 1.102. His 18 extra-base hits were tied with Jimmy Rollins for the most in the month. Positive developments: The offense perked up. Miley continued to throw strikes with his four pitches, the adjustment that has turned him into one of the best pitchers in the league. Chris Young hit home runs in consecutive games, turning around a high-90s fastball from Atlanta closer Craig Kimbrell to win a game in the ninth inning Thursday, and he appears to be getting closer to himself after falling into bad habits at the plate when he returned too early from a shoulder injury. Josh Collmenter appears to have found the command that made him so effective last season. Sore spots: The rotation is suddenly thin with the losses of Hudson and Saunders, although Saunders may not be gone for long. Drew committed an error and could have been charged with another when he was unable to handle a throw to second in his first game back after missing 11 months with an ankle injury. The D-backs will continue to monitor him closely. The month ahead: The schedule in deep in bottom-feeders, setting the stage for a continued push up the standings. The D-backs have 12 games against the Padres, Cubs, Astros and Rockies, and they also face the slumping Dodgers at both ends of the month. The Dodgers have taken three of five from the D-backs so far, but the teams definitely are headed in different directions. With Matt Kemp out, L.A.'s offense has flailed, and his return from a hamstring injury remains uncertain. The schedule also is home heavy, with 17 of the 27 games at Chase Field. The surprising Mets are in town the last weekend of the month, and the D-backs play the NL Central-leading Reds in a four-game series during a seven-game trip to open the post-break schedule.
Original Story:
http://www.foxsportsarizona.com/07/01...
THE BACKYARD
BEST OF MAXIM
RELATED ARTICLES
PHOENIX -- The Diamondbacks placed reserve infielder John McDonald on the 15-day disabled list Monday with a strained left oblique and activated fellow bench infielder Geoff Blum for the 60-day DL. Blum had been sidelined since April 18 with the same injury. "We're being conservative about (McDonald)," D-backs manager Kirk Gibson said. "Realistically it could...
PHOENIX -- Bauer Mania comes to Chase Field on Tuesday -- and it's here to stay. Diamondbacks manager Kirk Gibson confirmed Monday that rookie right-hander Trevor Bauer is expected to be part of the team's rotation for the rest of the season shortly after Bauer expressed excitement about making his home debut Tuesday night against the Padres. "I'm not too anxious...
The rosters for the MLB All-Star Game in Kansas City on July 10 were announced Sunday, and Diamondbacks rookie pitcher Wade Miley was selected as a reserve for the National League team while second baseman Aaron Hill was named one of five finalists for the fans' "Final Vote." Miley will be the first D-backs rookie to participate in the Midsummer Classic. The left-hander...
From Geno Ball Just in time for the Tour de France, Aaron Hill of the Arizona Diamondbacks is getting pretty comfortable riding a cycle. Twice in 11 days, the second baseman has hit a single, a double, a triple and a tater in the same game. Hill is only the second player in the modern era—and the fourth in Major League history— to accomplish the heroic feat...
This past Thursday, Diamondbacks top prospect Trevor Bauer made his big league debut. Fantasy GMs across the land had been waiting intently for that moment, but in the end were disappointed with what transpired. Bauer lasted only four innings, surrendering two earned runs while walking three, beaning one and striking out three. While one game does not a season make, there are a couple...
PHOENIX -- The Diamondbacks dropped their third straight game Monday, 6-2 to the San Diego Padres, and considering the ground they have made up in the National League West lately it would seem natural for a such a loss to be particularly frustrating. The D-backs opened a seven-game homestand just five games behind the first place Giants and four behind the Dodgers, suddenly in a...
A few days ago (June 29) the Diamondbacks Aaron Hill hit for the cycle.  A nice feat, but nothing I'd normally still be writing about today; except that he also did it eleven days earlier, on June 18.  The last time anybody even accomplished it twice in one season was in 1931, when some guy named Babe Herman did it for the Brooklyn Dodgers.  Statistically hitting for the cycle...
PHOENIX -- Diamondbacks teammates Wade Miley and Aaron Hill sat next to each other Monday at Chase Field to discuss the very same thing yet in markedly different ways. Miley, the rookie pitcher, has already earned spot on the National League All-Star team, which was announced Sunday, while Hill hopes to join him in Kansas City via the "Final Vote," which allows fans to...
By MATT BROWN, STATS EditorWith several of the Arizona Diamondbacks' veteran starters either on the disabled list or underachieving, rookie Wade Miley has not only emerged as the staff's unlikely anchor, but also as one of the top pitchers in the league.Miley seeks to become the NL's first rookie with 10 wins before the All-Star break in a decade Saturday night when...
Prior to Sunday's game at Miller Park, Milwaukee's Ryan Braun will almost certainly be selected to his fifth All-Star game. While Braun being named to the Midsummer Classic has come to be expected over the years, so has scheduled starter Yovani Gallardo's dominance of the Arizona Diamondbacks. Gallardo looks to earn his seventh victory in as many regular-season starts...
Going Cycling Did we really witness two cycles in less than two weeks? As if it was easy to hit for one, let alone two. Arizona Diamondbacks' 2B Aaron Hill did it all on Friday, June 29, 2012. He ended his spectacular night by going 4-5, 1 HR, 3 RBI, 1 SB, and 2 runs. His first cycle of the year was on June 18 and he enjoyed it so much that he went and did it again. Hill joins...
On Paper Aaron Hill Cylces The Diamondbacks, Aaron Hill, has done something that is amazingly rare. Hitting for the cycle is on the same level as a no hitter. 294 times a player has hit for a cycle in a game and 276 times has a pitcher accomplished a no-no. On Friday night, Hill's triple in the 6th clinched the cycle for Arizona 2nd baseman. The cycle is a great feat yet what Hill...
MLB News

Delivered to your inbox

You'll also receive Yardbarker's daily Top 10, featuring the best sports stories from around the web. Customize your newsletter to get articles on your favorite sports and teams. And the best part? It's free!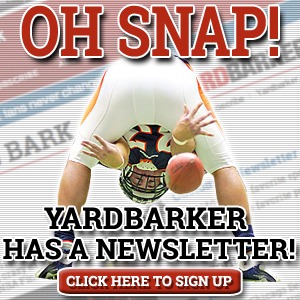 Latest Rumors
The Backyard

Today's Best Stuff

For Bloggers

Join the Yardbarker Network for more promotion, traffic, and money.

Company Info

Help

What is Yardbarker?

Yardbarker is the largest network of sports blogs and pro athlete blogs on the web. This site is the hub of the Yardbarker Network, where our editors and algorithms curate the best sports content from our network and beyond.