Found March 02, 2012 on Fox Sports:
PLAYERS:
Yadier Molina
,
Miguel Montero
,
Brian McCann
,
John Mozeliak
,
Ryan Zimmerman
,
Albert Pujols
,
Rafael Furcal
,
Carlos Beltran
,
Joe Mauer
,
Victor Martinez
,
Mike Napoli
,
Russell Martin
,
Buster Posey
,
Doug Melvin
,
Ivan Rodriguez
,
Alex Cora
TEAMS:
St. Louis Cardinals
,
Arizona Diamondbacks
,
Atlanta Braves
,
Washington Nationals
,
Los Angeles Angels
,
Minnesota Twins
,
Detroit Tigers
,
Texas Rangers
,
New York Yankees
,
San Francisco Giants
,
Milwaukee Brewers
,
Tampa Bay Rays
Well, I can name at least two teams that are ticked off by catcher Yadier Molina's five-year, $75 million extension with the St. Louis Cardinals: - The Arizona Diamondbacks, who broke off talks on an extension with catcher Miguel Montero and might lose him to free agency. - The Atlanta Braves, who control catcher Brian McCann for two more seasons, but might need to pay him more than they ever imagined long-term. Molina, who turns 30 on July 13, has won four Gold Gloves, made three All-Star teams and helped the Cardinals win two World Series. His new deal not only is the second-largest ever for a catcher, but also a game-changer for future free-agent catchers and perhaps even top defenders at other positions. I get it, for reasons that I will explain shortly. But a number of rival executives are displeased, and not simply because any long-term deal for a catcher is an undeniable risk. Molina, before breaking out last season, had a .688 career OPS. Therein lies the rub. "He's a valuable player for that team, but he's not a 3-4-5 hitter," one rival exec said. "They're paying him like a premium run producer, and he's nowhere near that. He's a really important supplemental piece. He's not the driving force on the team." The Cardinals disagree. They selected Molina in the fourth round of the 2000 draft, know him better than any club and value him for much more than his offense. "We think he's the best catcher in the game," Cardinals general manager John Mozeliak said Thursday after the deal became official. "When you look at how you quantify production, catching is different. It's a defensive position. Some of these things are a little harder to capture. "There are also his intangibles: what a leader he is, what a great teammate he is, how he fits into our scheme of success." To some degree, Molina is similar to Washington Nationals third baseman Ryan Zimmerman, who recently signed a six-year, $100 million extension that many in the industry also considered excessive. Zimmerman is a Virginia native, a homegrown cornerstone, the team's first-ever draft pick. He also is a middle-of-the-lineup run producer, when healthy. The difference is, the Nats have yet to even make the playoffs, while Molina was one of the Cardinals' MVPs when they won the 2006 and 2011 World Series. How do you devalue that? One could argue that since failing to keep first baseman Albert Pujols, the Cardinals have overpaid free-agent shortstop Rafael Furcal (two years, $14 million), outfielder Carlos Beltran (two years, $26 million) and now Molina. I would agree on Furcal. I'm not so sure on Beltran. And with Molina, the Cardinals probably went one year and $3 million to $4 million per season beyond where most clubs expected. It's an overpay, but given the newfound emphasis on defense throughout the sport, not necessarily outlandish. One agent actually views the Molina deal as a market correction, saying too big a gap existed between Joe Mauer's eight-year, $184 million deal and Victor Martinez's four-year, $50 million contract (though the Detroit Tigers signed Martinez more to be a DH). Montero might surpass Martinez, the agent said, and McCann likely will surpass Molina. Crunch the numbers however you want, but the reality is, the Cardinals couldn't lose Molina after losing Pujols. Replacing Molina -- and all that he brings to the franchise -- would have been next to impossible. Montero, the Texas Rangers' Mike Napoli and New York Yankees' Russell Martin all could hit the market next offseason, but none is close to Molina defensively; Napoli never even has caught more than 84 games in a season. Wait for McCann? Lots of luck. Molina's career-high .814 OPS last season is well below McCann's .844 career average . If McCann stays healthy, he easily might command $100 million, if not from the Braves, then some other club. Of course, the challenge of staying healthy at catcher is greater than it is at any other position. As one exec notes, catcher is the one position on the field where players routinely risk severe contact. Foul tips and errant pitches leave bruises. Squatting creates knee and back problems. Concussions suddenly are a very real concern, and every team fears its catcher might suffer a season-ending injury in a collision, like the San Francisco Giants' Buster Posey did last season. After the 2002 season, then-Rangers GM Doug Melvin commissioned a study that showed catchers start to diminish offensively after catching 1,100 games. Melvin, now with the Milwaukee Brewers, was trying to determine whether to award Ivan Rodriguez a long-term deal at age 30, and ultimately declined. At the time, Rodriguez already had caught 1,426 games. He had two more highly productive offensive seasons -- in '03 with the Florida Marlins and '04 with the Detroit Tigers -- and then started a slow, steady fade. Molina has caught 944 games. His new contract will end when he is 35. His oldest brother, Bengie, played his final season at 35. But another brother, Jose, now with the Tampa Bay Rays, turns 37 on June 3. And Yadier is among the game's most feverish workers. Infielder Alex Cora, a new member of the Cardinals, says that by the time he arrives at spring training at 7 each morning, Yadier already is in a full sweat from his early work. "Catchers who go past 27 years old, they typically show that they are catchers and maintain it," Mozeliak said. "Catchers who end up getting to 30 catching half the time and DHing or playing some other position half the time tend not to do as well. "It doesn't mean they disappear. It just means they aren't true catchers." Molina, without question, is a true catcher, but his value will be much less if he regresses offensively to where he was before 2011. Asked if Molina's production last season was an aberration or a springboard, Mozeliak said, "I don't know. I didn't really judge that as a factor in this." Molina's value, Mozeliak repeated, "is not easy to quantify. Having a .900 OPS is. I get that." These deals are easy to rationalize -- and easy to criticize, too. I understand why some rival clubs are annoyed with the Cardinals. I would not be shocked if the team regrets paying Molina $15 million per season, particularly in the latter part of the deal. But again, what was the alternative? If I were the Cardinals and needed to pay Molina a few extra million per season to keep him off the open market, I'm not sure I would have done much differently.
Original Story:
http://msn.foxsports.com/mlb/story/st...
THE BACKYARD
BEST OF MAXIM
RELATED ARTICLES
For as long as there have been people watching sports, there have been people vehemently arguing the sports they are watching. That's part of the fan experience. And just because you start writing about what you are watching, that doesn't mean you stop arguing. The key, of course, is to argue without turning such differing opinions into personal attacks. Twitter has become...
The St. Louis Cardinals signed catcher Yadier Molina to a five-year, $75 million contract extension Wednesday, according to Jon Heyman of CBSSports.com.The contract won't take effect until the 2013 season, since Molina had a one-year option picked up by the club for the 2012 season.The 29-year-old All-Star hit .305 with 14 home runs and 65 RBIs in 2011.He also won his fourth...
JUPITER, Fla. (AP) The St. Louis Cardinals have scheduled a Thursday afternoon news conference to announce a new contract for four-time Gold Glove catcher Yadier Molina. The 29-year-old Molina is a lifetime Cardinal entering the final year of his contract. He's considered one of the best defensively at any position, winning a platinum glove last season in voting by fans, and...
5 years. 75 million.  That's the new contract that the Cardinals and Yadier Molina agreed to and announced yesterday.  The quibbling has been kept to a minimum. Some think it's a bit too much, but rationalize the salary bump as recompense for years of underpayment. Some think it's a great value and would have paid more to keep him as the backstop for the next half decade...
Catcher Yadier Molina and the St. Louis Cardinals have agreed to terms on a new five-year contract, reports CBS Sports Jon Heyman.
JUPITER, Fla. (AP) -- The St. Louis Cardinals have scheduled a Thursday afternoon news conference to announce they've signed four-time Gold Glove catcher Yadier Molina to a five-year contract.
The St. Louis Cardinals have scheduled a Thursday afternoon news conference to announce a new contract for four-time Gold Glove catcher Yadier Molina. The 29-year-old Molina is a lifetime Cardinal entering the final year of his contract. He's considered one of the best defensively at any position, winning a platinum glove last season in voting by fans, and also is coming off...
The St. Louis Cardinals have agreed to a five-year, $75 million contract with four-time Gold Glove catcher Yadier Molina.
(source feed provided no summary content for this entry)
JUPITER, FLA. (AP) - The Cardinals have agreed to a five-year, $75 million contract with four-time Gold Glove catcher Yadier Molina that will keep him in St. Louis through the 2017 season.The team announced the details Thursday, including a mutual, $15 million option for a sixth year.General manager John Mozeliak ...
The St. Louis Cardinals are all in training camp and preparing for the 2012 season! Those are sweet, sweet words for Cardinal fans all over the world. This is the time of year where every team has hope for the upcoming season, and the joy of baseball fandom is at its highest. As has been much discussed on this site, there are a lot of questions the Cardinals face as they approach...
On the latest episode of the Call To The Bullpen MLB Podcast, Corey and I break down the MLB's new two wild card playoff format, giving you the pros and the cons of the decision. In addition, we also discuss: Yadier Molina signs an extention AJ Burnett breaks his face Grady Sizemore returns to the DL How Mike Piazza has inspired an opera A Franchise Focus on the Milwaukee Brewers...
MLB News

Delivered to your inbox

You'll also receive Yardbarker's daily Top 10, featuring the best sports stories from around the web. Customize your newsletter to get articles on your favorite sports and teams. And the best part? It's free!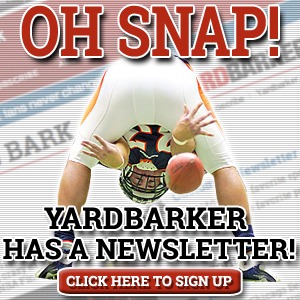 Latest Rumors
The Backyard

Today's Best Stuff

For Bloggers

Join the Yardbarker Network for more promotion, traffic, and money.

Company Info

Help

What is Yardbarker?

Yardbarker is the largest network of sports blogs and pro athlete blogs on the web. This site is the hub of the Yardbarker Network, where our editors and algorithms curate the best sports content from our network and beyond.