Found August 01, 2012 on Mr. Irrelevant:
Steve Strasburg hit hard in worst start of his career: 4 IP, 8 H, 6 ER. [WT] Bryce Harper didn't help; epic fail turned into inside-the-park HR. [NE, 700] Despite ugly loss attendance is great in NatsTown. [Bog] Jayson Werth could be back very soon, like this weekend. [Nats Insider] Good news: O's make statement come from behind win in the Bronx. [BLS] The Orioles might still make a move; Joe Blanton still possible. [SoR] Ted Leonsis answers Caps fans questions, lays out formula for success. [JR] Skins offensive line is already a mess, only first week of camp. [WaPo] Sliver of good news is that Jamaal Brown won't need hip surgery. [Twitter] Somebody somewhere really needs to tell Fred Davis to shut up. [Bog] Could the Skins run the option with RGIII this year? #badidea [WT] Wiz summer league notes and worries about Beal's "inconsistent" J. [CSNW] John Wall wants to be the best player on the Wiz. We want that too. [Bog] Mike Phelps wins his 15th Gold medal, 19th overall. Impressive....
Original Story:
http://misterirrelevant.com/index.php...
THE BACKYARD
BEST OF MAXIM
RELATED ARTICLES
Every professional baseball player has a specific song picked out that they want to hear when they walk up to the plate. Nationals rookie phenom Bryce Harper likes to hear "Bad to the Bone" by George Thorogood. It seems fitting for the 19-year-old who plays the game as hard as anyone. And when Harper has a chance to meet Thorogood before a game on Wednesday, he backed up...
Bryce Harper's rookie season started off with a bang, but the fireworks are quickly falling back down to earth. Harper's numbers are now rather pedestrian, as the 19-year-old hit just .222 with one home run in July while getting on base at a .306 clip. It's obvious that he's not locked in at the plate, and he alluded to that while talking with The Washington Post...
NO CLOWNING
There is so much cool in that picture it will make your head explode. The Nats PR department tweeted out this pic of their 19-year-old All-Star with George Thorogood, the rocker best known for his hit songs One Bourbon, One Scotch, One Beer, Who Do You Love?, I Drink Alone, and Bad to the Bone. Harper has been known to use the latter, arguably Thorogood's biggest hit, as his...
"Mr. Bad to the Bone" meets the other "Mr. Bad to the Bone". Bryce Harper meets George Thorogood. (Photo via @NationalsPR) Befriend Nats Enquirer on Facebook. Follow on Twitter.  
While it shouldn't come as shock that 19-year-old budding phenom Bryce Harper very well could be hitting the rookie wall, the numbers are nevertheless telling. Since the All-Star break, the Washington Nationals slugger is hitting an anemic .171, well below the dreaded Mendoza Line. But Harper, as well as he can at least, is taking [...]
LIKE A CANNON HIS ARM
Ross Detwiler mostly dominated the Phillies Thursday night in seven shutout innings (7 IP, 3 H, 0 R, 2 BB, 3 K, 88 pitches, 54 strikes - mostly fastballs). But Ross ran into a little trouble in second inning: 2 on, 1 out, base hit to right by Michael Martinez. But Bryce Harper and his cannon arm bailed him out, throwing a one-hop strike to nail John Mayberry at the plate. Video...
And so, while you're sitting around suffering through an off-day and waiting for the (61-40!? First place!? Tied for best record in MLB!?) Washington Nationals to play a game Tuesday night at home against another cupcake -- oh, the Phillies! -- enjoy the image above of Stephen Strasburg and Bryce Harper Lego MiniFigures having a chat. (Photo via @stephaniekays) Befriend...
Below, the MLB.com video of Jimmy Rollins' inside the park HR against the Nats (moments after Cliff Lee singled and stole a base off Stephen Strasburg) in the fourth inning Tuesday night. Bryce Harper nearly kills himself crashing into the wall. Note the excellent job by Roger Bernadina backing him up. Worst Nats loss of the season? It's right up there with that other...
Video: Bryce Harper crashes into the outfield wall
Three solo home run, including a pair from Jimmy Rollins, for his second and third home runs in two straight days, help push the Phils past the first-place Nats, 3-2. The Nats took the lead in the first as, with the bases loaded, via a single by Bryce Harper, a walk to Chad Tracy, sending Harper to second base, and a fielding error by third baseman Kevin Frandsen on a Michael Morse...
MLB News

Delivered to your inbox

You'll also receive Yardbarker's daily Top 10, featuring the best sports stories from around the web. Customize your newsletter to get articles on your favorite sports and teams. And the best part? It's free!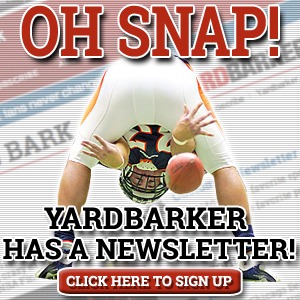 Latest Rumors
The Backyard

Today's Best Stuff

For Bloggers

Join the Yardbarker Network for more promotion, traffic, and money.

Company Info

Help

What is Yardbarker?

Yardbarker is the largest network of sports blogs and pro athlete blogs on the web. This site is the hub of the Yardbarker Network, where our editors and algorithms curate the best sports content from our network and beyond.