Found November 14, 2011 on isportsweb.com:
PLAYERS:
Miguel Cabrera
,
Victor Martinez
,
Billy Beane
,
Austin Jackson
,
Aroldis Chapman
,
Brandon Inge
,
Gaby Sanchez
,
Mike Stanton
TEAMS:
Detroit Tigers
,
Oakland Athletics
,
Cincinnati Reds
,
Miami Marlins
The Detroit Tigers have hinted that midseason acquisition Delmon Young could be their starting left fielder in 2012. Is that vague enough for you?
A month ago, it seemed to be all but a lock that the Tigers would bring back the arbitration eligible Young on a 1-year deal to see what he could do hitting in front of Miguel Cabrera for 150 games. So, what's changed?
A 26-year old multi-tool outfielder from Cuba defected. That's what has changed. If you haven't seen the promo video that he released to entice Major League executives to come by for a look-see, check it out here.
Yoenis Cespedes
Yoenis Cespedes broke the all-time home run record in the Cuban League in 2011 with 33 homers. Those came in just 90 games. He drove in 99 runs and hit .333. He has legit speed. He can play any position in the outfield. He appears to be, in all the ways that matter in baseball, a bona fide freak.
Delmon Young is also 26. He has mediocre power, is a notorious free-swinger, a defensive liability, but did provide the Tigers with a spark after his arrival mid-summer.
Left field is the least of the Tigers' offseason concerns but it could be their greatest opportunity for dramatic improvement.
Adding a run of the mill 2nd baseman to the mix, a backup catcher, a middle reliever, or a part-time 3rd baseman likely won't elevate the Tigers to a level beyond what they reached in 2011. An impact left fielder might.
Tiger faithful quickly became enamored with Delmon. Homering in your first at-bat has a way of winning fans over. DY also had a powerful postseason by launching 5 home runs. What people forget is that he hit just .235 in the playoffs with a .278 on-base percentage. And therein rests the problem.
Delmon Young doesn't get on base very often.
He has yet to meet a pitch that he won't swing at. In his 40 regular season games as a Tiger, he managed just a .298 OBP and 5 walks. Every game he started was in the 3rd slot in the order, smack dab in front of Miguel Cabrera and Victor Martinez.
Translation, he should be getting a lot of good pitches to hit for fear of letting him get on base in front of two of the best run producers in the game. But his aversion to drawing walks has allowed pitchers to throw junk at him, knowing full well that he'll take a hack sooner or later.
In 729 major league games he has walked just 125 times. Cabrera walked 108 times last year alone. The unusual part for Young is that he doesn't strike out a whole lot either. The bottom line is that he puts a lot of unproductive balls in play due to his inability to respect the strike zone.
What the Tigers need most in the 3-hole is an on-base machine, the kind of player that would make Billy Beane weep tears of joy. With the top of the Tigers batting order still unsettled as the strikeout-happy Austin Jackson continues to search for consistency and a revolving door behind him, the Tigers need reliable production from their 3rd hitter.
Could a relatively unknown commodity like Cespedes be that guy?
He appears to have all the tools. He can hit the ball with authority to all fields. He can pound the ball to right field, ala Miguel Cabrera. The difference is that Cabby was pulling that same trick as a 20-year old in the big leagues. Cespedes is 26…in Cuban years.
Contractually speaking, adding the hyped player from Cuba shouldn't be a huge deterrent. He appears to be asking for Aroldis Chapman dollars, maybe a little more. Chapman got $30M for 6 years from the Cincinnati Reds when he brought his 100+MPH fastball north to America.
The annual salary isn't the concern as much as the long-term commitment. Brandon Inge makes more than $5M/year and the Tigers seem comfortable with that. But six years is a long time to invest in a guy who has never set foot on American soil.
There is no calculation in existence that can tell us what his Cuban league numbers would translate to in America. His per game averages in Cuba would put him at about 50 homers and 170 RBI's over a 162-game season. Yeah, right.
But what if he hit .275 instead of .333? What if he hit 25 homers and drove in 85 runs? Would that be worth $5M/year? Well, no, it actually would be worth about $10M/year in the current marketplace.
Detroit has the money to spend. They have a team, a fan base, a manager, owner, and GM that are all craving a championship in a bad way. They just can't seem to figure out what specific hole on their roster calls for a big-name, big-contract player. Left field is the most likely answer.
Unfortunately, Cespedes Mania has gone viral. And viral in baseball parlance means Yankees and Cubs, not to mention Cuba's next door neighbor and suddenly deep-pocketed Miami Marlins.
The Tigers have expressed interest. That's all we've learned so far. If we know anything about GM Dave Dombrowski's tendencies by now, it's that he likes to work under the radar. In this case, he has some carrots to dangle.
The Marlins are believed to be the front-runner for Cespedes. But how easy would this sales pitch be: Hey Yoenis, would you rather hit in front of Gaby Sanchez and Mike Stanton or Miguel Cabrera and Victor Martinez?
Indeed, the Tigers are in play.
Original Story:
http://isportsweb.com/2011/11/14/do-d...
THE BACKYARD
BEST OF MAXIM
RELATED ARTICLES
DR. DETROIT
Garnering first place votes on all 28 of the Baseball Writers of America's ballots, the Tigers ace blew away the competition, with Angels pitcher Jared Weaver coming in a distant second with 96 less points.
In a very un-surprising move, the BBWAA has awarded Detroit Tiger starter Justin Verlander the AL Cy Young Award. This was an easy selection as Verlander won over 20 games; 24 to be exact. I'm not a proponent of using Wins as a way to judge a pitchers performance, but we've seen this be the reason other pitchers have won in the past (I'm looking at you Bartolo Colon…)....
Justin Verlander should be a unanimous selection on Tuesday when the American League Cy Young Award winner is announced by the Baseball Writers' Association of America.
Verlander led majors in wins, strikeouts, innings pitched
NEW YORK — Detroit Tigers ace Justin Verlander has won the AL Cy Young Award by a unanimous vote.
NEW YORK (AP) -- Justin Verlander of the Detroit Tigers was named the American League Cy Young award winner on Tuesday, winning the award unanimously by garnering all 28 first-place votes.
There might be no more obvious choice in this year's awards than Detroit ace Justin Verlander as the American League Cy Young winner. The bigger question is whether his dominance will result next week in being chosen as the league's Most Valuable Player. The two previous AL Cy Young winners, Zack Greinke and Felix Hernandez, came from losing teams and benefited from an increasing...
There was little question Justin Verlander would unanimously win the AL Cy Young Award. Now, the far more intriguing question: Will he take the MVP, too?
One of the Tigers biggest needs this off season is to fill the hole at second base.  Aaron Hill was one of the names thrown and he's now re-signed with the Diamondbacks and Jamey Carroll signed with the Twins. So there's little surprise that Jon Paul Morosi broke a story that the Tigers were looking [...]
Now that Justin Verlander has won his first Cy Young Award - at age 28 - the question becomes whether he can win another.
MLB News

Delivered to your inbox

You'll also receive Yardbarker's daily Top 10, featuring the best sports stories from around the web. Customize your newsletter to get articles on your favorite sports and teams. And the best part? It's free!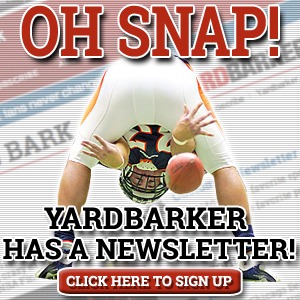 Latest Rumors
The Backyard

Today's Best Stuff

For Bloggers

Join the Yardbarker Network for more promotion, traffic, and money.

Company Info

Help

What is Yardbarker?

Yardbarker is the largest network of sports blogs and pro athlete blogs on the web. This site is the hub of the Yardbarker Network, where our editors and algorithms curate the best sports content from our network and beyond.