Found August 23, 2012 on Dodgers Rumors:
PLAYERS:
Adrian Gonzalez
,
Ned Colletti
,
Zach Lee
,
Mark Teixeira
,
Edwin Encarnacion
,
Prince Fielder
,
Albert Pujols
,
James Loney
,
Adam Dunn
TEAMS:
Boston Red Sox
,
Los Angeles Dodgers
,
New York Yankees
,
Toronto Blue Jays
,
Detroit Tigers
,
Los Angeles Angels
,
Chicago White Sox
Sean McAdam is reporting via Twitter that the Boston Red Sox have placed Adrian Gonzalez on waivers. You may remember that several days after the July trade deadline passed word broke that the Dodgers had attempted to connect with the Red Sox on a possible A-Gon trade. Of course talks didn't last very long, with time not on their side the Dodgers moved on. Now that Gonzalez is on waivers the Dodgers are given another opportunity to land the best first baseman in all of baseball. Those not familiar with how things work in August, you should take a look at the rules of August waiver trades. So just because Gonzalez is on waivers doesn't mean he will be traded or claimed, but the door has definitely opened for that possibility. Dodgers GM Ned Colletti had offered several pieces that would build towards Boston's future. No mention of any specific players, but you  better believe it would take Zach Lee and at least three others in the top 15 to get a deal done. Gonzalez is owed a massive $131.82MM through 2018, which includes the remainder of his 2012 salary. That's a huge comittment. In return, the Dodgers would solidify their lineup with one of the league's elite hitters and upgrade to a legit Gold Glove caliber player. A-Gon is batting .304/.349/.478 with 15 home runs and 85 RBI in 516 plate appearances this season. Gonzalez also owns a very respectable 2.9 WAR tying with Mark Teixeira, and behind only Edwin Encarnacion (3.7), Prince Fielder (3.4) , Paul Goldschimdt (3.2), and Albert Pujols (3.1). Defensively, well, A-Gon is king. Adrian currently has a UZR of 14.0 and a RZR of .871 in 916 innings of play this season. Gonzalez has registered 155 plays at first base this season. Compare that to James Loney who has a UZR of 4.9 and a RZR of .793. Loney however, has only 69 plays logged at first base, and has 746 innings at first base. So Loney's numbers could actually take a hit, whereas Adrian has already proved that he is by far the best defending first baseman in all of baseball. I wouldn't be all that surprised to see Gonzalez clear waivers as most teams would be scared to take the hit on payroll should the Red Sox not be bluffing. The Dodgers should not take that chance and they must absolutely place a claim on Gonzalez if Colletti hasn't done so already. Related Posts:
Is Adrian Gonzalez The Answer?
Dodgers Targeting Wrong Gonzalez?
August Waiver Trade Rules
Adam Dunn, Adrian Gonzalez Leaving On East Bount Train
MLB August Waiver Trade Deadline Rules
Original Story:
http://www.dodgersrumors.com/dodgers-...
THE BACKYARD
BEST OF MAXIM
RELATED ARTICLES
GO WEST, YOUNG MAN
The Los Angeles Dodgers have claimed Boston Red Sox standout first baseman Adrian Gonzalez off waivers, a possible first step in a Boston-L.A. mega-deal.
The Los Angeles Dodgers were awarded a waiver claim on Red Sox first baseman Adrian Gonzalez, according to the Los Angeles Times. Waivers are revocable after the July 31 non-waiver trade deadline and the Red Sox could opt to pull Gonzalez back, cancelling the possibility of a trade. If the Red Sox don't revoke the waiver transaction, the Dodgers have a two-day window to negotiate...
Adrian Gonzalez has been claimed by the Dodgers Adrian Gonzalez is having a quality season at the plate in 2012 posting numbers of .300/.343/.469 with 15 home-runs, 86 RBI despite an extremely slow start to his season. Off the field, however, Adrian Gonzalez has been less than stellar. Since last September he has appeared to be a guy that doesn't care about whether or not the team...
The Los Angeles Dodgers and Boston Red Sox are close to completing to completing a deal that would send Adrian Gonzalez to the Dodgers, according to multiple sources. There are two proposed mega deals on the table right now, things are serious, and a deal could be done today. The first proposed deal would send Josh Beckett and Adrian Gonzalez to the Dodgers. The other is a reported...
Trading Adrian Gonzalez would be an overreaction from a team that overreacts like no other. But the Boston Red Sox should do it, just as the Philadelphia Phillies should have dumped Cliff Lee on the filthy-rich, hyper-ventilating Los Angeles Dodgers when they had the chance. The Sox can include enough money in the deal to land Zach Lee and/or Allen Webster, the Dodgers' top...
  It's being reported both Adrian Gonzalez and the Dodger's James Loney are being held out of their respective lineups tonight.  That's certainly not a coincidence. Expect reports of this deal being completed to be rolling in shortly. ESPN has some details: The Dodgers and Red Sox are closing in on a deal that would send Adrian Gonzalez, Josh Beckett, Carl Crawford...
Adrian Gonzalez has been scratched from the Red Sox lineup on Friday night as the trade rumors continue to swirl around the team's first baseman. Gonzalez, along with Josh Beckett, was claimed off waivers by the Los Angeles Dodgers earlier in the day, fueling speculation that a megadeal for the two -- along with Carl Crawford and Nick Punto, possibly -- could be in the works...
The Dodgers are on the verge of acquiring Adrian Gonzalez, Josh Beckett, Carl Crawford and Nick Punto from the Red Sox. Holy. Balls. I'm on the road, but I'm going to give a quick analysis: The Dodgers need a guy like Gonzalez. They could do without Beckett and Crawford and no one in their right mind "needs" Punto. Some rumored players heading to Boston...
  Beckett and Gonzalez's days could be numbered here in Boston as the Dodgers are on the verge of acquiring them. Like we stated earlier, Adrian Gonzalez has been claimed off of waivers by the Los Angeles Dodgers, and there has been more developments in this story within the past couple of hours. There is strong speculation among many sources that the Red Sox are on the verge...
The Los Angeles Dodgers quest to solidify a playoff spot continues, as the team has placed (and won) a waivers claim for 1B Adrian Gonzalez and starting pitcher Josh Beckett, both current disgruntled members of the Boston Red Sox. By claiming the two players, the Dodgers can open up trade talks with the Red Sox [...]
As the Red Sox head into a meaningless series against the Kansas City Royals, all eyes in Red Sox Nation are focused on another team wearing blue: The LA Dodgers. According to reports this afternoon the Dodgers has been awarded waiver claims to Adrian Gonzalez, AND Josh Beckett. The Sox now have 72 hours to [...]
The latest reports circulating around the Big Apple now suggest that it was Kelly Shoppach, and not Adrian Gonzalez, who sent the text messages to the Red Sox brass complaining about manager Bobby Valentine. It would not be a surprise to find out that Shoppach was the source of the text messages. Earlier in the season Shoppach complained loudly about his lack of playing time. At...
MLB News

Delivered to your inbox

You'll also receive Yardbarker's daily Top 10, featuring the best sports stories from around the web. Customize your newsletter to get articles on your favorite sports and teams. And the best part? It's free!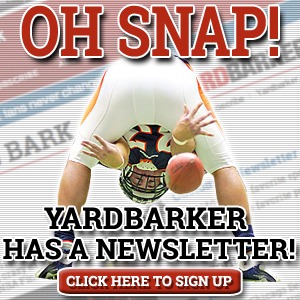 Latest Rumors
Best of Yardbarker

Today's Best Stuff

For Bloggers

Join the Yardbarker Network for more promotion, traffic, and money.

Company Info

Help

What is Yardbarker?

Yardbarker is the largest network of sports blogs and pro athlete blogs on the web. This site is the hub of the Yardbarker Network, where our editors and algorithms curate the best sports content from our network and beyond.