Found October 23, 2012 on Awful Announcing:
When I think of people that would be in line to criticize MLB on Fox analyst Tim McCarver, plenty of individuals immediately come to mind (including the entire staff of this site). But one name I never would have pinned was legendary CBC hockey commentator Don Cherry. Cherry took issue with McCarver on his Twitter page (yes, Don Cherry tweets too!) because he jinxed Ryan Vogelsong's no-hitter on Sunday night in Game 6 of the NLCS.   Wait... what??? Tim McCarver, one of my favourite announcers, has lost his feel for baseball and now is officially a tv announcer. San Fransisco pitcher .. — Don Cherry (@CoachsCornerCBC) October 22, 2012 Vogelsond is sailing along last night in the 5th inning with a no hitter. Everybody knows you should never, ever mention it. All of a sudden — Don Cherry (@CoachsCornerCBC) October 22, 2012 McCarver mentions the no hitter and well you know what happens next.Is he nuts? Sure enough next hitter belts a double then the next guy — Don Cherry (@CoachsCornerCBC) October 22, 2012 drives in the run.Tim has lost his feel for baseball.Either he's above that silly stuff or he listened to an egg head tv guy who told — Don Cherry (@CoachsCornerCBC) October 22, 2012 him to mention it to create excitement for the fans. He sold his soul.And I was pissed! — Don Cherry (@CoachsCornerCBC) October 22, 2012 This is crazy. Cherry's main issue with McCarver isn't his rambling style, random sayings, and loss of touch with the game of baseball, but him jinxing a no hitter in progress? Saying McCarver "sold his soul" to some unknown power of darkness? It's true, maybe Cherry just felt bored with no NHL topics to rant about. The concept of an announcer jinxing a no hitter and having some concrete role in the outcome of a baseball game is a backwards superstition. Come to think of it, given Cherry's old school mentality maybe it makes sense why he would take issue with it. But, McCarver did the right thing in actually telling viewers what was actually happening. Now if only Tim McCarver had a comeback about Don Cherry's wardrobe. Then we'd really take a trip into bizarro world.
Original Story:
http://www.awfulannouncing.com/2012-a...
THE BACKYARD
BEST OF MAXIM
RELATED ARTICLES
For our sanity, let's just pretend that Tim McCarver is in on this joke referencing Barry Manilow as the most famous Barry to play in San Francisco's AT&T Park and not a sign that he's slowly losing his mind.  To McCarver's credit, it's true, Barry Manilow did play at AT&T Park in 2007 and the fans apparenty did chant "Barry, Barry!"  Who doesn...
Tim McCarver is a professional, and even sometimes professionals are allowed to make a mistake every now and then. On Wednesday night during Game 1 of the World Series between the San Francisco Giants and the Detroit Tigers McCarver may have made a mistake, or one of the best jokes we have heard in a while. Either way we love the guy and he played it off with a big laugh. Our...
Forget for one moment that Barry Bonds is the poster-child for PEDs. He is probably the most well-known San Francisco Giants player of all-time, outside of Willie Mays. Okay, now add back the whole steroids narrative. Barry Bonds is the … Continue reading →
Those watching Game 1 of the World Series in San Francisco on Wednesday night likely heard chants of, "Barry! Barry! Barry!," yet Barry Bonds was nowhere to be found. The chant instead reigned down at AT&T Park because Barry Zito -- whose $126 million contract has paid for six lackluster seasons in the Bay Area thus far -- twirled 5 2/3 solid innings...
San Francisco Giants pitcher Barry Zito has been pitching pretty well in the postseason. So well in fact that fans are taking notice despite a rough go of it for him in recent seasons. They let their feelings be shown with a good round of "Barry!" chants during Wednesday's Game One of the World Series at AT&T Park.The crowd was reacting to a run-scoring single by...
Detroit Tigers vs. San Francisco Giants FOX Commentators: Joe Buck, Tim McCarver; Reporters: Erin Andrews & Ken Rosenthal FOX Pregame - Host: Matt Vasgersian; Analysts: Eric Karros, A. J. Peirzynski & Harold Reynolds ESPN Radio Commentators: Dan Shulman, Orel Hershiser Game 1 - Wednesday, October 24, @ AT&T Park, San Francisco [8:07PM] Game 2 - Thursday...
We are bridging seasons on this week's edition of Sports Media Weekly. Ken Fang of Fang's Bites and I begin the show with a preview of the final baseball event of the year, the World Series, which will see Joe Buck and Tim McCarver call their 15th Fall Classic as a team for Fox Sports.
Giants News

Delivered to your inbox

You'll also receive Yardbarker's daily Top 10, featuring the best sports stories from around the web. Customize your newsletter to get articles on your favorite sports and teams. And the best part? It's free!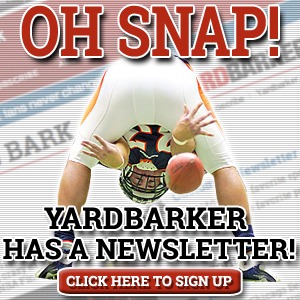 Latest Rumors
The Backyard

Today's Best Stuff

For Bloggers

Join the Yardbarker Network for more promotion, traffic, and money.

Company Info

Help

What is Yardbarker?

Yardbarker is the largest network of sports blogs and pro athlete blogs on the web. This site is the hub of the Yardbarker Network, where our editors and algorithms curate the best sports content from our network and beyond.