Found March 29, 2012 on Busted Coverage:
Talk radio goes days and days without something that piques our interest. Blah, blah, blah. And then Don Mattingly comes on the Dan Patrick Show and drops a "this little sh*t" bomb when referencing Ozzie Guillen. You just figure Donny will talk some baseball, keep it clean and get off the phone. Nope. Commence the iPhone i-Team! VIDEO! NOW! HURRY!  Later in the show Dan asked the Danettes if they hit the dump button for the radio side. Posted: Just happened 20 minutes ago Premise of Video: Dan wants to know if a coach has ever gotten under Donny Baseball's skin. Not even Ozzie Guillen? Climax of Video: Talking like a real human on morning TV talk radio just doesn't happen that often. Conclusion: Mattingly becomes a must-get guest for national talk shows, especially for Miami stations.
Filed under: Video
Original Story:
http://bustedcoverage.com/2012/03/29/...
THE BACKYARD
BEST OF MAXIM
RELATED ARTICLES
Although the White Sox were off to a slow start in Spring Training, the Southsiders went 5-2 this past week and seem to be settling into a groove. These wins put the Sox at a more respectable 10-13 overall, mostly thanks to the arrival of some serious offense. The Sox scored 13 runs in last Wednesday's win over the Seattle Mariners and routed the Kansas City Royals 16-4 the next...
Ozzie Guillen is so vulgar and unfiltered that he's more than perfect for Twitter. So when GQ conducted a Q&A with the new Marlins skipper, the magazine did it entirely through the social media platform. During the tweet-chat, we learn more about Guillen's affinity for the show "Cake Boss," Bed Bath & Beyond, and, yes, whether he prefers breasts or the buttocks. ...
Most people consider Ozzie Guillen to be an annoying loudmouth. Apparently many players view him the same way. During a radio interview on "The Dan Patrick Show" Thursday, Dodgers manager Don Mattingly referred to the Marlins manager as "this little s***." Patrick asked Mattingly if there was any manager he wanted to physically confront. "No, not at all," Mattingly...
There isn't a ton of reason to be optimistic about either Chicago baseball team this MLB season. The Cubs figure to be bad, and the White Sox only marginally better. But there is an interesting comeback story possibly brewing on the White Sox pitching staff. For a guy to play for the lowly Windy City Thunderbolts, who play in suburban Crestwood, IL, the heart of White Sox fan demographics...
No need to set the scene for this one.Dan Patrick sets it up nicely and Dodgers manager Don Mattingly knocks it out the park. Via Busted Coverage
  As Spring Training winds down, the always entertaining, often illuminating and frequently controversial Ozzie Guillen is currently settling into his role as the brand new Miami Marlins manager. He recently engaged in a Twitter interview with GQ writer Dan Hyman to discuss a multitude of topics baseball-related and otherwise, but by far the most [...]
At age 6, I had my first best friend. I do not remember why I was chosen as companion and owner of this particular Teddy Ruxpin, but he was mine. This robot-bear existed solely to read children's stories via a tape player tucked in his stomach pouch. But it was easy for me, a wallflower with a stuffed animal obsession, to relate to the animatronic bear on a deeper level. I would...
Dave Cameron laid out the methodology behind the rankings last Friday. Remember that the grading scale for each category is 20-80, with 50 representing league average. 2012 Organizational Rankings #30 – Baltimore #29 – Houston #28 – Oakland #27 – Pittsburgh #26 – San Diego #25 – Minnesota Chicago's 2011 Ranking: #14 2012 Outlook: 43 (21st) Boy, things looked a lot better...
He may be a news anchor by trade rather than a sportscaster, but Ron Burgundy seems like a very appropriate fit for our modern sports world. It's not hard to picture him yelling at Skip Bayless on First Take, or hitting on Michelle Beadle during SportsNation, or dominating Around The Horn or taking Pardon The Interruption's title as an invitation to constantly interrupt....
Rick Pitino was  a guest on the Dan Patrick show this morning. Pitino talked about why he seems so loose this year. He said it's because he realizes the end of his career is going to happen, maybe not today, or tomorrow, but at some point. "I'm just going to enjoy every minute of every second of every day," Pitino said. "It goes by so fast." Pitino said even though...
White Sox News

Delivered to your inbox

You'll also receive Yardbarker's daily Top 10, featuring the best sports stories from around the web. Customize your newsletter to get articles on your favorite sports and teams. And the best part? It's free!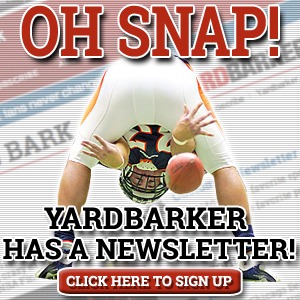 Latest Rumors
Best of Yardbarker

Today's Best Stuff

For Bloggers

Join the Yardbarker Network for more promotion, traffic, and money.

Company Info

Help

What is Yardbarker?

Yardbarker is the largest network of sports blogs and pro athlete blogs on the web. This site is the hub of the Yardbarker Network, where our editors and algorithms curate the best sports content from our network and beyond.