Found February 16, 2013 on Fox Sports Detroit:
PLAYERS:
Octavio Dotel
,
Jose Valverde
,
Jim Leyland
,
Raul Ibanez
,
Eric Chavez
,
Nick Swisher
,
Curtis Granderson
,
Brett Gardner
,
Russell Martin
,
Derek Jeter
,
Bruce Rondon
TEAMS:
Detroit Tigers
,
Seattle Mariners
,
Arizona Diamondbacks
,
Cleveland Indians
,
New York Yankees
,
Pittsburgh Pirates
,
St. Louis Cardinals
LAKELAND, Fla. -- Tigers late-inning reliever Octavio Dotel is one of those players who becomes glue for a ballclub. He often takes the mound and patches together a game on the verge of breaking the other way, and is a clubhouse leader who brings professionalism and harmony. Dotel threw five innings of no-hit relief in the 2012 playoffs and was central in Game 1 of the American League Championship Series against the Yankees after closer Jose Valverde blew a four-run lead. Now Dotel's assuming Valverdes role as a mentor to young pitchers and will continue to be a key element with the game on the line. From the sixth inning on, Dotel is a guy you can count on to do any job you want done," Tigers manager Jim Leyland said. "And hes resilient, too. You keep him sharp and rested, and hes pretty good. "I like to use him in the sixth or seventh, but he can pitch the eighth in a heartbeat. Or even the ninth inning of one of the most important games the Tigers played last year. Valverde had just given up the two-run home run to Raul Ibanez that made the scored 4-4 when Leyland summoned Dotel with two outs. The Tigers were visibly shaken by losing the four-run lead in the bottom of the ninth, and Yankee Stadium was rocking with joy. But Dotel ended the inning by getting Eric Chavez to fly out. Dotel came on for the 10th inning and got leadoff hitter Nick Swisher to fly out to right. Then Dotel walked Curtis Granderson, and Brett Gardner came on as a pinch-runner and stole second. With the winning run in scoring position, Dotel got Russell Martin to fly out to center. After Gardner stole third, Dotel then got perennial Yankees hero Derek Jeter to fly out to right to end the inning of a game the Tigers won in 12 innings. He quietly did a hell of a job for us, Leyland said. Hes also great in the clubhouse and not afraid to throw to anybody. Leyland doesnt expect Dotel to be his closer should Valverde's heir apparent, rookie Bruce Rondon, struggle; however, Leyland did mention Dotel as one of several pitchers who would be considered for the job. Dotel, 39, was given a chance to close as a young pitcher and has 109 major-league saves. He knows exactly what Rondon, 22, is going through and is the perfect guy to work with him. Dotel can comfortably converse in Spanish with Rondon, who requires a translator. Rondon wants to be a better pitcher and a better player, and that is important, said Dotel, pausing to touch his temple with his ring finger. He's coaching Rondon on how to use his head more than his arm, which is more than ample. What I am telling him is to relax when you come in the game, Dotel said. You just cant come in way too high. I understand that now, and I didnt understand that (as a rookie). But I have the ability to tell him that. You come into a game in the ninth with (Justin) Verlander giving you a 1-0 lead, you have to have a strong inning. You have got to do your job and get three outs. You have to control the adrenaline. "And you know what the good thing is about him? The main thing is that he listens. Dotel paused and stuck out his chest while adding, He dont act like hes the man. Swagger is a good thing. Being pompous is not. That's something a young player can have reinforced by veteran like Dotel. I will spend more time this year with the young guys, Dotel said. Every young guy on the team, I want to be ready and understand we are here to win. "There is not a thing we have to improve, but there is something we have to prove. That's winning a World Series -- something Dotel did with the 2011 St. Louis Cardinals. The Tigers signed him for two years at 6.5 million before last season, and he was 5-3 with a 3.57 ERA in 57 games. Dotel set the major-league record last year by playing for his 13th team. He's 59-50 with a 3.73 ERA in 752 games and has pitched very well in most of his 26 postseason games. The good news for him is that theres always been a team offering him a job, but the bad news has been the regular moving. I dont want to be traded at the trade deadline this year, Dotel said. I want to play here. People dont realize how hard it is to move during a season. You have to move your family, get to know a new town and new teammates. He laughed when it was suggested that he's become good at it, just the same. Yeah, I have," Dotel said. Adjusting on the mound and off it has allowed Dotel to prosper for 13 seasons -- while learning how to be the glue.
Original Story:
http://www.foxsportsdetroit.com/02/16...
THE BACKYARD
BEST OF MAXIM
RELATED ARTICLES
The Detroit Tigers are excited and curious to see what rookie right-hander Bruce Rondon from Venezuela can do on the mound. The defending American League champions are giving Rondon a chance to be the teams opening day closer, but
There is no shortage of big names on the Detroit Tigers. Prince Fielder, Miguel Cabrera and Justin Verlander may grab the headlines on one of the most polarizing teams in the league, but what about the other guys? The other guys whose names do not litter the media; the players with the not so glamorous roles of base stealing, sac bunting, and quick footed pinch runners, like Quintin...
LAKELAND, Fla. -- If Miguel Cabrera is feeling any pressure about having to repeat as the American Leagues MVP and Triple Crown winner, he isnt showing it. Cabrera exchanged handshakes and even some hugs with reporters before inviting them to his locker for conversation Friday morning. Cabrera seems to get more comfortable with the media with each passing year, and hes having...
LAKELAND, Fla. Jeff Kobernus could very well be the most interesting position player to keep tabs on when Grapefruit League games begin Friday for the Tigers. The Tigers obtained Kobernus a speedy infielder who is reacquainting himself with the outfield in a trade with the Boston Red Sox, who made him a Rule 5 draft selection out of the Washington Nationals organization in December...
LAKELAND, Fla. When you follow a trip to the World Series in 2012 by adding Torii Hunter and getting Victor Martinez back for 2013, you remain the team to beat. Those expectations were something Tigers manager Jim Leyland felt worthy of addressing Friday, when he met with his players to discuss training camp, rules and a little philosophy. I love being a target, Leyland told reporters...
 It used to be the hamstring that sidelined player after player.  In the 2010's there are two injuries "du decade"  that no team can seem to avoid...the Tommy John surgery spurring elbow ligament tear, and the ultra chic oblique strain.  The Tigers Brennan Boesch is the pool winner for first oblique problem of spring 2013. Boesch, heading into his fourth...
LAKELAND, Fla. -- Bruce Rondons first batting-practice pitching of spring training was Sundays main event. Tigers general manager Dave Dombrowski, manager Jim Leyland and Hall of Famer Al Kaline all made sure to watch. On the adjoining field, American League MVP Miguel Cabrera sat on a bench and watched through two separate fences. Someone on the field where Cabrera was asked...
The Detroit Tigers won the American League Central last season by 3 games over the White Sox and despite finishing with the fewest wins of any AL playoff team, the Tigers were able to win the pennant and advance all the way to the World Series before being swept by the Giants. Coming into the 2013 season the Tigers are once again the team to beat in the AL Central. ...
LAKELAND, Fla. Pitchers threw live batting practice to hitters on Saturday for the first time in training camp. It was a chance for batters to begin tracking balls and getting their timing down for Fridays Grapefruit League opener with the Atlanta Braves in Lake Buena Vista. It was also an opportunity for pitchers to throw to something other than a catchers mitt. One pitcher, Jose...
One big key to upgrading the Tigers' offense after the up-and-down 2012 season is expected to come at designated hitter, where the Tigers let Delmon Young walk and will replace him with 2011 DH Victor Martinez. The big question becomes; how will Martinez's surgically-repaired knee hold up?
The biggest question mark on the club heading into the offseason was what the Tigers would do in right field, after it was such a drag on the team, both at the plate and in the field. The Tigers addressed that in a big way, by signing free agent outfielder Torii Hunter.
In the first edition of The Hot Corner with John Czech, Felix Hernandez is now the games highest paid pitcher. With free agency just around the corner for Justin Verlander, how will Hernandez's new contract affect the Tigers' ace when he becomes a free agent?
MLB News

Delivered to your inbox

You'll also receive Yardbarker's daily Top 10, featuring the best sports stories from around the web. Customize your newsletter to get articles on your favorite sports and teams. And the best part? It's free!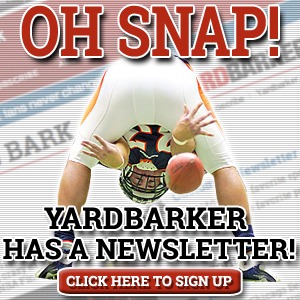 Latest Rumors
The Backyard

Today's Best Stuff

For Bloggers

Join the Yardbarker Network for more promotion, traffic, and money.

Company Info

Help

What is Yardbarker?

Yardbarker is the largest network of sports blogs and pro athlete blogs on the web. This site is the hub of the Yardbarker Network, where our editors and algorithms curate the best sports content from our network and beyond.