Found April 14, 2013 on Fox Sports:
PLAYERS:
Barry Zito
,
Ryan Dempster
,
Derek Holland
,
Doug Fister
,
Jordan Zimmermann
,
Cliff Lee
,
Brandon McCarthy
,
Mark Buehrle
,
Jake Arrieta
,
Felix Doubront
,
Juan Nicasio
,
Jeff Francis
,
Erik Bedard
,
Jeremy Guthrie
,
Wade LeBlanc
,
Kevin Correia
,
Mike Pelfrey
,
Jonathan Sanchez
,
Eric Stults
,
Aaron Harang
,
Roberto Hernandez
,
Dillon Gee
,
Kyle Kendrick
,
Homer Bailey
,
Travis Wood
,
Joe Blanton
,
Gavin Floyd
,
Dylan Axelrod
,
Bronson Arroyo
,
Ubaldo Jimenez
,
Chad Billingsley
,
Wily Peralta
,
Jake Westbrook
,
Jeremy Hellickson
,
Josh Johnson
TEAMS:
San Francisco Giants
,
Boston Red Sox
,
Tampa Bay Rays
,
Texas Rangers
,
Detroit Tigers
,
Washington Nationals
,
Philadelphia Phillies
,
Arizona Diamondbacks
,
Toronto Blue Jays
,
Chicago White Sox
,
Baltimore Orioles
,
Colorado Rockies
,
Houston Astros
,
Kansas City Royals
,
Miami Marlins
,
Minnesota Twins
,
San Diego Padres
,
Seattle Mariners
,
New York Mets
,
Cincinnati Reds
,
Chicago Cubs
,
Los Angeles Angels
,
Cleveland Indians
,
Los Angeles Dodgers
,
Milwaukee Brewers
,
St. Louis Cardinals
Start 'Em Barry Zito (@MIL, SD) Is that...it is! It's BARRY ZITO'S MUSIC! WHAT'S HE DOIN' HERE?!?!?! Zito's 14 scoreless innings may seem like a blast from the past, yet the left-hander posted a 3.03 ERA last September and was stellar in his final two playoff starts in the Giants' playoff run (13 1/3 innings, one earned run, nine strikeouts). One of the spurs for this revitalization has been Zito's ability to curtail his walk rate over this period, and a drop in homers hasn't hurt his cause either. Don't expect the prosperity to end this week, as Zito faces two of the weaker lineups in the Brewers and Padres. Ryan Dempster (TB, KC) Dempster's ill-advised foray in Texas last year (5.09 ERA, 1.44 WHIP in 12 starts) instilled a lack of confidence amongst owners that the 35-year-old could hold his own on the Junior Circuit. While he hasn't gone deep in his two outings, he's been respectable, surrendering four earned runs. Moreover, he's logged 15 punch-outs in just 10 innings. The Boston bats will deliver more than ample run support, meaning Dempster just has to be adequate to record his share of wins. The Rays have struggled crossing the plate in the early going, scoring the fewest runs in the American League, giving Dempster a platform to start his week on the right foot. Derek Holland (@CHC, SEA) For a guy with a 1.22 WHIP, Holland's 4.67 ERA in 2012 was astronomical. The inflated number was due to yielding 1.64 homers per nine innings, third-highest in the majors. So far in 2013, Holland's been able to tame that beast, giving up a lone long ball through 15 innings of work. Keeping up such feats will be tough to continue in the confines of Rangers Ballpark, though the feeble offenses of Chicago and Seattle will facilitate strong figures for at least another week. Owned in just 33.8 percent of leagues, Holland is a good buy-low option for his upcoming matchups. Kris Medlan (KC, @PIT) Doug Fister (@SEA, @LAA) Jordan Zimmermann (@MIA, @NYM) Tommy Milone (HOU, @TB) Cliff Lee (@CIN, STL) Lance Lynn (@PIT, @PHI) Sit 'Em Brandon McCarthy (@NYY, @COL) I'm still a believer in a bounce-back campaign from McCarthy, but the initial returns have not been pretty, allowing 12 runs (10 earned) in two starts. Posting a 2.88 ERA in Oakland versus a 3.66 ERA on the road in 2012, McCarthy's new digs could be a factor in the drop-off, as Chase Field has not been a friend to those on the mound. Don't give up on McCarthy just yet, as he has the aptitude of a top-30 arm. Alas, he belongs on the bench until he proves he's back to form. Mark Buehrle (CHW, NYY) Buehrle's durability (200-plus innings in 12 consecutive seasons), combined with the Blue Jays' overhauled offense, fashioned the Gold Glover as a sneaky fantasy pick to augment the win column. This has not been the case, as Buehrle has been smacked around to the tune of 11 earned runs in 9 2/3 innings. Meetings with the White Sox and Yankees won't alleviate these woes. Even in AL-only formats, Buehrle's performance hasn't warranted starter status. Jake Arrieta (TB, LAD) Felix Doubront (@CLE, KC) Juan Nicasio (NYM, ARI) Jeff Francis (NYM, ARI) Erik Bedard (@OAK, CLE) Jeremy Guthrie (@ATL, @BOS) Wade LeBlanc (WAS, @CIN) Alex Sanabia (WAS, @CIN) Kevin Correia (LAA, @CHW) Mike Pelfrey (LAA, @CHW) Jonathan Sanchez (STL, ATL) Eric Stults (@LAD, @SF) Aaron Harang (DET, @TEX) Roberto Hernandez (@BOS, @BAL) Dillon Gee (@COL, WAS) Kyle Kendrick (@CIN, STL) Use Caution Homer Bailey (PHI, MIA) After a laudable ending to last fall (1.85 ERA, .210 OBP in his final seven starts), 2013 was viewed as the summer for Bailey to fulfill his first-round potential. Though his first start, six shutout innings against the Nationals, fit this billing, his last excursion was a shellacking (seven runs in five innings). I'm on the Bailey bandwagon, and a date with the Marlins will assist in this endeavor. However, don't be surprised if the Reds right-hander labors against a frail-but-formidable Phillies squad. Travis Wood (TEX, @MIL) Wood is becoming a popular pick-up on the waiver wire with two quality starts for the Cubbies. Wood's only 26, has shown flashes of brilliance in the past and owns three quality pitches in his repertoire. Conversely, Chicago's defense is one of the shakier units in the National League, and the lack of offensive explosiveness (their .279 OBP is ranked 27th in baseball) will impede Wood's shots at racking up victories. In deeper leagues or NL-only formats, Wood is worth the look, yet I would shy away from most mixed leagues at this juncture. James McDonald (STL, ATL) The discrepancy between McDonald's first half (2.37 ERA) and second-half (7.52 ERA) correlated to the Pittsburgh hurler going undrafted in the majority of leagues. In reality, McDonald's troubles sprung from his adventures on the road, evidenced by a 2.73 ERA at PNC Park versus a 5.95 ERA away from the Steel City last season. With two starts at home this week, McDonald is an intriguing play in deeper leagues. However, with the Cardinals and the Braves, two of the hottest hitting clubs in baseball, coming into town, McDonald could be in for a beatdown. McDonald's fireworks are probably not worth the light. Joe Blanton (@MIN, DET) Gavin Floyd (@TOR, MIN) Dylan Axelrod (@TOR, MIN) Bronson Arroyo (PHI, MIA) Ubaldo Jimenez (BOS, @HOU) Chad Billingsley (SD, @BAL) Wily Peralta (SF, CHC) Jake Westbrook (@PIT, @PHI) Jeremy Hellickson (@BOS, @BAL) Josh Johnson (CHW, NYY)
Original Story:
http://msn.foxsports.com/fantasy/base...
THE BACKYARD
BEST OF MAXIM
RELATED ARTICLES
It's been a while since I've heard the name "Barry" being echoed throughout AT&T Park, but with the recent success of longtime Giant scapegoat Barry Zito, it's the least the fans can do. Zito is the Giants' best pitcher right now. He has yet to surrender a run – an accomplishment even Sergio Romo was unable to hold. Looking back at the first day Zito became a...
Barry Zito has picked up right where he left off from last season, and so have the San Francisco Giants. The World Series champions continue their road trip with a short trek north to Miller Park, where they open a three-game series Tuesday night against the Milwaukee Brewers. Often maligned for underperforming after signing his seven-year, 126 million contract in 2007, Zito (2...
Let me introduce another new writer (his bio is coming soon) Nathan Mendolowitz. He's a Giants fan but can root for the A's on occasion. He will be doing installments of "Hot or Not" of Nor Cal baseball and much more. Sorry ladies, he doesn't rate them on levels of attractiveness. by Nathan Mendolowitz Barry Zito – Hot Who would have thought Barry Zito would be the shining...
Or have I just gone plain insane? Fearing the impending Joey Votto 2012 injury to sink my team, I perhaps overcompensated a tad bit this year regarding my everyday players. By doing that, I neglected my starting pitching. Ok. I only have five starting pitchers and three of them go on the same day. This is not the wisest move you can make when playing head-to-head. So, it was time...
Barry Zito has picked up right where he left off from last season, and so have the San Francisco Giants. The World Series champions continue their road trip with a short trek north to Miller Park, where they open a three-game series Tuesday night against the Milwaukee Brewers. Often maligned for underperforming after signing his seven-year, $126 million contract in 2007, Zito ...
Monday the San Francisco Giants activated first baseman Brett Pill from the 15-day disabled list and then immediately optioned him to Triple-A Fresno. The post San Francisco Giants Activate And Option Brett Pill To Minors appeared first on Fantasy Sports Player Rankings - Baseball and Football - FFLockerRoom.com.
Maybe I don't watch National Geographic enough, but I don't think I've ever seen a Panda Bear jump let alone jump a fence. Saturday when the San Francisco Giants were playing the Chicago Cubs in Wrigley the fans got to see one when Pablo Sandoval went over the wall to make a catch. Your browser does not support iframes.
Madison Bumgarner allowed two runs while pitching neatly into the seventh inning, Marco Scutaro had three hits and the San Francisco Giants held off the Chicago Cubs 3-2 on Saturday. Pinch-hitter Dioner Navarro hit a two-out, two-run homer off Bumgarner in the seventh to pull the Cubs to 3-2. It was Navarro's second career pinch home run in two days, each hit from a different...
The 2013 season opening schedule for the World Champion San Francisco Giants looked like the it was put together as part of a blind tasting of Walmart brand vodkas. That might explain why the winners of the 2012 World Series, a) opened on the road in Los Angeles (I suppose because Modesto doesn't have an MLB team); b) were almost immediately sent on another road trip, this...
North Texas Fisticuffs' Hector Sanchez talks with young prospect DeAnthony Bonner.
MLB News

Delivered to your inbox

You'll also receive Yardbarker's daily Top 10, featuring the best sports stories from around the web. Customize your newsletter to get articles on your favorite sports and teams. And the best part? It's free!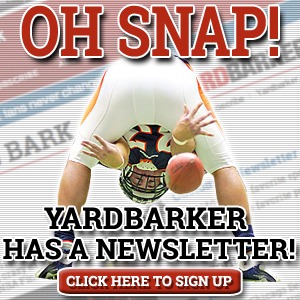 Latest Rumors
The Backyard

Today's Best Stuff

For Bloggers

Join the Yardbarker Network for more promotion, traffic, and money.

Company Info

Help

What is Yardbarker?

Yardbarker is the largest network of sports blogs and pro athlete blogs on the web. This site is the hub of the Yardbarker Network, where our editors and algorithms curate the best sports content from our network and beyond.