Found November 20, 2012 on ChadMoriyama.com:
PLAYERS:
Yasiel Puig
,
Gorman Erickson
,
Joc Pederson
,
Rafael Ynoa
,
George Springer
,
Eric Eadington
,
Chris Reed
,
Paco Rodriguez
,
Brian Cavazos-Galvez
,
Tim Federowicz
,
Alex Castellanos
,
Luis Nunez
,
Scott Van Slyke
TEAMS:
Los Angeles Dodgers
The Arizona Fall League wrapped up this week with the Mesa Solar Sox — the team with eight Dodger prospects — finishing in last place with a 10-20 record. Now, it wasn't all the Dodger prospects fault, but there were some, shall we say, not-so-great performances from some of the fellas. I'm going to keep my eye on the Puerto Rican Winter League now, as Yasiel Puig made his debut there on Saturday night. It'll be nice to see him get some playing time after being forced to miss the AFL with a staph infection. —– Arizona Fall League Gorman Erickson – C 14 G, .268/.400/.341/.741, 3 2B, 9 BB Erickson played better in two weeks worth of games in the AFL than he did at Chattanooga this season. But despite playing better, his power was still absent. While the big switch-hitting catcher looks like a power hitter, he's anything but. His on-base percentage trumped his slugging percentage, which better suits a leadoff hitter. Still, a .400 OBP is nice. Joc Pederson – OF 15 G, .096/.161/.154/.315, 1 HR, 6 RBI, 3 SB Atrocious. There is no better word to describe Pederson's AFL experience. While 15 games is hardly anything to be concerned about, an .096 average will get negative attention. Despite the poor performance, Pederson is still a top five prospect in the organization. Rafael Ynoa – 2B/SS 27 G, .330/.374/.515/.889, 10 XBH, 7 SB Ynoa was the Dodgers' offensive standout in Mesa this season. He led the club in batting average, RBI (20), hits (32) and triples (four). He was second in stolen bases and slugging percentage (to George Springer, .600). Ynoa is eligible for the Rule 5 Draft, and after a strong AFL campaign, a team could take a chance on him. Then again, he is 25 and has utility player upside (at best). With the 40-man roster pretty full, I'd expect him to be unprotected. Eric Eadington – LHP 12.1 IP, 5.11 ERA, 1.86 WHIP, 10.9 K/9 Eadington finished his AFL season on a strong note. Despite a high ERA and WHIP, his K/9 was impressive. His 15 strikeouts were tied for third-best on the club, and as a lefty who can touch 95 MPH on the gun, he potentially has a future in a big league pen. Onelki Garcia – LHP 4 IP, 2.25 ERA, 1.50 WHIP, 4.5 K/9 Garcia finally made his AFL debut. He threw just four innings and has a total of four professional appearances under his belt. Still, I like his potential as a starter. He needs to establish a third pitch to remain a starter going forward though. Red Patterson – RHP 11.2 IP. 5.40 ERA, 1.97 WHIP, 3.1 K/9 Patterson, who had a 9.1 K/9 with the Lookouts this season, managed just a 3.1 strikeout rate in the AFL. That might have been the most disappointing part of his season. The 25-year-old is a favorite of mine, but he doesn't profile as much more than a middle reliever. Chris Reed – LHP 10 IP, 7.20 ERA, 2.40 WHIP, 8.4 K/9 Reed pitched exclusively as a reliever in the AFL and he didn't pitch that well. He was a late addition to replace Paco Rodriguez, so that has to be taken into consideration. I've never been as high on him as most, so maybe I shouldn't be surprised by his performance. Andres Santiago – RHP 19.2 IP, 6.86 ERA, 1.83 WHIP, 8.2 K/9 Santiago relieved Garcia in his final two outings, but made four starts for Mesa. He was up and down, but I like his potential. A full season at Double-A in 2013 will show whether he has a future as a starter or reliever. —– Dominican Winter League Brian Cavazos-Galvez is 3-for-17 (.176). Looks like his Southern League numbers. Tim Federowicz is 6-for-36 (.189) with a 1/17 BB/K rate. Ouch, again. Dee Gordon is 28-for-88 (.318) with six triples in his 23 DWL games. He's improved his walk rate since the last update (seven in 88 ABs). Luis Vazquez has walked seven batters in 7.2 innings. He's also struck out seven. —– Venezuelan Winter League Alex Castellanos is 26-for-82 (.317) with four home runs and 18 RBI. Luis Nunez is 26-for-111 (.234) with a home run, six doubles, and 12 runs scored. Scott Van Slyke is 21-for-91 (.231) with seven home runs and 14 RBI. —– Mexican Winter League J.T. Wise has not played since the last update. —– Puerto Rican Winter League Freddie Cabrera has struck out three, walked two and given up seven hits and two runs in six innings. Jarret Martin has appeared in two games so far. In 1 2/3 innings, he's given up three runs and three walks. He's also struck out three. Yasiel Puig made his winter debut on Saturday night by going 2-for-5 with a home run, a stolen base, and two strikeouts. He went 0-for-3 in his second game. ===== Dustin Nosler is the founder of the site Feelin' Kinda Blue. He also co-hosts the weekly podcast Dugout Blues. Follow him on Twitter @FeelinKindaBlue or like his site on Facebook.
Original Story:
http://feedproxy.google.com/~r/ChadMo...
THE BACKYARD
BEST OF MAXIM
RELATED ARTICLES
The Dodgers should have a strong infield heading into 2013, and I'm basing that solely on the fact the Dodgers have two potentially elite offensive talents at shortstop and third base. This season, they acquired those guys later, so their impact wasn't felt as much. The team also has found its starting catcher for the next couple of years (at least) and should be in the...
When you think about bad contracts the Dodgers have made, you seem to pin point Juan Uribe. The Dodgers will have paid him by the end of his contract $21 million dollars. He is one of the most expensive bench players around the league. Honestly this guy is out of his golden days, and really was not worth $21 million, nor half of that. Let's just hope the Ned doesn't make another...
Left field has been, is, and will in all likelihood continue to be, a vast wasteland for the Dodgers. That is, unless Carl Crawford returns to his Tampa Bay form in 2013 or the Yasiel Puig era — whenever that actually begins — proves to be worth the wait. But we're getting ahead of ourselves. Let's review 2012, which was a comedy of mediocrity flanking Matt Kemp's right...
By SBRForum.com While many have been talking about how barren the Los Angeles Dodgers' pitching staff looked near the end of the season, the team had not made any major moves towards getting a fresh face for the lineup.  That is, until this past week when they secured the rights to negotiated with one Ryu Hyun-jin.  By securing Hyun-jin, the Dodgers could solidify themselves...
In an unsurprising move, the Dodgers today added right-handed pitchers Matt Magill and Steve Ames to their 40-man roster, thus protecting them from December's Rule 5 Draft. Both were members of the Chattanooga Lookouts this season and both performed well. I named Magill my Dodgers' Minor League Pitcher of the Year in September after he was the Lookouts' best starting...
Right-handed pitchers Steven Ames and Matt Magill were promoted to the Dodgers 40-man roster, making them ineligible to be selected by other teams in the Rule 5 draft next month. The Dodgers now have 38 players on their 40-man roster. Ames, a 24-year-old reliever, saved 18 games and posted a 1.54 earned-run average for double-A Chattanooga this year. He struck out 72 batters in...
Matt Kemp After an amazingly elite 2011 that saw him finish second in MVP voting — even though he was the best player in the National League last year — Matt Kemp had to spend far too much of 2012 as you see him above. Kemp's season is really quite easy to break down: when healthy, he was elite, but unfortunately, he was injured often. Kemp, through the first month of the season...
In less than three months, players will be telling us how theyre all in the best shape of their lives and think this will be the season they can win the World Series. Like in any other year. Pitchers and catchers are scheduled to report to the Dodgers spring training camp in Phoenix on Feb. 12, the team announced on Monday. The first full-squad workout will be Feb. 16. Workouts...
The Dodgers met Monday with Korean left-hander Ryu Hyun-Jin and his agent, Scott Boras. There is no love lost between Boras and the Dodgers. As a matter of fact there is a lot of bitterness towards Boras among a lot of Dodgers executives. The Dodgers have been very reluctant to work with Boras over the last couple of years, perhaps with the new owners around, the Dodgers are could...
News Corp, the behemoth company that owns Fox and formerly owned the Los Angeles Dodgers, has purchased 49% of the YES Network, which exclusively airs New York Yankee games in the New York area media market. This is flying under the radar, but it's a pretty big deal. With News Corp now as the majority owner in YES, purchasing shares from Yankees Global Enterprises, Goldman...
Dodgers News

Delivered to your inbox

You'll also receive Yardbarker's daily Top 10, featuring the best sports stories from around the web. Customize your newsletter to get articles on your favorite sports and teams. And the best part? It's free!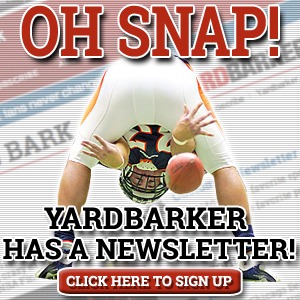 Latest Rumors
Best of Yardbarker

Today's Best Stuff

For Bloggers

Join the Yardbarker Network for more promotion, traffic, and money.

Company Info

Help

What is Yardbarker?

Yardbarker is the largest network of sports blogs and pro athlete blogs on the web. This site is the hub of the Yardbarker Network, where our editors and algorithms curate the best sports content from our network and beyond.