Found March 13, 2012 on Fox Sports North:
FORT MYERS, Fla. Brian Dozier is a pretty good baseball player, but he's also a pretty good golfer. Dozier, the Minnesota Twins' 24-year-old shortstop prospect, was a four-sport athlete at Itawamba Agricultural High School in Fulton, Miss. He was the quarterback of the football team and the point guard on the Indians basketball team, as well as a shortstop. But he always had one true passion. "Golf is probably my favorite sport to play, to be honest with you," Dozier said. "Well, baseball, of course. But golf, man, I love golf." Dozier grew up on a golf course in his native Mississippi and is a big fan of PGA golfer Bubba Watson. Yet for as avid a golfer as he is, Dozier claims he can't remember his lowest-ever round. He does admit, though, that he shoots even par at his home course, Fulton Country Club. "Don't let (Trevor) Plouffe say this," Dozier says, looking around the clubhouse for his close friend and Twins outfielder. "If I play in the offseason and stuff, pretty much every day or every day in the offseason, I can get down to shooting in the mid-70s, I guess. Sometimes I get lower than that or higher than that." Plouffe picked up golf last spring training and has only played with Dozier once this spring. Dozier said he hits the links nearly every other day in Florida during spring training and has a little wager going with Plouffe the next time they golf together. "He said he'd spot me 10 strokes, which I think is pretty aggressive on his part," Plouffe said. "He's athletic. He's good at all the sports he tries. I'm sure that he's pretty good." The Twins are sure that Dozier is a pretty good baseball player, too. He was named the organization's Minor League Player of the Year last season after he split time between High-A Fort Myers and Double-A New Britain. In 78 games at the Double-A level, Dozier batted .318 and slugged .502 while hitting seven homers and driving in 34 runs for the Rock Cats. Dozier is now in his second spring training with the Twins, and he has an opportunity to audition for a spot on Minnesota's 25-man roster. The Twins signed veteran infielder Jamey Carroll in the offseason with the intent of playing him as their every-day shortstop. Tsuyoshi Nishioka, signed from Japan last season, struggled at shortstop a year ago in his first season in the majors. And Plouffe, who saw time with Minnesota at shortstop last year, has been converted to an outfielder. The door is seemingly wide open for Dozier to earn a spot, but the young shortstop views this spring as part of the learning process. He's not taking anything for granted. So far this spring, he's worked closely with Carroll, absorbing any information the 38-year-old veteran can offer. "It seems like he has the mindset to play this game for a long time," Carroll said. "Watching him and seeing him, he's very willing to learn. You can appreciate that in a kid who has success the way he has and yet is still willing to learn to do what it takes. He's going to be a good player." There's a 14-year difference in age between Dozier and Carroll. Dozier has yet to play at a level higher than Double-A, so he doesn't yet know how fast the game can move at the major league level. That's something Carroll has been working with Dozier on slowing things down, both at the plate and in the field. "I think that's the biggest thing that he's been trying to teach me, but at the same time just doing (it) so I can kind of feed off him," Dozier said of Carroll. "He slows everything down when it comes to ground balls, hitting, anything, especially in practice. He slows the game down, makes sure he catches the ball, makes sure he does the little things right." Dozier has done most of the little things right so far this spring. In Monday's game against Tampa Bay, he went 2-for-4 with a walk and played 10 innings at shortstop in Minnesota's 2-1 extra-innings win. Dozier's first hit of the game was a triple off Rays starter James Shields. The deep drive to left appeared to clear the wall in right but was ruled a triple. If it were a regular-season game, Twins manager Ron Gardenhire would have likely gone out to argue the call. Instead, Minnesota's skipper remained in the dugout. "I told them I wanted a replay, and they said they didn't have one of those either," Gardenhire joked. Gardenhire has seen what Dozier is capable of. He wanted Dozier up with the big league club a season ago, but Dozier never got the call to the majors. If the young shortstop continues to improve, Gardenhire could soon get his wish. "I just want him to play, get out there and play," Gardenhire said. "He's slowed his game down a lot, and that's what you have to do." Yet Dozier knows nothing is guaranteed in this game, and that's the way he's been going about his business this spring. "Obviously, in all (reality), I'm not going to make the team out of spring training. But at the same time, just continue to work hard," Dozier said. "If it's Double-A or Triple-A, which I haven't been told yet I'm assuming Triple-A either one in our organization is pretty good. So I'm just looking forward to it and continuing to get better." Follow Tyler Mason on Twitter.
Original Story:
http://www.foxsportsnorth.com/03/13/1...
THE BACKYARD
BEST OF MAXIM
RELATED ARTICLES
CLEARWATER, Fla. Justin Morneau is struggling at the plate, but the Twins first baseman isn't concerned about his offense just yet. After a 0-for-5 performance Wednesday against Philadelphia, Morneau is batting .136 (3-for-22) with five strikeouts this spring. Morneau missed a good portion of the last two seasons after a concussion in 2010 and multiple ailments in 2011. He...
FORT MYERS, Fla. Twins left-hander Francisco Liriano cruised through his first two starts of the spring, throwing a total of five scoreless innings. Through two more scoreless innings Tuesday against Toronto, he seemed to be continuing that trend in start No. 3. But the wheels fell off for Liriano in the third inning as he allowed four runs on four Blue Jays hits, including back...
FORT MYERS, Fla. Chartered flights. Five-star hotels. Tens of thousands of fans in state-of-the-art ballparks. Yes, things are a bit nicer in the major leagues. For several Twins minor leaguers, last season was their first taste of the bigs. Numerous injuries and 99 losses meant several young players had an opportunity to show their stuff with Minnesota late in the 2011 season...
PORT CHARLOTTE, Fla. Twins outfielder Denard Span is confident that the stiffness in his neck is unrelated to the concussion symptoms or vestibular neuritis he's dealt with over the past few years. Span said he's "optimistic" about the recent injury, and said Monday that he hopes to be back on the field within the next few days. "It feels a lot better than...
Two minor league pitchers in the Minnesota Twins organization have been suspended 50 games each under baseball's minor league drug program. Major League Baseball announced Tuesday that Yeison Florentino and Ezequiel Zarzuela each tested positive. They both play on the Twins' team in the Dominican Summer League. Florentino tested positive for metabolites of Nandrolone and...
A couple of home runs given up by Roy Halladay hurt the Phils as they lose to the Twins, 6-4. The Twins took the lead in the first as, with two men out, Josh Willingham hits a solo home run, his first home run of the spring, giving the Twins a 1-0 lead. The Phils tied the game up at one-all in the second as, with two men on, and with one man out, Carlos Ruiz hits an RBI infield single...
NEW YORK (AP) -- Two minor league pitchers in the Minnesota Twins' organization have been suspended 50 games each under baseball's minor league drug program. Major League Baseball announced Tuesday that Yeison Florentino and Ezequiel Zarzuela each tested positive. They both play on the Twins' team in the Dominican Summer League team. The suspensions are effective at...
If these guys are around in the mid to later rounds make sure to invest them. 9) Ben Revere (OF, Minnesota Twins) As a late pick I REALLY like Revere. Last year in 117 games he stole 34 bags; this season he should easily steal 40+. We know Revere lacks power, but other than that he doesn't hurt you fantasy wise. Although he only hit .267, in September Revere turned it on with...
Francisco Liriano's fast spring start slowed Tuesday when the Toronto Blue Jays scored four runs off him in the third inning and beat the Minnesota Twins 8-2. The streaky lefty, who pitched a no-hitter last year while going 9-10, struck out five. But Toronto's Travis Snyder and Travis d'Arnaud hit consecutive two-run doubles off the right-field fence against Liriano...
MLB News

Delivered to your inbox

You'll also receive Yardbarker's daily Top 10, featuring the best sports stories from around the web. Customize your newsletter to get articles on your favorite sports and teams. And the best part? It's free!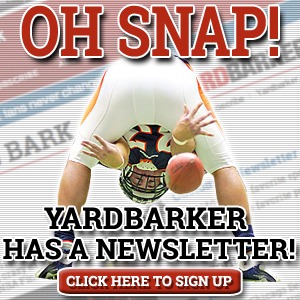 Latest Rumors
The Backyard

Today's Best Stuff

For Bloggers

Join the Yardbarker Network for more promotion, traffic, and money.

Company Info

Help

What is Yardbarker?

Yardbarker is the largest network of sports blogs and pro athlete blogs on the web. This site is the hub of the Yardbarker Network, where our editors and algorithms curate the best sports content from our network and beyond.