Found March 14, 2013 on Pirates Prospects:
The fifth weekend of the college season is about to get under way. The Pirates have the #9 and #14 picks in the upcoming June amateur draft. Throughout the college/HS season, leading up to the draft, we will cover the interesting players that are being discussed in the Pirates draft range. There will also be daily notes on past picks by the Pirates who went unsigned. For a recap of the fourth week, check out our article posted here. Our preview of the draft can be read here.  Stanford: No games Stanford has off this week. Their next game takes place on March 22nd against Utah at home. Mark Appel, the Pirates first round pick from last year looks to be the best among all draft-eligible college players this year. After struggling in his opening start, Appel bounced back with a strong performance his second time out, allowing one run in a complete game victory, with 11 strikeouts. His third start was even better, a complete game shutout with 14 strikeouts against a ranked team. Last Friday he took a tough luck loss, but still struck out 15 batters. While Appel isn't expected to fall to the Pirates again, the Cardinal do have another interesting prospect. Outfielder Austin Wilson has the potential to be a big bat in right field. He has also had some injury problems as of late. He missed time last year with an oblique strain and this season he left his first game with a muscle strain just below his elbow and hasn't played since. He could return for Stanford's next game if all goes well. North Carolina VS Miami Third baseman Colin Moran leads the 1st ranked Tar Heels(16-0) into action this weekend as they play at home against Miami. Moran was ranked fourth overall by Baseball America among all draft-eligible college players. He's a strong left-handed bat, that could be available when the Pirates pick in the #9 spot. Through 16 games, he is hitting .344, with three homers and 22 RBI's. He has drawn 18 walks and has only struck out four times all year. On Tuesday, he went 1-for-5 against Gardner-Webb, with two runs scored. Moran hit his third homer of the season on Wednesday against High Point. North Carolina also has Kent Emanuel, the 19th round pick of the Pirates in the 2010 draft. He has a 3-0, 0.56 record in four starts, with two shutouts. Emanuel has struck out 25 batters in 32 innings and has held hitters to a .193 batting average. North Carolina also has a home game on Tuesday against Princeton. This weekend's opponent(Miami) has Dale Carey, who was drafted in the 21st round by the Pirates in 2010. He is hitting .192 in 18 games, with one homer and four RBI's. San Diego VS BYU Another third baseman to watch is Kris Bryant from San Diego. At 6'5″, 215 he is a little bigger than Moran, and Bryant is a right-handed hitter. Besides the hot corner, he has also played some outfield and first base. Bryant has gone on a home run streak as of late, running his season total up to eight, after homering in five straight games from March 3-9. He is hitting .379 through 17 games, with a 1.453 OPS and 27 runs scored. San Diego has three games this weekend at home against BYU. San Diego also has starting pitcher Dylan Covey, a first round pick of the Brewers in 2010. His stock has dropped a little, though he is still in the 2nd round range right now. On the year, he is 1-1, 3.15 in four starts and a relief appearance. He pitched pitched 20 innings this year, allowing 25 hits, 12 walks and he has struck out 19 batters. Florida VS Kentucky Pitcher Jonathon Crawford will lead the Gators as they play three games this weekend against Kentucky. The Wildcats are 14-2 this year and have a .307 team average, so it will not be an easy task. Crawford has made four starts this year and had some troubles. He is 0-2, 4.22 in 21.1 innings, with 17 strikeouts. He threw 5.1 no-hit innings during his second start, but since then, he has allowed 17 hits and four walks in 12.1 innings. Crawford had some velocity questions prior to his last start, when it was said that he sat mid-90′s, where he normally throws. His stock has seemed to drop due to poor mechanics and recent struggles, plus the early reports of lower velocity didn't help. Other Players To Watch Sean Manaea, a LHP from Indiana State, and Ryne Stanek, a RHP from Arkansas, are rated just below Mark Appel among college players and neither was expected to be around when the Pirates pick. Things have changed recently for one of the two pitchers. Indiana State plays Friday afternoon against Southern Illinois, who are 9-7 on the year, with a .284 team average and just three homers. Indiana State had four games in a row canceled due to the weather and prior to his last start on Saturday, Manaea hadn't pitched since Feb 22nd. On the year, he has allowed three run over 16 innings, recording 24 strikeouts. Arkansas(ranked 15th) plays three games against 8th ranked Ole Miss beginning tomorrow. Stanek has not been sharp this year, leading to early exits in three of his starts. His 3.71 ERA is the second worst on his team. Baseball Prospect Report posted a video of Stanek as a freshman and broke down his delivery. The report, which can be read here, wasn't good. For comparison sake, here is a video from Stanek's start two weeks ago. Through three starts, he has pitched a total of just 17 innings, allowing four earned runs on 16 hits and ten walks, while striking out 16 hitters. On the other side of the coin, are players that are rated just below the Pirates range, but could move up into consideration. They include Bobby Wahl, a RHP from Ole Miss, who is scheduled to face off against Stanek tomorrow night in a marquee match-up of college pitchers.. Wahl impressed scouts during his first game, throwing 6.1 scoreless innings and reaching 95 MPH on the radar gun. His second start wasn't as good due to poor control. He walked six and hit a batter, though he limited the damage by allowing one run in five innings. His stock dropped a little more in his last start, allowing four runs and 12 base runners over 5.1 innings against Florida International. There was word that he had issues with a finger on his throwing hand and that they had gone away prior to his start a week ago. Last Friday, Wahl threw six shutout innings, allowing no walks and three hits. His velocity was consistently 93-94 MPH. Phillip Ervin, an outfielder from Samford, will play three games this weekend against Georgia Southern at home and then one game on Tuesday against the University of Alabama. This Tuesday against Jacksonville State, he went 3-for-4, with three singles, a HBP and his first stolen base.  Through 18 games, he is hitting .387, with seven homers, 18 RBI's and a 1.323 OPS. D.J. Peterson from New Mexico plays three games this weekend on the road in UNLV, then a doubleheader at home against Missouri State on Tuesday. Peterson went 1-for-5 this Tuesday, with two runs scored. The 3B/1B had a huge weekend last week, reaching base all 11 times he came to the plate during a Saturday doubleheader. On the year, Peterson is hitting .476, with eight homers, 24 runs scored, 22 RBI's and a 1.634 OPS , through 15 games. Marco Gonzales from Gonzaga has opened some eyes recently, moving up the draft charts. Two weeks ago, he threw a complete game shutout against 2nd ranked(at the time) Arkansas, allowing eight hits, no walks and he struck out nine. He followed that up with four hits and one run over eight innings against Hawaii. He is 3-1, 2.10, with 27 strikeouts in 30 innings this season. Gonzales was recently ranked 11th overall among draft-eligible college players by Baseball America. He has an advanced feel for pitching with a nice four-pitch mix, topping out at 92 MPH with his fastball. His changeup is rated by some as the best in this entire draft class. Gonzales will face the University of San Francisco tomorrow night at home. Aaron Judge, a 6'7″ outfielder from Fresno State has got some good press recently. Conor Glassey did a feature on him, highlighting his pure hitting ability that could translate to a ton of power in the pros. Judge is hitting a team-leading .328 in 13 games, with three homers and a .962 OPS. His strikeout total, 18 in 61 AB's is a little alarming and some scouts question whether he has the bat speed to cover his large strike zone, especially against pitchers that can work inside on him. Fresno State plays three games against San Diego State this weekend. Jonathan Gray from Oklahoma turned some heads last week when he hit 100 MPH during his start against UCLA. He threw seven shutout innings and sat high 90′s all night. Conor Glassey has a writeup on Gray and a few other prospects, where he mentions that Gray's slider has a chance to be just as good as his fastball. He is Oklahoma's Saturday starter and he will face Northwestern State at home this weekend. Keith Law has released his list of the top 50 draft prospects for insiders. That link can be found here.   High School Notes Baseball America has a recap of the Tuesday match-up between the top two prep players in this year's draft class. Austin Meadows and Clint Frazier will both go high in the 2013 draft, likely in the top five, but it was Frazier that put on a show during their local HS game that drew over 1,300 fans. Frazier hit two homers, helping his team to a 14-4 win. There is video of his first homer here. On the year, Frazier is hitting .600 in seven games, with six homers and 18 RBI's. Meadows is hitting .417, with one homer. Both players are outfielders, Meadows bats lefty. Rawlings named it's pre-season All-American team on Tuesday. Among the names listed, were Meadows, Frazier, Oscar Mercado, Reese McGuire, Trey Ball and Dominic Smith. Smith had two hits yesterday during his team's 13-0 win.
Original Story:
http://feedproxy.google.com/~r/Pirate...
THE BACKYARD
BEST OF MAXIM
RELATED ARTICLES
Here are a few injury updates from major league camp, along with a non-injury update. **Chase d'Arnaud, who is dealing with a sprained thumb, is going to have an appointment for an MRI soon. He has been looked at here in Bradenton, but the Pirates and d'Arnaud wanted to get a second opinion. **Garrett Jones (oblique) took some swings in the cage today and played catch. He will...
The minor leaguers take on the Yankees farm system today. The lineups, pitchers, and notes are below. First, a few notes from camp. **Andy Oliver was optioned to Triple-A today. The Pirates plan on stretching him out in minor league camp and using him as a starter. Luis Heredia might not be in West Virginia until the end of April. **Luis Heredia may have a shot at West Virginia this...
The Pittsburgh Pirates have made their first cuts of Spring Training. So far they have cut four players today, with those players being Hunter Strickland, Vic Black, Matt Hague, and Clint Robinson. That could be all for now, but no word on that yet. I'll update this when more information becomes available.   UPDATE 8:00 AM: Add Duke Welker and Stolmy Pimentel to the list of cuts...
With Jerry Sands' demotion earlier this week, it became pretty clear that Jose Tabata will start 2013 out in Pittsburgh, most likely as Travis Snider's primary backup/platoon partner in right field. Tabata's only 24, but this is almost certainly his last chance to play regularly for for the Pirates. If he can't hack it in the early part of this season, Sands will...
The Pittsburgh Pirates made their second round of cuts this morning, optioning catcher Tony Sanchez and left-handed pitcher Andy Oliver to Indianapolis. The Spring Training tracker has been updated. There are now 49 players remaining in camp.
Mark Melancon was one of the main pieces in the Joel Hanrahan trade. The Pittsburgh Pirates made their first round of cuts today at the major league level. Two of the players who were cut were Jerry Sands and Stolmy Pimentel, who made up half of the return for Joel Hanrahan over the winter. Almost immediately the complaints started on Twitter about the Hanrahan trade. Most of them...
Keith Law has released his top 50 draft prospects for ESPN Insider subscribers. Some of the notable rankings: **Mark Appel is first overall. **The Pirates pick 9th and 14th. Law has Jon Denney at 9th, and Kohl Stewart 14th. Denney is a high school catcher, who Law calls "a good-throwing catcher who receives well, hits and hits for power." Stewart is a prep pitcher who throws...
Bucs right-hander Kyle McPherson pitched well in a 2-1 loss to the Phillies on Thursday. He allowed four hits, but otherwise had no problems in five scoreless innings. McPherson is vying for a spot in the Pirates' rotation and he took a step toward winning the job with his outing. PiratesDugout.com's George Von Benko caught up with McPherson after the game.
Today I got to see two pitchers for the first time. For the last year I've seen Wei-Chung Wang walking around in a red shirt as he recovered from Tommy John surgery. I also saw Hayden Hurst last year in the GCL after the 2012 draft pick signed. However, he didn't pitch in the GCL, so I didn't get to see him throw. Today, both pitchers were on the mound in the low-A game against...
According to a tweet from Rob Biertempfel, infielder Chase d'Arnaud's left thumb injury, which has kept him out of action since late last week, is a torn ligament that may require surgery.  This could keep d'Arnaud out for a considerably longer stretch at an inopportune time for him.  He's trying to regain prospect status after struggling to a 252/325/383 line in AAA last...
When you punch Nyjer Morgan in the face, that's the picture I use when making a post about you. It's just that simple. The Pirates acquired Gaby Sanchez last year from the Marlins in a trade that sent Gorkys Hernandez and a competitive balance pick to the Marlins and Kyle Kaminska to the Bucs, along with Sanchez.…
Pirates News

Delivered to your inbox

You'll also receive Yardbarker's daily Top 10, featuring the best sports stories from around the web. Customize your newsletter to get articles on your favorite sports and teams. And the best part? It's free!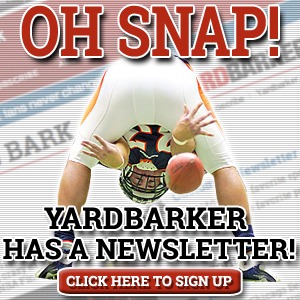 Latest Rumors
The Backyard

Today's Best Stuff

For Bloggers

Join the Yardbarker Network for more promotion, traffic, and money.

Company Info

Help

What is Yardbarker?

Yardbarker is the largest network of sports blogs and pro athlete blogs on the web. This site is the hub of the Yardbarker Network, where our editors and algorithms curate the best sports content from our network and beyond.