Found October 25, 2013 on The Outside Corner:
Through two games of the World Series, we're all knotted up at one game each. The Red Sox routed the Cardinals in Game 1, and the Cardinals came back to win Game 2. You can check out our social recaps of Game 1 and Game 2 on the site. PIC OF THE DAY Carlos Martinez or Bill Goldberg? (Bob DeChiara-USA TODAY Sports) We've also been finishing up our offseason positional primers this week. Over the last two days, we've posted the top ten third basemen, outfielders, left-handed starters, and right-handed starters. And if you want to read something completely different, Garrett looked at why every team's fans are better than Cardinals fans! There's no game today, so enjoy your off day, everyone. [follow]
Original Story:
http://www.bloguin.com/theoutsidecorn...
THE BACKYARD
BEST OF MAXIM
RELATED ARTICLES
Carlos Martinez throws hard. The St. Louis Cardinals rookie right handed pitcher has showed off his impressive stuff in relief this post-season. In 9.2 innings, he has allowed only four hits, with nine strikeouts and just two walks. Martinez has always had great stuff. Originally signed by the Boston Red Sox as Carlos Matias (his uncle's name), his contract was voided over...
Have you enjoyed watching the 22-year-old Carlos Martinez pitch so far in the postseason? I know I have. There aren't many other young arms with more electric stuff than Martinez–or "Baby Pedro" as many people call him. Martinez throws two types of fastballs–the four-seamer and the two-seamer/sinker. His four-seam fastball has averaged 99.53 MPH with 5.04 inches of...
  The Cardinals got a big strikeout from Carlos Martinez in the eighth inning of Thursday's Game 2 in Boston, and we got this hilarious GIF as a result. Everybody wins. (Except the Red Sox.) The post Cardinals fans are not great at high-fives appeared first on The Nosebleeds.
- There is no love lost between Bill Goldberg and Scott Hall after the two last worked together in World Championship Wrestling over a decade ago. Thursday morning on Twitter, Hall slighted the former World Heavyweight Champion after a fan asked him what "Goldberg!" chants remind him of: "#Goldmark."Goldberg was made aware of Hall's diss on Twitter and responded to a fan...
Here's the crazy part, or at least one crazy part. When three pitchers age 23 or younger combine to stymie the majors' highest-scoring offense -- on the road, in the World Series -- crazy sort of becomes a relative term. But you want truly nuts? The St. Louis Cardinals, as currently constituted, will not have room in their 2014 rotation for right-hander Carlos Martinez,...
There apparently seems to be no love lost between Scott Hall and Goldberg. This morning on Twitter, a fan wrote to Scott Hall, "Goldberg! Goldberg! What does that remind you of @scotthallnwo." He responded with the following: MILLION DOLLAR MIZZ @IAMOWOMIZZ Goldberg!goldberg! What does that remind you off @scotthallnwo Scott@Razor4Life.com @SCOTTHALLNWO @IAMOWOMIZZ #GoldMark...
During the postseason is when we talk about postseason statistics, and one of the first points always brought up is that the level of competition in the postseason is more difficult. As such, it isn't fair to just run a straight comparison between numbers in the playoffs and numbers not in the playoffs. The postseason is selective for the best teams, which will have many of the...
The St. Louis Cardinals did exactly what they needed to do in Game Two of the World Series--they came away with a win, but they didn't really do it all on their own. They did get the kind of performances they needed from stars like pitchers Michael Wacha and reliever Carlos Martinez, but the Cardinals should thanks the Red Sox for this one.  @SBNationGIF/Twitter ...
Here's something you might not have known about the Red Sox: they're good, especially at the hitting part. Over the course of the regular season, they scored 853 runs in 1439 innings, or about 0.6 runs per. Pitchers facing the Red Sox posted a 5.02 ERA, nearly half a run higher than the next-highest mark. As the Red Sox demonstrated in Game 1, they're capable of scoring runs...
- Over a decade after Scott Hall and Bill Goldberg last worked together in World Championship Wrestling, there is still no love lost between the two.This morning on Twitter, a fan wrote to Hall, "Goldberg! Goldberg! What does that remind you of @scotthallnwo." He responded with the following: "#GoldMark."His slight is in reference to Goldberg having a reputation within the...
In his piece this morning about Carlos Martinez and Trevor Rosenthal, Jeff wrote about Mike Matheny's decision to stay with Martinez against Ortiz, rather than go to the left-handed Randy Choate, in the 8th inning: The relevant post-game quote, again: It's not an easy decision. Knowing that we have a left-hander up and ready to go. A lot of it has to do with what we see, how...
When Rocky finally fights Drago, he spends the first few rounds getting worked.  Haymakers that would cripple pretty much anyone on earth, Rocky shakes off like they were love taps. It doesn't matter how hard the Russian hits... Rock summons the energy to come back.  No, the Cardinals didn't have 'Eye Of The Tiger' playing on FOX during the top of the...
MLB News

Delivered to your inbox

You'll also receive Yardbarker's daily Top 10, featuring the best sports stories from around the web. Customize your newsletter to get articles on your favorite sports and teams. And the best part? It's free!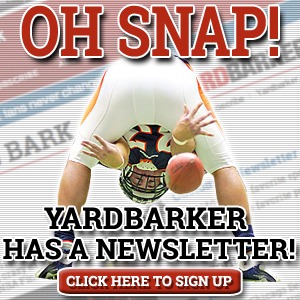 Latest Rumors
Best of Yardbarker

Today's Best Stuff

For Bloggers

Join the Yardbarker Network for more promotion, traffic, and money.

Company Info

Help

What is Yardbarker?

Yardbarker is the largest network of sports blogs and pro athlete blogs on the web. This site is the hub of the Yardbarker Network, where our editors and algorithms curate the best sports content from our network and beyond.